Meet Krismon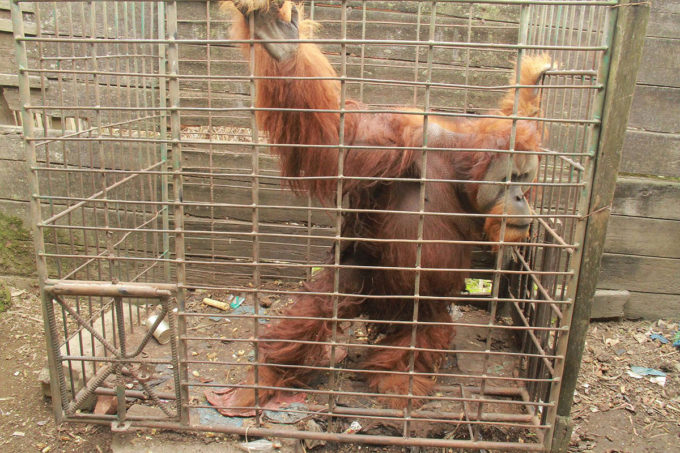 Krismon is being cared for at the SOCP orangutan rescue center in Sumatra. He arrived on 30 May 2016 after being confiscated in Kabanjahe by BKSDA (Indonesian Forestry Authorities) and the Orangutan Information Centre (OIC) rescue team.
Krismon's mother was killed in 1997, and he was kept as a pet by a member of the Indonesian army and his family. When he was an infant, the family treated him as a human child, keeping him in the house and even taking him on family vacations. Once he began to grow, however, they placed him into a small, rusted cage, and fed him on a diet consisting mainly of rice. This is where he remained until his rescue.
Upon arrival to the SOCP Quarantine, Krismon was in extremely poor condition, likely as a result of the unnatural conditions he had been illegally held in and the diet he had been fed. Krismon displays weakness in both of his back legs, as well as full body tremors. He has already undergone a full health check from the SOCP veterinary team, and we are currently waiting for the results of his blood work. Krismon will likely be a permanent SOCP resident and not be able to be released due to chronic health issues as well as the amount of time he has spent in captivity.
SOCP is currently developing a permanent sanctuary for unreleasable Sumatran orangutans. Learn more about the Orangutan Haven here. It will be several years before orangutans can be moved into the new space, so SOCP desperately needs funds to help build a proper enclosure for Krismon. All funds from his adoptions will go towards this effort!