Meet Megaloman!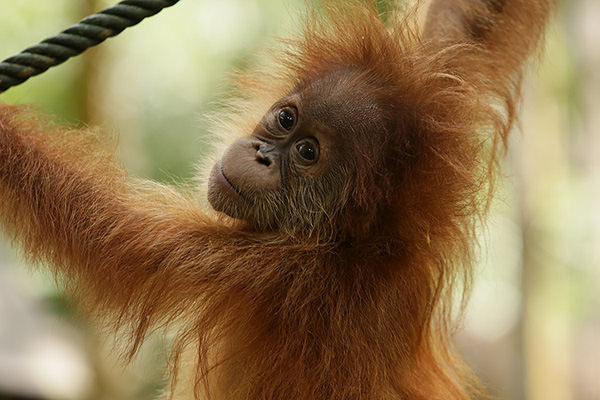 Megaloman is being cared for at the SOCP quarantine and care center in Sumatra. He is one of the youngest orangutans living in the new Baby House.
GENERAL INFO
Date brought to SOCP: May 15, 2014
Location found: Lawe Pakam, Kutacane (South East Aceh)
Age on arrival: Approximately 2 months
Weight on arrival: ± 2.6 lbs.
Species: Pongo abelii
Distinguishing feature:: Long, spiky hair, which is why he got his name!
BACKGROUND
After receiving a report that a baby male orangutan had confiscated by a staff of BKSDA Kutacane – Aceh, SOCP sent their Vet from Quarantine Center, Drh. Ikhsan, to get him and bring him back to the center. He picked up Megaloman at Lawe Pakam, where he was temporarily being kept by a local BKSDA officer. Based on information from BKSDA staff, Megaloman was captured by illegal hunters who had killed his mother on their way back home from hunting for hornbill beaks. The illegal hunters were caught by Kutacane policeman in Putri Betong Village and the baby orangutan was confiscated by BKSDA Aceh. Sadly, there was no further legal action taken against the hunters, even though they had clearly broken the law by killing an orangutan and capturing her baby.
HEALTH
When Megaloman arrived in Quarantine, like most of confiscated orangutans, he was in very bad shape. He suffered from dehydration, malnutrition, mild anemia and he weighed less than 3 lbs. He had still not grown any teeth. He was immediately given intensive care and immediately showed a lot of progress. After his quarantine was finished, he was showing signs of good health, so he moved into the baby house facility along with all the other infants.
When he arrived Megaloman obviously didn't have any medical records, but he now appears quite healthy. He showed a small fever as his front teeth began growing. His first tooth appeared on July 26th, 2014 and several others quickly followed. He will soon have a beautiful toothy smile! As his teeth come in, he likes to test them by biting everything and everyone around him — including tree trunks and his babysitters!
Megaloman is gaining weight quickly. By August 2014 he was up to 11 l 11bs. and was up another 5 lbs in January 2015! Megaloman eats and drinks a lot of milk. His favorite fruits are rambutan and duku.
PERSONALITY & BEHAVIOR
Megaloman is a cute baby and he has a good personality. He is also becoming a very independent. The first time when he going in the tree (June 2014), he stayed near the baby keeper and would cry whenever he saw the baby keeper leave. By the end of 2014, Megaloman was growing stronger and more independent. He loves climbing in the big 'practice' tree along with other infants such as Bintang, SIboy and his girlfriend Nadya. Megaloman looks very happy when he is in the tree. He spends about half the day playing on the big tree.
As of January 2015, Megaloman is becoming very active. He is very curious whenever anything new is introduced to the baby yard. The babies get a lot of enrichment! He also gets very excited when new orangutans arrive! This is especially true when new infants arrive because he gets to see them up close. The two newest arrivals are two boys named Bintang and Bina Wana. You can see photos of everyone on the SOCP Baby House Facebook Page
PHOTO GALLERY
SUMATRAN ORANGUTANS LIKE MEGALOMAN ARE CRITICALLY ENDANGERED
While re-introduction programs such as the SOCP remain the only hope for hundreds of ex-captive and refugee orangutans, unless further efforts are made to safeguard their habitat, the remaining wild Sumatran orangutans could easily be extinct within a few decades. We can't let this happen.