Meet Meryl!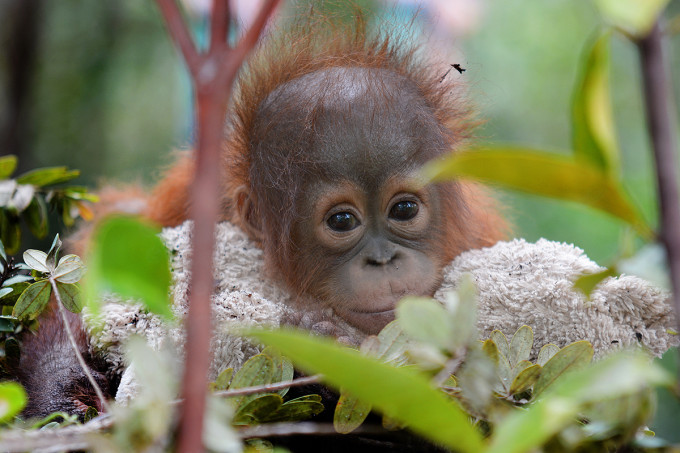 Saving Meryl

Early morning on January 7 2015, a joint rescue team from BOS Nyaru Menteng and the Conservation of Natural Resources Authority (BKSDA) of Central Kalimantan travelled to Tumbang Jiga Village after receiving news the previous day regarding a baby orangutan being kept by local people. Tumbang Jiga Village is located deep in a remote area of Katingan Regency, many hours drive from the center over bumpy dirt roads. This was the first rescue mission of the year.
The baby was found in a very poor condition. She was extremely weak and thin. The owner had placed her in a lanjung, a traditional Dayak bag made of plaited rattan, usually used for carrying crops or firewood. The baby, a female, could barely move inside the bag and was unable to move her right arm because it was so swollen.
Dr. Meryl Yemima, one of the lead veterinarians from Nyaru Menteng, gently lifted the baby out of the bag, covered her with a warm blanket, and cradled her. The team successfully confiscated the baby and rusher her back to the clinic facility at Nyaru Menteng for emergency treatment. During the return trip which took around 8 hours, the baby orangutan occasionally let out sobbing sounds from the safety of vet Meryl's arms.
An initial examination by vet Meryl showed that the baby was only around 8 months old, yet she had spent the last 6 months in captivity. She was named Meryl, after her new vet who had lovingly taken care of her from the day she was rescued.
At Nyaru Menteng, new arrivals cannot instantly join the nursery group (a group for baby orangutans). They have to first go through a quarantine process to determine their health status. The process went smoothly and Meryl was given a clean bill of health so she could join the other infants in the nursery where dedicated babysitters work around the clock caring for the babies.
Photos: Meryl's Rescue
Tender loving care for an ill Baby Meryl

In Fall of 2015, when Indonesia goes through the annual transition from dry season to wet season, the vets have to pay extra special attention to the health of the orangutans as this is also a time when many illnesses occur. This year quite a few of the orangutan babies at Nyaru Menteng got sick, including young Meryl.
Along with several other infants, Meryl developed a fever and tested positive for malaria. She later appeared to develop a flu like virus. Despite her high temperature Meryl was determined to continue playing with her friends, so a special, isolated play group was created for all the babies who were suffering from the same symptoms. This was a win-win. The sick babies could continue playing with little risk of spread any illness to the healthy babies. With an intense battery of medicines and vitamin supplements the babies started to improve under the watchful eye of a dedicated team of babysitters who were assigned to caring for this small group.
Thanks to the medical team and babysitters, Meryl and her friends made a full recovery and soon moved back to the main baby nursery playground for part of the day. Babysitter Hendra is focused on caring for Meryl during playtime, with lots of enrichment since she had to build up her strength after her illness. She made fantastic progress. During play time Meryl, Otan, Syahrini and Lala form a playgroup.
Photos: Meryl gets emergency veterinary care
Meryl gets back into the swing of things
By mid-October Meryl and her friends had made a full recovery. Dr Agus Fahroni, BOS Nyaru Menteng Medical Coordinator, gave her and the other babies the all clear and the nursery group Forest School play yard was once again a noisy, bustling and fun place following the return of all the recovered babies. The babies were particularly excited to all be catching a ride to Forest School in their wheelbarrows for a full and busy day together.
Meryl, Valentino, Madara, Syahrini, Lala, Reren and Otan had all received excellent care and treatment from the BOS medical team and babysitters which aided their quick recovery. Their first full day back in Forest School was a day full of fun!
Accompanied by babysitters Mia Puspita and Ratu, Meryl and her friends immediately got busy climbing and exercising their arm muscles which they had not been able to do properly while they were ill. Meryl likes practicing her climbing skills, but she still sometimes has time for a cuddle with babysitter Mia in between playtimes.
Mia Puspita, one of Meryl's favorite babysitters, is delighted to see Meryl healthy once again after having nursed her throughout her illness.
We hope that Meryl and her friends in the nursery group continue their good health so they can focus on playing and learning in the nursery group Forest School. It will be several years before they are old enough to be returned to the wild so like all students, they need to spend a good deal of time on their studies!
Photos: Meryl in Baby School

Text by: Monterado Fridman, Comms & Education Division Coordinator at BOSF-NM
Photos by: Monterado Fridman and Indrayana, Coordinator of Documentation & Adoption Photos at BOSF-NM
Photos © Borneo Orangutan Survival Foundation