Meet Monita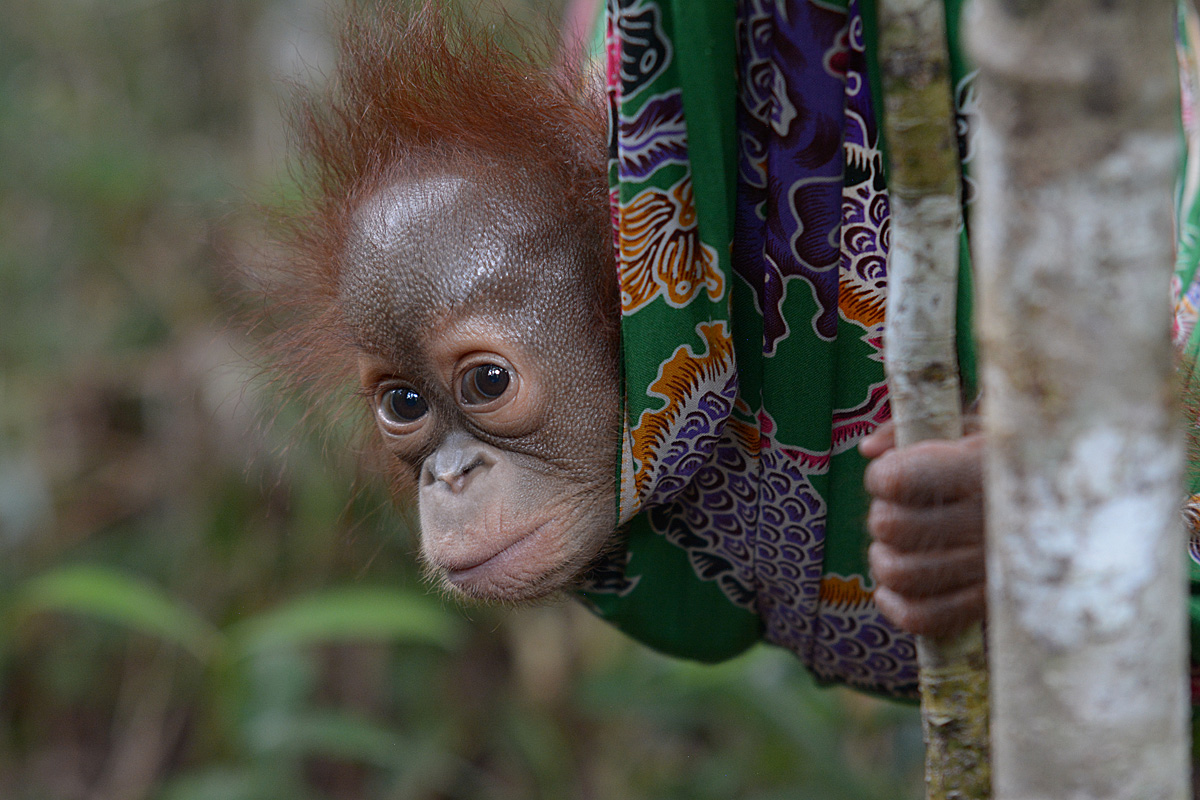 Rehabilitation Center: BOS Nyaru Menteng
Arrival date: June 9, 2018
Age on arrival: 3 months
Current age: 2 years
Gender: Female
Current location: Forest School – Nursery Group
Health status: Healthy
In June 2018, the BOS Nyaru Menteng rescue team joined forces with the Central Kalimantan Natural Resources Conservation Agency (BKSDA) to rescue a female baby orangutan who was being held illegally in Pangkoh village, Pulang Pisau Regency. The baby had been kept for several days by a villager before being reported to the Central Kalimantan BKSDA office. The villager claimed to have found the baby stranded alone in a forested area near a palm-oil plantation and had decided to take her home. During her captivity, the orangutan was treated like a human baby. She was bathed and dressed in clothing. To be clear, a mother orangutan will NEVER abandon her baby, so there was likely far more to this story than we were being told.
Upon receiving the report, a joint rescue team from the Central Kalimantan BKSDA and BOS Foundation's Central Kalimantan Orangutan Reintroduction Program quickly headed to Pangkoh village to rescue the baby orangutan and take her to the Nyaru Menteng Orangutan Rehabilitation Centre. Fortunately, she had not sustained any injuries and was in good physical health. The medical team gave her a name as beautiful as she is: Monita.
Monita was given a full medical exam by the Nyaru Menteng veterinary team. She was still very young— estimated to be about 3 months old upon arrival— but quite healthy given her ordeal. During her mandatory quarantine period there were many signs of positive progress. Once she was put on a proper orangutan diet, she gained weight. She also started to actively play in the quarantine facility's outdoor playground area. After finishing her quarantine, Monita joined the nursery group and began socializing with other young orangutans.
Monita is very curious— especially when it comes to food. She is often seen trying to eat young leaves of different plants. She'll pluck one and chew, and spit it out if she doesn't like the taste. She'll then try different leaves from another tree. It's as if she is absolutely certain that all leaves might be edible, so she is applying the 'trial and error' method.
Seeing Monita's curiosity, one of her babysitters tried to give her a rattan shoot. The shoot is the most tender tip of the young rattan plant, abundantly found in Borneo forests, and is a main staple of an orangutan's diet. At first, Monita hesitated a bit, since a rattan shoot is long and seems hard to break. But she tried to bite it and, lo and behold, it cracked open! Her small teeth somehow managed to crush it. She even looked at it in disbelief!
Babysitters would normally give this food orangutans who are a bit older, since its hard and fibrous texture needs a certain level of skill to eat, but little Monita could do it! Despite the need of extra strength and patience to peel it open, she still enjoyed the process nonetheless. It turns out that she really loved the rattan shoot!
That day's simple lesson was priceless for little Monita. She had found one more favorite food in what promises to be a long journey of culinary discovery as she learns to be a wild orangutan!
It is extremely heart-breaking to see that baby orangutans like Monita continue to be separated from their mothers and lose their right to learn from them how to survive in the wild, but we will continue to do everything we can to help them recover and eventually return to the forest...