Meet Monyo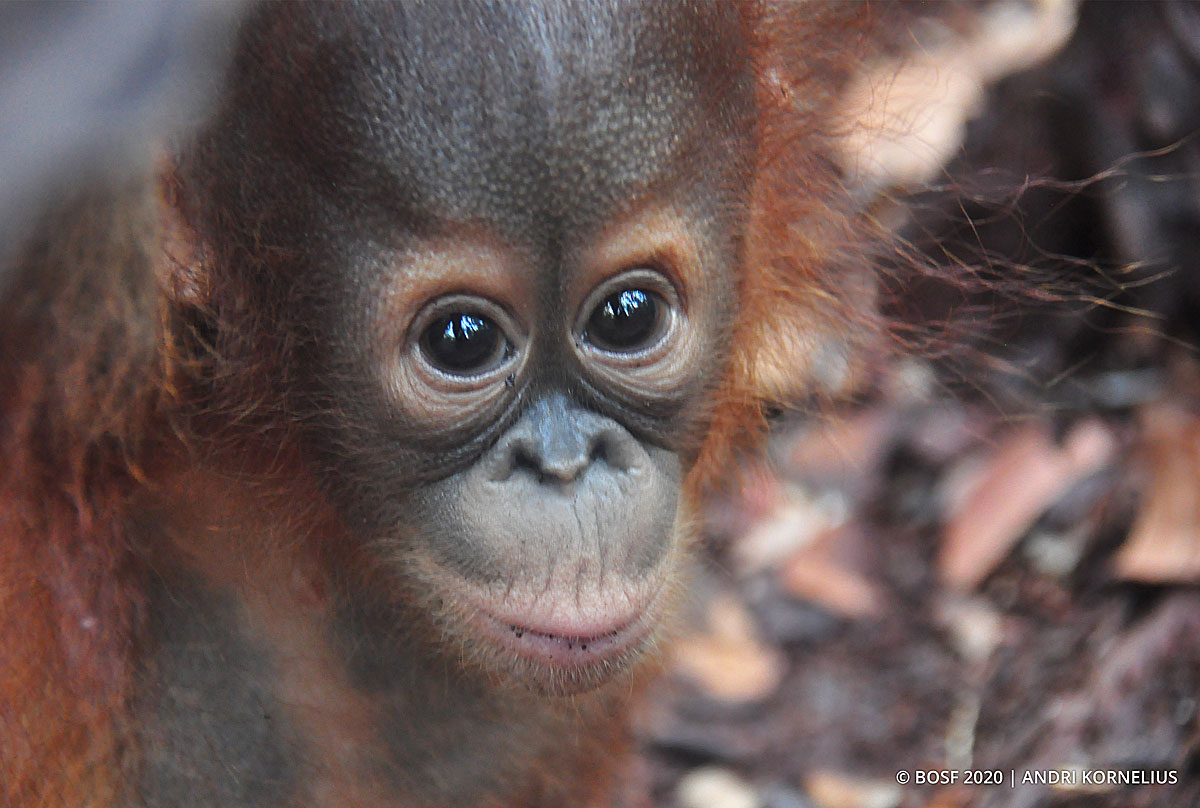 Click on each image below to see it larger and download it to your computer or device.
Rehabilitation Center: BOS Nyaru Menteng
Arrival Date: 14 November 2019.
Gender: Male
Health Status: Healthy
Over a matter of days late in 2019, just before Covid-19 would change the world forever, the Borneo Orangutan Survival Foundation (BOSF) was called in by the local forestry authorities to help with the rehabilitation of several newly orphaned baby orangutans from all over Central Kalimantan. One of these poor babies was a small, male orangutan named Monyo.
Monyo was rescued from the village of Petuk Liti in Pulang Pisau Regency, Central Kalimantan. A local villager claimed to have found 6-month-old Monyo stranded alone a week prior to being rescued by a team from the Central Kalimantan BKSDA. The team handed him over to the BOS Nyaru Menteng Orangutan Rehabilitation Center on 14 November 2019.
Monyo underwent a 3-month period of quarantine with other recently rescued infants, Niniek and Hanua, before joining the Forest School Small Nursery Group. The three formed strong bonds with one another and the other orangutans during their first few months the Nursery Group. Read more about them here. Read more about the gang here.
There are 7 infant orangutans in the Baby group, including Monyo. The surrogate mothers have reported that Monyo has grown more confident during this time with the others, that he is able to quickly adapt to new environments and new faces, and that his health has improved. He is not afraid of climbing trees but will usually stop at one or two meters off the ground. This is, nonetheless, good progress.
Monyo's foraging skills have improved, primarily through interactions with his best friend Greta, who helped him discover new foods such as rose-apple fruit and various young leaves. The surrogate mothers also taught Monyo how to find termites — a valuable source of protein and welcome addition to his rapidly expanding diet.
We will strive to provide the best care for these dear baby orangutans and support them throughout the long rehabilitation process. Hopefully, they will all get the chance to taste true freedom in the wild someday. We are looking forward to seeing Monyo, alongside his friends, face new challenges, improve his skillset, and gain more independence.
Keep it up, Monyo! Someday you'll be a giant cheekpadder king!