Meet Nadya!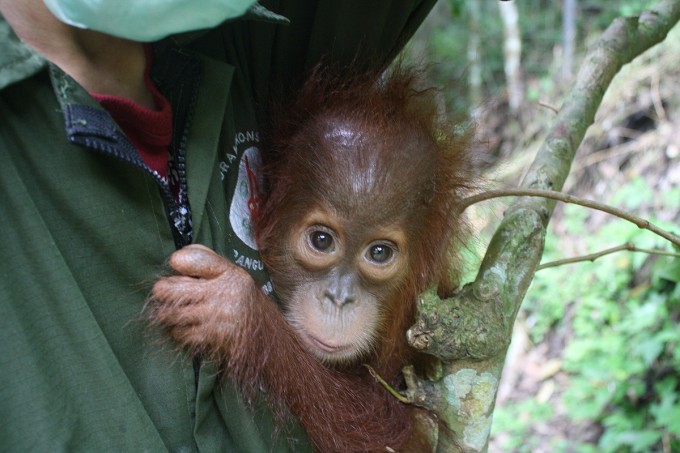 Nadya is being cared for at the SOCP quarantine and care center in Sumatra. She is currently the only girl in the group of boys living in the Baby House.
GENERAL INFO
Date brought to SOCP: June 3, 2014
Location found: Tapaktuan, South East Aceh
Age on arrival: Approximately 1.5 / 2 years
Weight on arrival: ± 5 lbs.
Species: Pongo abelii
BACKGROUND
Nadya was confiscated by KSDA Banda Aceh (Government in Aceh) together with a team from the Center for Orangutan Protection (COP), from the local community in the area Tapaktuan- South Aceh. The local community mentioned that her mother was killed and Nadya was taken by local hunters in Suaq Balimbing Swamp Forest.
Nadya was named in honor of supermodel and environmental activist Nadya Hutagalung, who hails from North Sumatra and has been campaigning hard for elephants via the "Let Elephants Be Elephants" (LEBE) project and is now supporting orangutan conservation in Indonesia.
HEALTH
Fortunately, Nadya was quite healthy when she first arrived at the SOCP Quarantine Center. She weighed nearly 5 pounds and already had 1 molar tooth beginning to grow. Based on this information, her estimated age is approximately 1.5 to 2 years. When examined, Nadya had lots of faecal worm larvae, which is quite common in orangutans who have been kept by people. It was immediately treated and she soon tested negative. Nadya has a big appetite. She eats all the fruit she is given and is also very happy to drink milk.
PERSONALITY & BEHAVIOR
Nadya is a very independent orangutan and shows very little interest in people. She has already begun to socialize with other babies like her new best friends Gokong and Siboy. She looks wild and is showing all the signs of being a wild orangutan — which is perfect for release in the near future into a safe, protected forest.
PHOTO GALLERY
SUMATRAN ORANGUTANS LIKE NADYA ARE CRITICALLY ENDANGERED
While re-introduction programs such as the SOCP remain the only hope for hundreds of ex-captive and refugee orangutans, unless further efforts are made to safeguard their habitat, the remaining wild Sumatran orangutans could easily be extinct within a few decades. We can't let this happen.