Megaloman: Fall 2016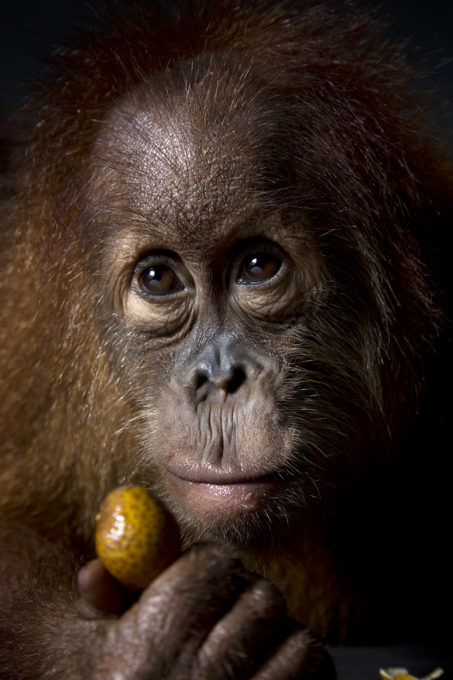 Megaloman has been doing very well over the last few months! He continues to live in the medium social group with his good friends Bintang, Bina Wana, and Rory, and has also welcomed 3-year-old Aruna into his group. Most days, Megaloman can be seen following Bina Wana around, and he has proven to be one of the fastest learners in forest school! While Bintang is still quite attached to his human caregivers and is slightly hesitant to climb up the trees, Megaloman has become much more independent and wild. Such wild play even caused a small incident in Megaloman's group, where Bina Wana's front tooth was knocked out. Our veterinary team gave Bina Wana a thorough health check and an x-ray, and luckily, as this was a baby tooth, no major damage was done.
Forest school is an extremely important part of Megaloman's training, as it not only helps him to develop the necessary muscles for a living a life in the trees, but also encourages him to learn the skills that are needed every day in the forest. He is often the first one to leap off of his caregivers, climb into the top of the tree canopy, and not come back down until it is time for the evening feeding. Megaloman has learned how to travel from tree to tree, carefully avoiding dead branches and any branches that may be too thin to carry his weight, and he has recently learned how to "bend" branches to travel more efficiently from tree to tree. In the wild, orangutans are very rarely seen traveling on the ground; staying in the trees is much safer, as there are fewer predators such as tigers as well as fewer parasites, which plays a large role in keeping wild orangutans healthy.
Megaloman's foraging and nest building skills also continue to improve. He enjoys searching forest school for fruits and other treats, which are hidden in various containers, high up in the trees. This helps to teach the young orangutans that food is naturally found in the trees, and that it is not always easy to get to! Finding the right food requires searching, removing skins or peels, and occasionally, tool use! Mega is learning this quickly, and is even starting to teach the other orangutans, who watch him carefully. At night, Mega has started gathering branches together and carrying them around the cage, realizing that they're not just for play, but also make a good nest to sleep in. What a clever little orangutans he is!
Although Mega still has a bit of time (and a bit of growing to do!) before he is prepared to be reintroduced into the forest, we are extremely happy with his progress and look forward to seeing him continue to develop his skills.
We hope you enjoy Mega's modeling pics! More photos coming soon!