Megaloman: Fall 2017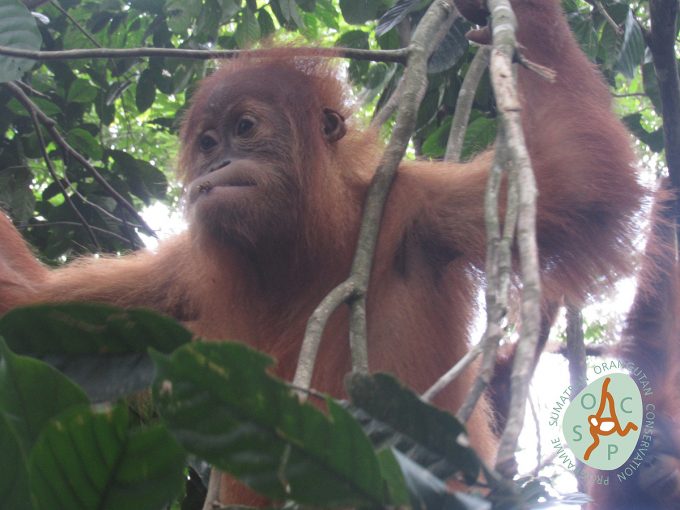 Megaloman is a male orangutan that arrived as a very young infant (~1-month-old) to the SOCP Quarantine and Rehabilitation Center on 15 May 2014. He was confiscated from Kutacane in Aceh Province.
As a very young infant arrival, at first Megaloman stayed in the clinic under 24-hour care. As he grew older and larger he was then then moved into one of the infant socialization groups. Now, he has graduated to the young orangutan socialization group.
Previously, a little female orangutan named Keke was always clinging to Megaloman when they were together in the infant socialization group. This was problematic for both of them as it limited mobility and inhibited both of their learning processes. Therefore, the staff tried to separate them to see how they would develop when apart. The result was good, with both traveling about on their own, not showing any outward signs of stress.
When he was first brought to a forest school setting, Megaloman spent more time on the ground than in the trees. However now it is the opposite, and he is often high in the trees, where he should be! Another positive trait he has recently developed is that he prefers to take fruits that are placed in the trees by the keepers, rather than take the fruit from them directly. Although he loves to stay up high, when forest school is over for the day Megaloman will simply come down and follow the keepers back to his cage for the evening.
Megaloman has good interaction with other orangutans. He is not dependent on other orangutans but he is also does not like to play alone.
Megaloman is healthy and does not have any medical problems. His body is a bit thin compared to the other orangutans in his group but it is still within the normal range. Currently, Megaloman's body weight is about 10.5 kg (around 23 pounds).
As Megaloman's health and behavior development is normal it is important to keep a good environment to support his continued physical and mental development – both at the quarantine and eventually in the forest school setting.