Megaloman: Spring 2016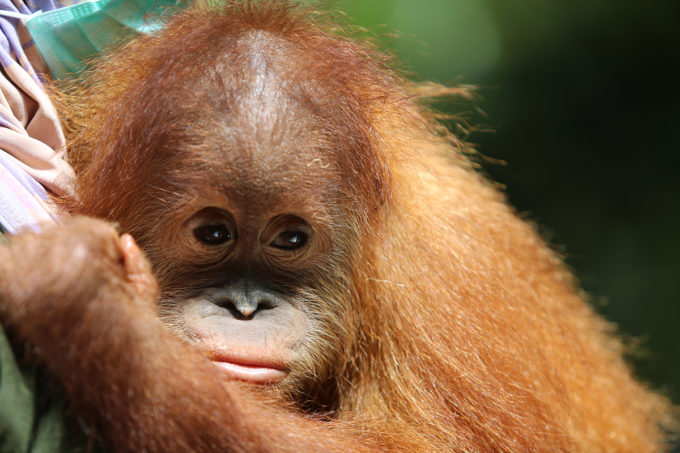 Megaloman: 3 years old.
Megaloman has had an excellent last six months and is showing quite possibly the best progression of any infant we've had at quarantine in recent memory. His graduation towards a life in the forest is moving faster than what we thought was possible!!!
At the start of this period, he spent 2 months in the new smaller Baby Socialization cage along with friends Bintang, Siboy, Gokong and Bina Wana. However, his keepers noticed Megaloman wasn't very interested in socializing with these younger orangutans, and staff noticed he had a preference to follow and play with older animals in the outdoor area playground. In particular he loved to follow Nadya and Jaggai (4-5yr old orangutans), learning from them and imitating their movements.
Megaloman seemed to have a more natural affinity and would likely learn more with the bigger animals. As a result, we took the tough decision to move him into the medium social cage group earlier than usual. This decision has really paid off!
Despite being the youngest member of the middle social group, Megaloman is really thriving. Within the group of seven orangutans, five are still extremely wild, and this has really moved Megaloman's behavior on towards what we want to see from orangutans before they're released back to the wild. He's becoming more competitive – especially for food; no more being a picky eater and waiting for staff to feed him!
Megaloman is also growing a lot stronger— especially for his size— and he has stopped affiliating with his human keepers, though he does still occasionally try to interact with the female caregivers.
Most importantly, Megaloman is also learning the social skills and rules, such as respect, that he'll need in the forest. His best friend is Lala, an older, wild female (4 yrs old) who looks after him and who has helped him maintain respect within the middle group. Megaloman also enjoys wrestling with Agustina, a recently confiscated 6 year old female, and it's great to see the little male holding his own with much older orangutans like this.
Megaloman is a candidate for 2017 forest training school back to the wild and already this year he is showing the qualities he needs to advance to the final stage quicker than thought possible. We are so proud of him!