Megaloman: Spring 2021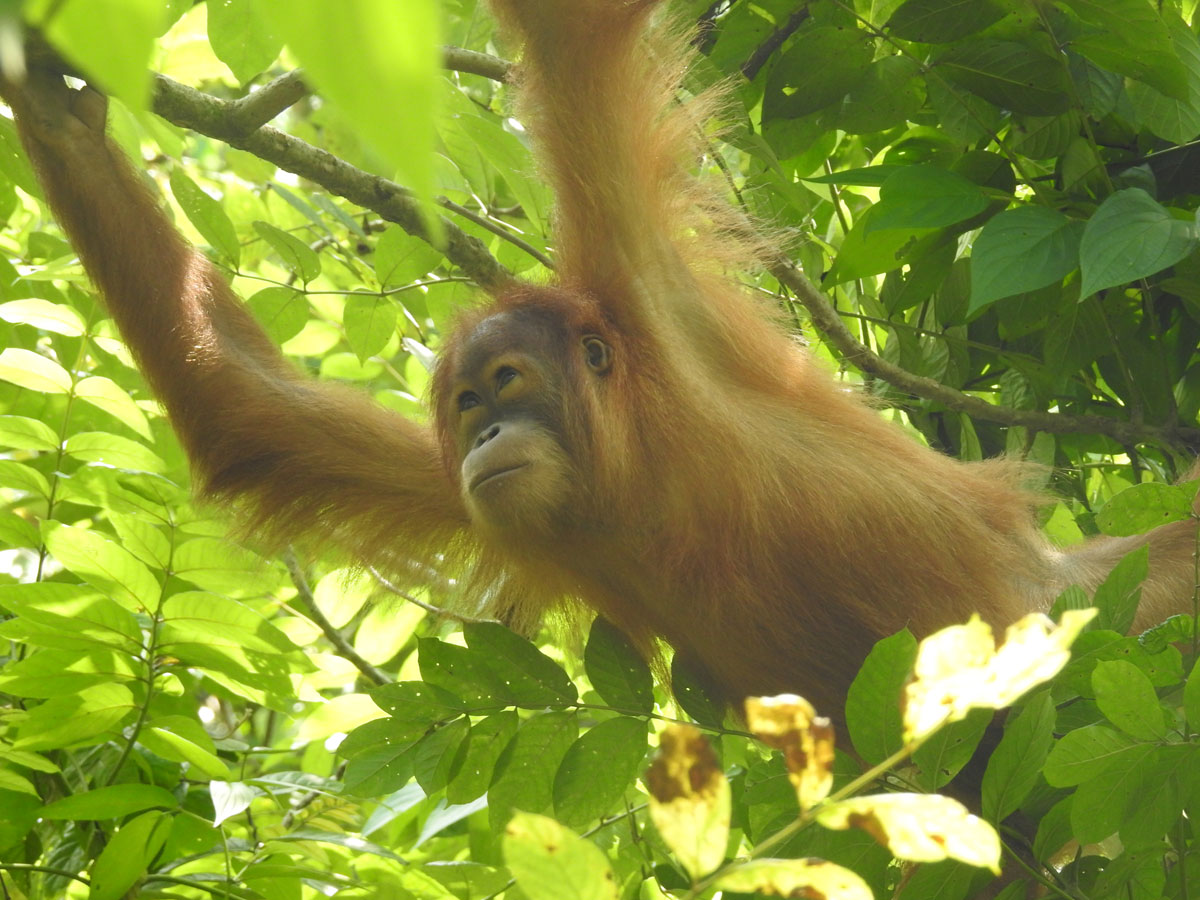 Background and Current Position
Megaloman was an infant male orangutan who arrived at the SOCP Rescue and Rehabilitation Centre in May 2014. Megaloman was estimated to be only one month old when arrived from Kutacane, Aceh Province. Currently, Megaloman is a member of Middle Group.
Behavior and Health
As the Antigen based Rapid Diagnostic Test is now available in Indonesia, all staff at the Center can be tested regularly for COVID-19. This means that as we have a better idea of the health status of the staff we can be more confident in bringing orangutans to Forest School.
Being in Forest School after staying in the cage for almost a year is such a great experience for Megaloman and his friends. The first day he was in Forest School again Megaloman was really excited! He was moving fast from one tree to another, jumping to the ground and climbing up again. He repeated this sequence many times along with other orangutans. A few days later when he had his turn at Forest School again he was much calmer, more organized and seemed have goals during his activity that day. He followed other orangutans such as Undi when moving from one tree to another. Undi is a female orangutan slightly younger than Megaloman, but she has very good forest skills. Undi has become a role model for many orangutans who join Forest School with her. They usually follow Undi's activities as she is confident up in the trees and dares to move from one tree to another. Undi also takes a lead in tasting forest food and the others will copy her.
One recent day, Megaloman, Molika and Undi were climbing a very tall tree together, Undi had done this before but for Molika and Megaloman it was the first time they were observed climbing this high. At first Megaloman hesitated following Undi and Molika, but after playing by himself in a different tree he decided he would try to reach where Undi and Molika were. Megaloman moved from one tree to another until he reached the big tree where Undi and Molika were searching for forest fruit and sitting in a large tree fern like a nest. The tree was huge, but Megaloman was brave enough to try to climb it and he made it successfully! Then he even moved to a big palm tree nearby where the three orangutans explored and found insects, which they tasted.
Megaloman has developed his skills well at Forest School, but he has never been seen trying to build a nest in a tree. In the cage he uses leaves quite well and sometimes he puts them together as a nest but destroys it quickly and uses the leaves to play with instead. He probably needs another orangutan to show him how to build a nest, although it could also be that Forest School is not the right time of day for Megaloman to build a nest. It would be interesting to know if Forest School ran later in the evening, more towards dark, maybe other orangutans would build nests and Megaloman would copy them.
Megaloman did not have any health problems in this period. He has gained weight and in early March 2021 was 16.3 Kg.
Keep up the great work, Mega!