Meryl: Fall 2017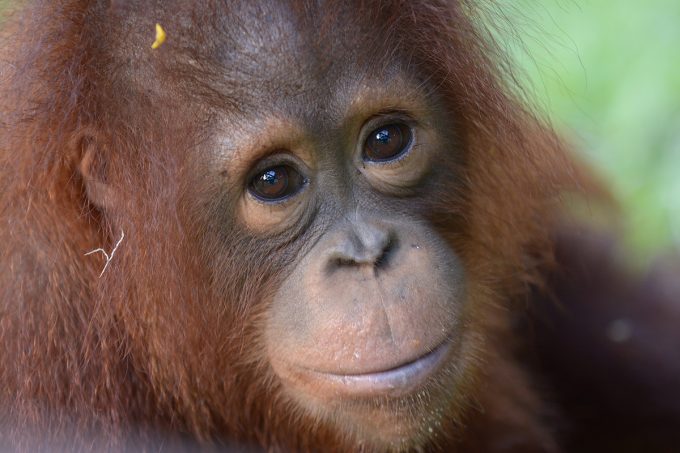 Rehabilitation Center: Nyaru Menteng
Date of arrival: January 7, 2015
Age on arrival: 8 months
Current age: 3 years
Current school position: Forest School – Group 1
Gender: Female
Health Status: Healthy
In the beginning of 2017, Meryl and some of her Nursery Group friends were move up a class to Forest School Group 1. Meryl initially found it confusing being in a new group, and took time to carefully get to know her new surroundings. She would sniff, touch and taste the plants she was introduced to for the first time, and was very curious about new things she discovered along the way.
Babysitters would break twigs for Meryl to use in her nest building, which is common practice among babysitters caring for younger orangutans in Group 1. A newcomer to the group, Meryl soon picked up how to build nests after being shown the basics by the babysitters. Although, she can quickly become bored and will abandon a half-constructed nest whenever it suits her.
Meryl will grab a babysitter's hand or leg whenever she feels her peers are getting more attention than she is. She seems to enjoy being the center of attention, especially with the babysitters.
The current wet season has dotted the Forest School in muddy puddles, which Meryl loves to play in with her friends. The babysitters have a hard time telling who is who when the orangutans are covered head-to-toe in mud. Once they are done with their mud playtime, technicians give them all a hose-down. This seems to be Meryl's favorite part of the day, as she loves to involve the babysitters in a bit of splash play. Meryl sure does know how to have a good time at school!
A few months ago Meryl the babysitters noticed that Meryl was not her usual active and cheerful self. It turned out this was due to a problem with her digestion, which saw her spend a few nights in the Nyaru Menteng Intensive Treatment Unit. Her eagerness to get back to Forest School, however, helped accelerate her recovery, and she was soon back at school learning with her friends in Group 1.
When Meryl she first joined the Forest School group, she cried and squeaked and seemed somewhat intimidated. However, as time has passed, she has become very comfortable in the group and will now boldly explore the forest together with friends like Syahrini, Lala, and Svenja.
While Meryl plays with her pals in the forest, she is also learning and honing her survival skills. Her foraging skills have improved and she likes to taste the young leaves she finds. If she likes the taste of them, she will share them with her friends. This is a very important aspect of the social learning going on at Forest School. The orangutans learn from each other!
Once, when Meryl had roamed off into the forest alone, the babysitters where suddenly startled by her loud kiss-squeaking. The concerned babysitters rushed to the scene and found Meryl in a tree, holding a twig, trying to chase off a group of wild monkeys. The babysitters were amazed by Meryl's bravado in that situation, which proved she was no longer the frightened little girl she once was.
It looks like Meryl is finally starting to take an interest in nest-building! She likes to collect twigs on her own and then pile leaves on top of them. The 'nests' she makes certainly look tidy, but are nowhere near strong enough to carry her weight. This is an awesome start for Meryl. If she keeps up the great work she'll get there!
Every morning at Nyaru Menteng, the babysitters start the day by waking up the orangutans and leading them to Forest School. Meryl wakes up bright and enthusiastic every day, ready for a day of learning. She often leads the way to Forest School, leaving her peers and the babysitters in her wake.
In Forest School Group 1, Meryl likes to swing on lianas and explore deep into the forest. She actively forages and is getting better at identifying natural foods. Meryl's favorite is the banyan tree, in particular its leaf tips and bark. She usually peels of the bark and chews on it for a while before spitting it out – a habit she has learned from watching her peers. Another great example of social learning!
Meryl will only return from her lone explorations of the forest if disturbed by wild monkeys. She doesn't seem to be scared of the monkeys or other animals she is unfamiliar with, but if a babysitter is present she will still seek their protection.
In general, Meryl is developing quite well. She makes friends easily, and can pick up skills from watching other orangutans. However, she still needs to develop her nest-building skills and work on becoming more independent so she can progress to Forest School Group 2.
Come on, Meryl, you can do it!