Meryl: Fall 2019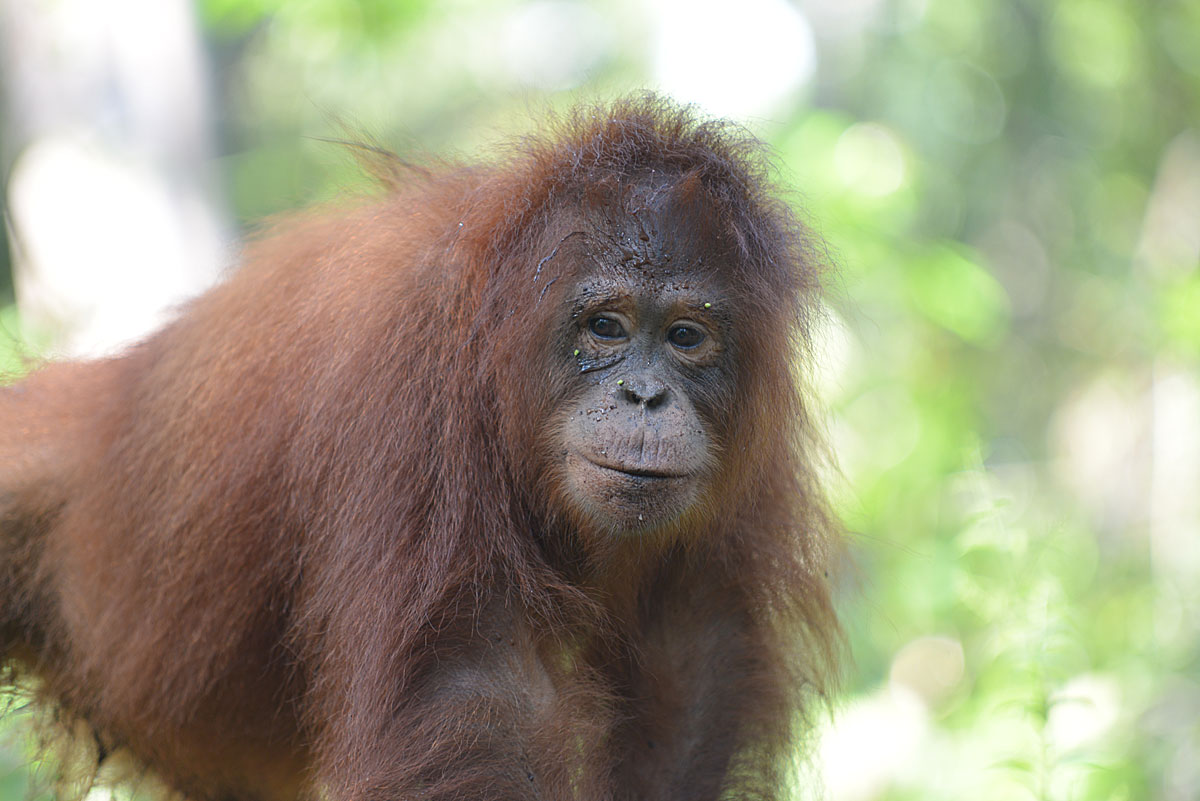 Rehabilitation Center: Nyaru Menteng
Date of arrival: January 7, 2015
Age on arrival: 8 months
Current age: 5 years
Previous weight: 44 lbs.
Previous school position: Forest School – Group 3
Current school position: Forest School – Group 5
Gender: Female
Health Status: Recovering from Dengue Fever, Now Healthy
The orphaned orangutan babies in our care at our rehabilitation centers attend Forest School to learn and develop the basic survival skills they would have gained naturally from their mothers in the wild. In Forest School, our surrogate mothers are responsible for nurturing and introducing these skills. The young orangutans then learn organically from their experiences and from copying one another.
Meryl, the sweetest member of Nyaru Menteng's Forest School Group 3, diligently absorbs every lesson taught by her surrogate mothers. She also looks up to the more senior orangutans in her group, such as Liti and Cinta. Since her abilities were on par with that of her larger peers, our surrogate mothers decided to promote her directly to Group 5!
Several months ago, Meryl suffered with dengue fever. Although she made a full recovery, there are still times when she looks a bit weak and sluggish. Our medical team believes this is an aftereffect of the illness.
One day, Meryl was relaxing in a large tree, looking particularly tired. Momot, her bestie, approached and motioned for Meryl to join him in exploring the forest. Momot was rather persistent, pulling and pushing Meryl, and even prodding her with a twig to get her moving. Meryl remained calm and paid little attention to Momot's request. Momot eventually gave in and stayed with her in the tree, where the two spent a joyful time together until the late afternoon. Meryl is lucky to have a patient friend like Momot. We hope you get your mojo back soon, Meryl!
Since August, we have received numerous reports from local residents about fire outbreaks near our working areas. Our team has gladly provided assistance and support to these locals residents to help extinguish the fires in question.
The fires and resulting smoke not only interfere with our Nyaru Menteng team's daily activities, but can also have a negative impact on both our team members' health and that of the orangutans in their care.
Meryl, who is now a student of Forest School Group 5, still actively climbs trees every day, despite the smoke. She likes to play in pantung trees, a perfect place to hone her climbing and foraging skills. The bark and sweet sap of pantung trees are useful for Meryl's current training, however, licking the sap makes her face turn black.
One day, after enjoying some pantung sap, Meryl climbed down from the treetops and started to sneeze. Our surrogate mothers noticed that several other orangutans had begun to cough. It seems the canopy was not providing enough cover from the smoke, and Meryl and her friends were having trouble breathing. Many of the orangutans had opted to leave the trees and play on the ground instead, closer to their surrogate mothers.
In recent years, we have had to deal with the smoke caused by forest fires every dry season. At this time of the year, we must stay alert and be ready to fight fires, while protecting young orangutans from the danger of respiratory illness.
We will do everything we can to ensure that Meryl and her friends, and their surrogate mothers, stay safe and healthy this forest fire season.