Meryl: Spring 2017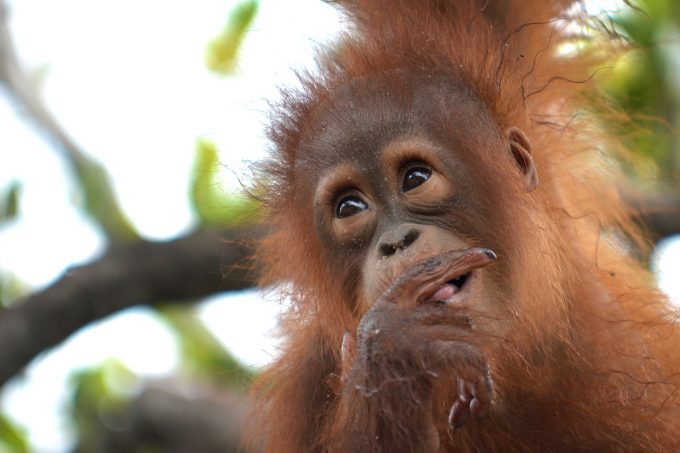 Meryl has been very healthy in the past few months. She is very active among the members of Large Nursery Group at BOS Nyaru Menteng Forest School and her progress has been quite impressive. We plan to soon move her up to Group One of Forest School soon!
Constructing nests is one skill she passionately never stops practicing. She builds nests up in the trees and on the ground, using any twigs and broken branches she can find. She likes to climb up while carrying all the twigs and branches and then she arranges them into a comfortable mattress. She then likes to rest on it as if she is in a real 'grownup' nest.
After a long day of Forest School activity, Meryl usually approaches her babysitter and requests milk. Her favorite fruits are bananas, watermelons, and apples. She also loves sugar cane! Her teeth are strong enough to easily peel them. Her climbing ability is steadily improving and she loves to dangle from the tree branches. For orangutan her age, this is definitely a skill to be proud of!
Meryl also loves ehang fruit, one of natural fruits that grows locally. She loves to spend time sitting in an ehang tree munching on its fruits and flowers.
The best time to teach Meryl is when she is busy playing on her own. Only then can she focus 100% on what she's doing. Her attention span is typical for a small orangutan— short! When she starts rolling around on the ground, it means she's bored and wants to play with her friends.
Meryl has grown well in Nursery Group and we cannot wait to see her starting a new adventure in Group 1 of Forest School. The babysitters will surely miss her, but seeing her rapid growth, we are all extremely proud of her! Go Meryl!