Meryl: Spring 2018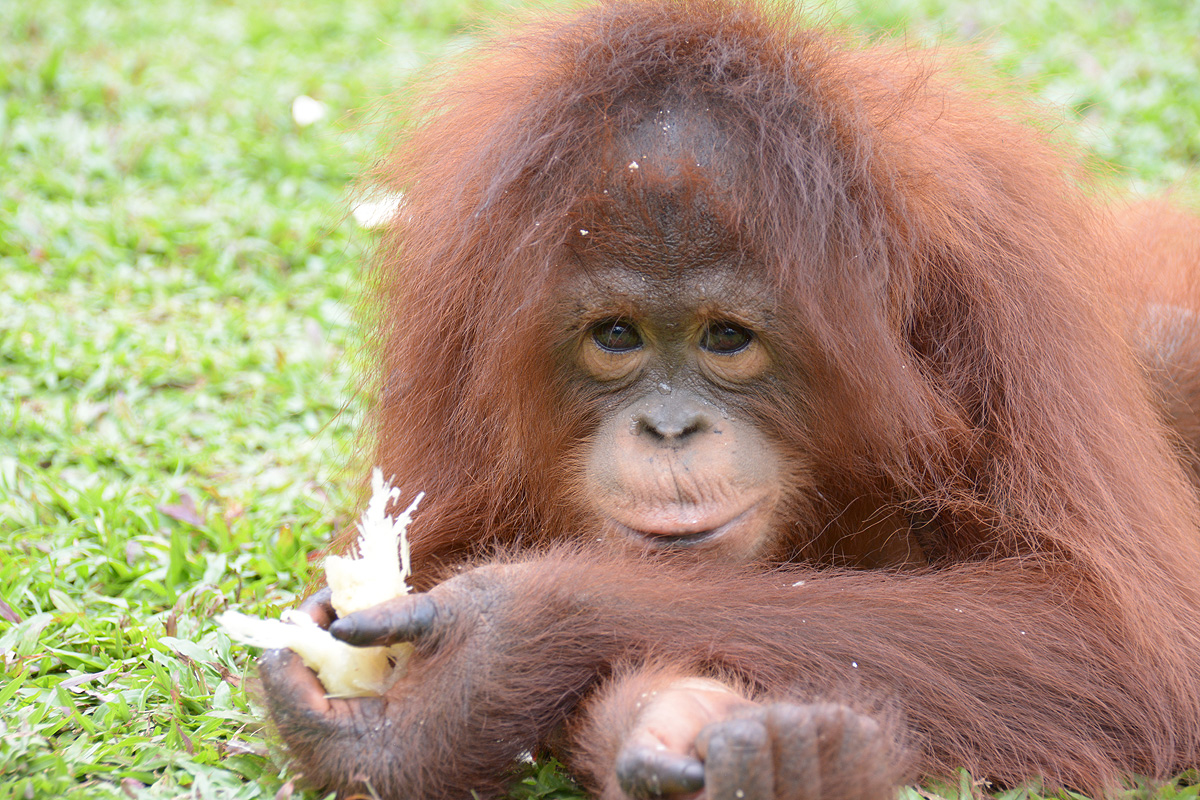 Rehabilitation Centre: Nyaru Menteng
Date of arrival: January 7, 2015
Gender: Female
Age on arrival: 8 months
Current age: 3 years
Current weight: 17.3 kg
Current school position: Forest School – Group 2
Health Status: Healthy
Meryl is a beautiful, active girl who never stays still for long. With her boundless energy she is always moving! She practices her foraging skills, climbs tall trees, and plays with other orangutans all day long. Meryl is proficient at climbing trees 10-15 meters tall, and if she really concentrates, can also pick fruits from the trees along the way.
Meryl has a new friend called Dila who is from one of the more senior groups. Dila pays Meryl regular visits and takes her to explore deeper into the forest, where the two snack on a selection of different young leaves and rattan shoots. After spending three months exploring alongside Dila, Meryl has certainly grown more independent and adventurous!
Thanks to Dila, Meryl is also now showing more interest in learning how to build better nests. Until recently, Meryl was only ever able to build 'adequate' nests, or she used old nests built by other orangutans, which she modified by topping with fern leaves.
At the play area, Meryl turns into an attention-seeker and especially looks for attention from the babysitters she likes. She will follow her favorite babysitter everywhere and cry if she loses sight of her.
Meryl is still startled by the sound of chirping cuckoos, and will quickly grab her babysitter whenever she hears one. Although, and perhaps out of curiosity, she will often lead her babysitter on a quest to find the source of the noise.
The beginning of a new year marks a fresh start for everyone, including the orangutans at Nyaru Menteng's Forest School. Orangutans who show significant progress in their training and skill development get the opportunity to advance to the next group. This is exactly what happened for Meryl, who was recently moved from Group 1 to Group 2.
Like any other young orangutan entering a new group, Meryl seemed a bit awkward in her new environment at first. She needed a babysitter to stand beside her for most of the day, but after a week seemed to be adapting to her new surroundings. This was partly because she had some familiar faces around. She had been moved to Group 2 at the same time as others from Group: Momot, Hanin, and Fatia.
Meryl is getting better at foraging in the forest and particularly enjoys eating termites and the tips of young leaves. She also enjoys snacking in her nest, which she still builds on the ground unfortunately. Meryl uses piles of fern fronds, which make for a soft and comfortable nest. We just need to work on getting her up into the trees!
With the exception of nest building, Meryl has managed to build up a slightly better skillset than that of others in the group. We hope she will provide her peers with good examples to follow, so they can one day be released together in the forest.