Meryl: Spring 2019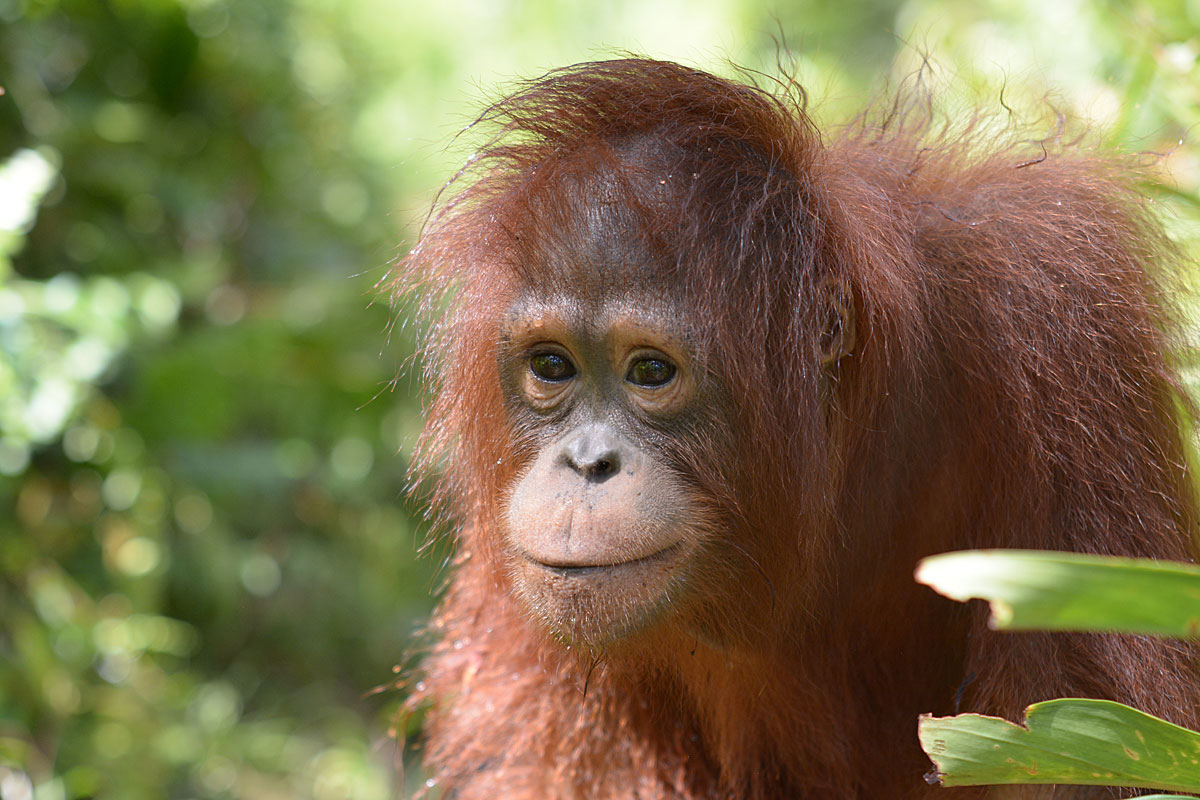 Rehabilitation Center: Nyaru Menteng
Date of arrival: January 7, 2015
Age on arrival: 8 months
Current age: 3 years
Current weight: 20 kg
Current school position: Forest School – Group 3
Gender: Female
Health Status: Healthy
We have good news about beautiful Meryl: this month she moved up to join Forest School Group 3 alongside her best friend, Mumut!
In Group 3, Meryl is getting to know new friends, and since Group 3's area is larger and has taller trees, she also now has the chance to explore the forest more. Meryl already has very solid climbing skills, but we are sure that she will now have the opportunity to hone these skills even further.
It took about one week for Meryl to settle into her new group. She spent most of her first week playing in close proximity to the babysitters, who kept encouraging her to climb trees to build up her confidence - but Meryl kept refusing.
The next week, Meryl started climbing tall trees again and exploring the forest with Mumut. What a relief it was for us to see her back to her usual, active self!
One day, when the orangutans from Group 3 had gathered to enjoy snack time, Meryl and Mumut were nowhere to be seen. The babysitters assumed that they were still off exploring the forest, but later when it was time to leave Forest School and head back to the complex, Meryl and Mumut were still missing. That was when a babysitter from Group 2 suddenly arrived with Meryl and Mumut in tow: Both had gone to visit their old group to play with old friends, and had spent most of the day there!
Be patient, Meryl. Your friends will soon catch up to you!
~
The sun was shining warmly down on Nyaru Menteng, where babysitters and technicians were preparing for another busy day of Forest School. As the complex gates opened, eager young orangutans burst out through the doors and headed to class.
On this particular day, babysitter numbers were down due to other priorities and illness. All Forest School groups were gathered together – with more than 30 orangutans in the same location - to play and learn. Some, like Meryl, were happy to see old friends from different groups.
Meryl had seemed somewhat moody and depressed in the weeks prior, oftentimes showing reluctance to join Forest School Group 3, her new group. But on this day, she seemed super excited to see Moci, her old bestie, on the boardwalk. She also took off with Momot to explore together, reminiscent of the days prior to Meryl joining Group 3. Absorbed in their own activities, the three were unaware that the babysitters were carrying food!
Meeting old, dear friends can certainly improve one's mood. It is heart-warming to know that meeting old friends brightened Meryl's day. May she continue to be happy, just as she was on this day!