Meryl: Spring 2021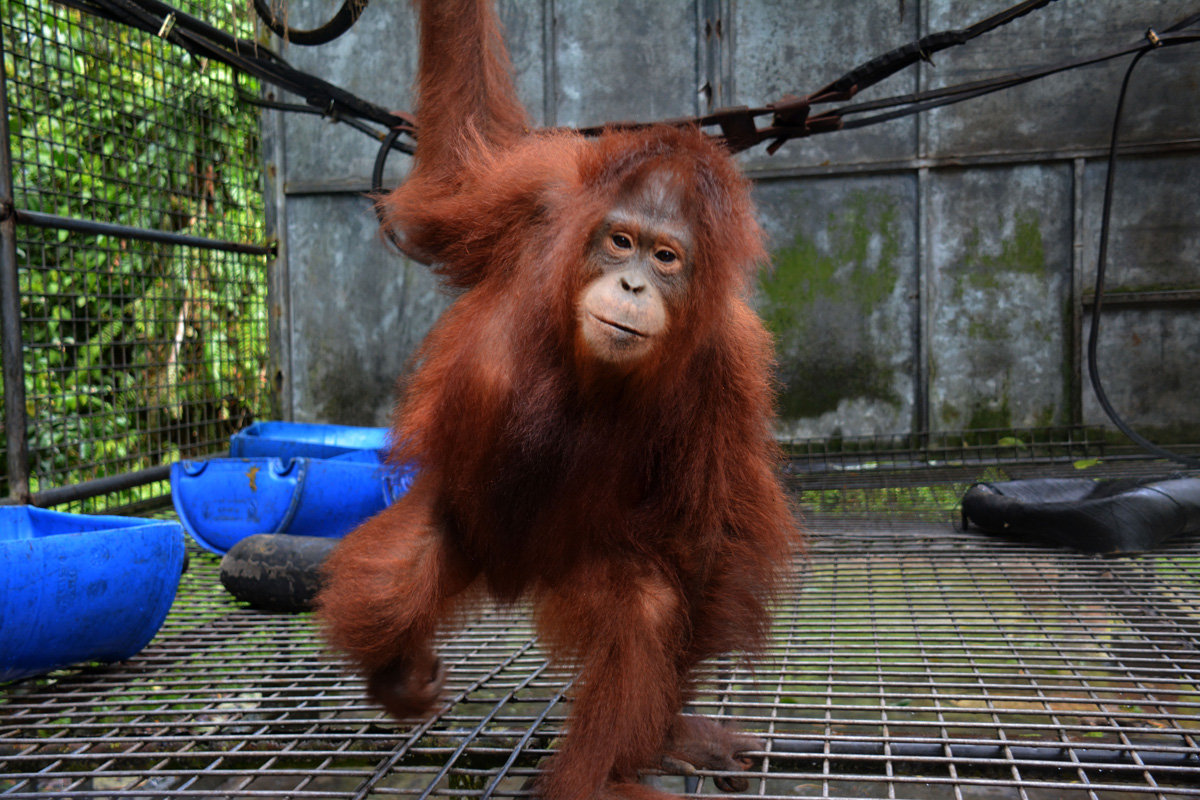 Rehabilitation Center: Nyaru Menteng
Date of Arrival: 7 January 2015
Age on Arrival: 8 months
Current Age: 7 years
Current Position: Socialization Complex
Gender: Female
Health Status: Healthy
Meryl still inhabits the Socialization Complex, as she in the stage between Forest School and transfer to a pre-release island. In this stage, orangutans get the opportunity to learn by observing and imitating others living in the same complex, to further develop their existing skills. Many orangutans continue to further develop their unique personalities at this stage, and either become dominant or social. Meryl, who used to be a lonely individual, is now interacting more with other orangutans.
Living in the same complex as Meryl are Lala and Kejora, two active orangutans who both show dominant traits. Lala appears to be quite selective with her friendships; she doesn't hesitate to push Noni, Susan, or Winey away when she feels like it, but she will never reject Meryl - even if Meryl approaches her awkwardly.
One day, Meryl was enjoying her time alone, dangling on an enrichment rope while eating fruit. Suddenly, she slipped and fell on Lala, who was directly underneath her. Both were totally shocked! Meryl quickly scrambled away to avoid Lala, who chased after her. However, Lala didn't seem annoyed; rather, she was trying to get Meryl to play with her. The two ended up playing and sharing food together at the divide of the high complex.
Seeing Lala's reaction, Meryl then tried to get Kejora, Noni, Susane, and Winey to join in. They have all grown closer and will play together, including dominant Lala, who is now willing to befriend others.
Meryl has been in prime health in the past few months. This is important, as it shows that she has maintained her physical condition despite the extra wet rainy season. Meryl is always happy to receive enrichment items and challenge herself with them.
After a year in the Socialization Complex, Meryl will soon get the opportunity to prove her newly developed skills when she enters the pre-release stage, in the next batch of orangutans to be transferred to an island. With her strong skills, we believe Meryl will have no trouble competing with both new candidates and long-time residents of Badak Besar Island, in the Salat Island Cluster. Winey, Kejora, and Susane will accompany her, while Lala will be moved to Bangamat Island.
Before they can live semi-freely on the island, Meryl and her friends still have a bit more time to hone their natural behaviors in the complex. We know Meryl can do it! Keep up the outstanding work, Meryl!