Meryl: Spring 2022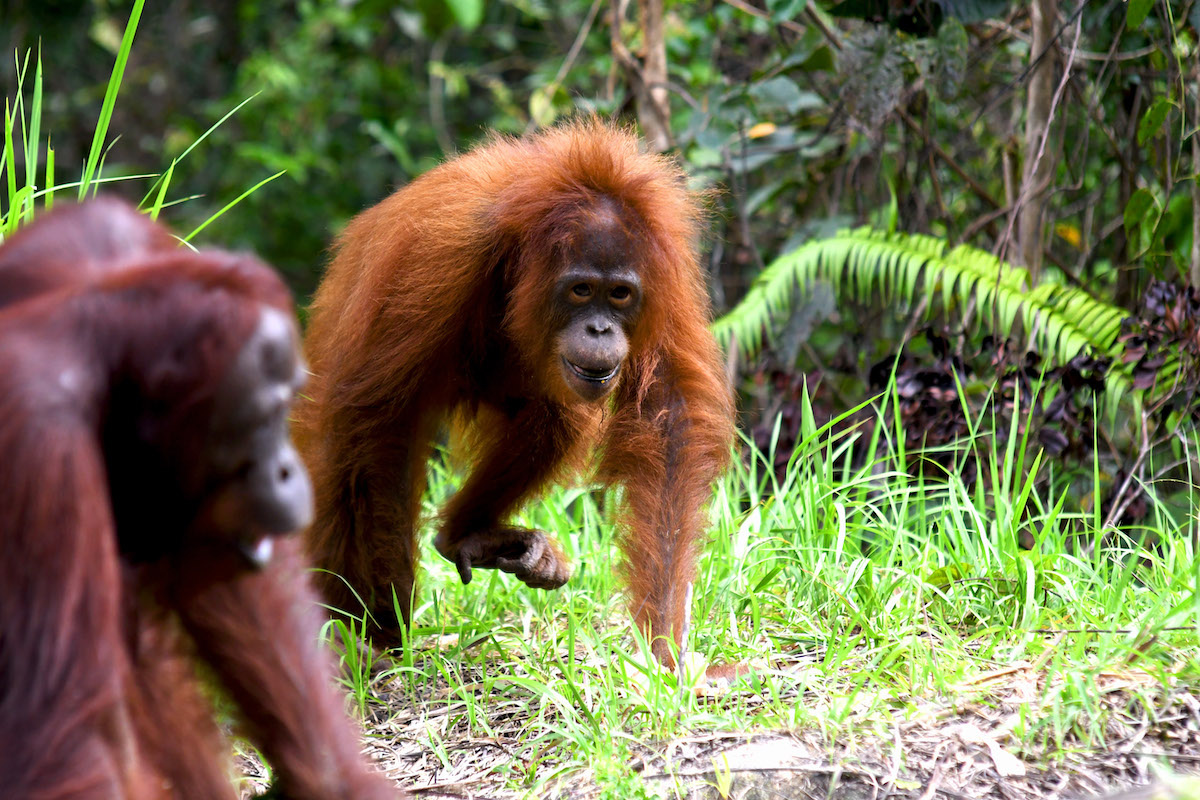 Rehabilitation Center: BOS Nyaru Menteng
Date of Arrival: 7 January 2015
Current Age: 8 years
Current Position: Badak Besar Island
Gender: Female
Health Status: Healthy
Click on the photos below to see them full size.
You can download them, too!
Last November, we transferred eight more orangutans who had completed Forest School to Badak Besar Island for the pre-release stage of rehabilitation. The eight were transported in two separate groups: Meryl, Sura, Beni, and Winey were in the first group that departed on 10 November; while Liti, Susanne, Kejora, and Obama followed two days later.
Prior to departure, our animal welfare and veterinary team members conducted a general examination on each candidate. Dressed in full PPE, they started weighing the candidates and performing dental examinations on them, as well as conducting other general health checks. Meryl and Winey, who stayed in the same complex together, remained calm during the examination process, which helped our staff get through the task quicker.
As with other orangutan transfers carried out during the pandemic, we transported the orangutans by river to minimize the possibility of crossing paths with local residents along the way. While the river route involves a longer travel time, it is the safer option in terms of preventing the spread of disease.
The overall trip took more than four hours, from Sei Gohong Pier to Badak Besar Island. Meryl was in good spirits throughout the journey, despite being confined to a transportation crate. She spent the journey eating heartily and relaxing. Every now and then, she peeked out between the bars of her crate door while munching on fruit.
At around 12 noon, the transport cages were unloaded one by one on Badak Besar Island's feeding platform, which we used as the location to open the cages that day. After releasing Beni and Winey from their respective transport crates, it was Meryl's turn. Her cage was opened by May Sumarnae, the Coordinator of our Animal Welfare team at Nyaru Menteng. Meryl was not at all bothered by the presence of technicians and veterinarians around her. As soon as she came out of the crate, she immediately took the bananas available on the feeding platform and ate them on the spot.
Shortly after Meryl left the cage, Cinta and Valentino approached her, and the three climbed up the same tree. Valentino seemed to want to get closer to his old friend Meryl, which is a good sign for these young orangutans.
Newly-released orangutans on the island typically prefer to hang around the spot where their cage was opened. However, in the afternoon, when our observation team returned to visit the island, they could not see Meryl around the feeding platform. The next morning, our observation team spotted her in the canopy exploring. She looked very free and agile moving through the trees.
Meryl has shown a great ability to adjust to her new island environment. What an impressive start, Meryl!
Newcomer Meryl Thrives Despite Flooding
Late last year, Badak Besar Island, where Meryl currently resides, experienced a very drastic rise in water levels. Almost the entire island was submerged by floodwaters up to two meters deep. This lasted for over a week. Our Infrastructure Island— where the technician's mess hall and fruit warehouse is— even flooded despite being built higher to avoid such flooding. Floods hampered most of the team's daily activities and observations, which had to be stopped as the river current was too fast and dangerous.
The team on the island also had difficulty distributing food, because the feeding platform was completely submerged! Technicians had to throw food directly at the waiting orangutans, with little success: Quite a bit of food was washed away by the current.
Conditions like these raise concerns about the orangutans on the island, especially newcomers like Meryl, who are still undergoing a habituation and adjustment period. However, the situation actually provided a good lesson for Meryl, as she quickly learned to stay up in the safety of the trees and be on alert.
During her first months on Badak Besar, a pre-release island in the Salat Island Cluster, Meryl has been looking increasingly confident. She is spending less time at the feeding platform than before. She now waits high up in the trees for technicians to distribute food at the feeding platform and will only come down to collect it when they are gone.
However, Meryl is still unable to compete with the other inhabitants of Badak Besar Island, such as Cinta, Valentino, and Jumbo, who all snatch food from her. On several occasions, Meryl has had to give up her food and return to gather more at the platform, before quickly scurrying off to avoid being robbed. This is a common occurrence, as orangutans who have inhabited the island longer will usually dominate over the newcomers. Meryl is often seen exploring the island together with other orangutans, but when it comes to food distribution, there is clearly a hierarchy!
Meryl's skill in foraging for natural foods has greatly improved. In fact, the team noted during observations that she ate six different natural food sources, including tamang fruit (Elaeocarpus submonocerus), tutup kabali fruit (Diospyros borneensis), and several fallback food sources such as grass, rubber sap, liana roots, and cambium.
Earlier in the year, the productivity of plants and their yields of young leaves and fruit on Badak Besar Island experienced a decline, but Meryl was able to recognize many other food sources that were still available on the island.
Thanks to her well-developed survival skills and natural behaviors, Meryl recently received high observation scores.
Good job, Meryl, and keep progressing on the island!