Molika: Fall 2021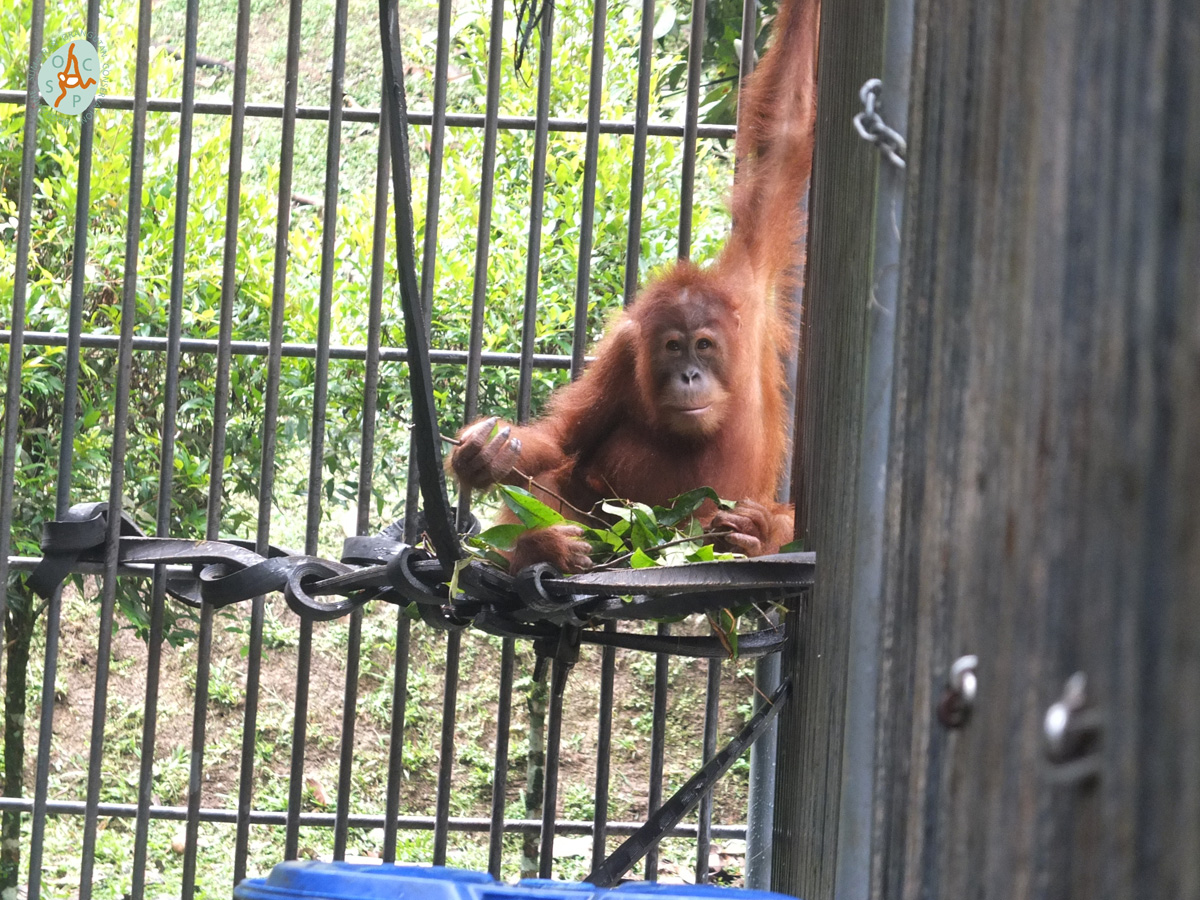 Background and Current position
Molika was confiscated by BKSDA Aceh in collaboration with Orangutan Information Centre (OIC) and brought to the SOCP Rescue and Quarantine Centre in June 2018. She had been kept as a pet for about two years in Gampong Baru Village, Aceh Province. She stayed in a small cage with a macaque. She was fed with human food such as rice and salty fish and is accustomed to people. Currently, Molika is in the Middle Group.
Behavior and Health
In July and August, the COVID-19 pandemic in Indonesia became extremely serious with Indonesia seeing the highest rate of infection in Southeast Asia. It was necessary for SOCP to make the difficult decision to again pause some routine activities in order to minimize close contact with orangutans for health and safety reasons. This included temporarily closing activities in the Forest Schools. Considering the risk that the coronavirus poses to orangutans and other wildlife this is a necessary mitigation measure for us to take at this time.
Not only have we had to pause Forest School, but all the SOCP staff who work directly with the orangutans have been divided into two teams who work separately. If any staff member tests positive for COVID then all the team members will be required to isolate for a certain number of days until they are confirmed negative. While one team is isolating the other team will take over all responsibilities.
Furthermore, adjustments to orangutan groupings were needed to create smaller groups in response to the COVID-19 pandemic risks. Small groups - known as epidemiological units – are easier to manage in the case of a positive case in an orangutan. To date we have had no positive cases.
While other orangutans were moved as a result of the regrouping, Molika was not— and has stayed with her group. Molika has a good friendship with Ashoka, another female similar in age. Ashoka does not like people and so will cling to Molika when the SOCP staff get close to the cage. However, Molika is showing the opposite behavior and likes to be around the staff. She will even approach the staff and try to interact with them. She is always curious about their activity and will watch them closely.
Molika gets actively involved in enrichment activities. She never gets bored and is always really enthusiastic when the staff bring the enrichment materials. When leaves are provided, Molika will take as many as she can put them together in a nest or she may simply taste them all. Sometimes she takes leaves into the plastic hanging barrel and sleeps there with the leaves as padding.
Molika has been healthy in this period. We hope to be able to return to normal activities soon and bring Molika and friends to forest school again to continue learning.
Thanks for being so patient, Molika!  🙂