Molika: Spring 2019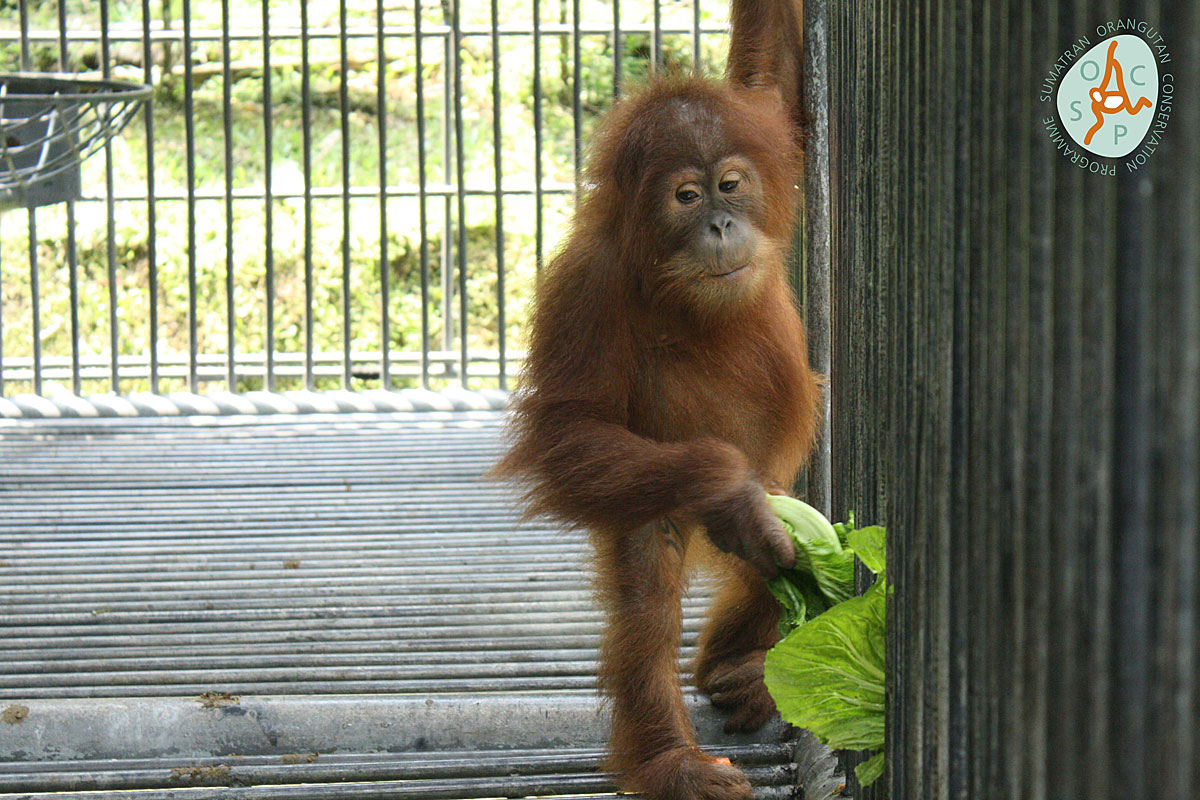 Molika loves to eat her vegetables and fruits and is doing well in her Socialization Group (Photos by Arista)
Background
Molika was confiscated by BKSDA Aceh and Orangutan Information Centre (OIC) and brought to the SOCP Rehabilitation and Quarantine Centre on 25 June 2018. She had been kept as a pet for about two years in Gampong Baru Village, Idie Rayeuk District, East Aceh Regency, where she stayed in a small cage together with a macaque and was fed human food like rice and salty fish. She is very accustomed to human contact.
At first Molika joined the Middle Group in the Socialization Facility but she has since been moved instead to the Young Group, as in the Middle Group she was frequently clinging to Iben – which served to hamper both Molika's and Iben's development. She fits well in the Young Group and is enjoying her time in the Forest School.
Behavior and Health
As a newcomer Molika has adapted quite well in her group, and she is not at all bashful to get whatever vegetables and fruits she wants at feeding time! She also likes to snatch up large piles of leaves and branches for playing and eating the young leaves or the bark, although she has not yet been seen using them to build a nest – so far mainly for playing. We expect that with more time in the Forest School setting, and seeing others building nests, Molika will develop these skills as well as reduce her dependency on humans.
Molika recently came down with a common flu but she has fully recovered and is now once again very healthy. Her bodyweight as of February 2019 is approximately 30 lbs. (13.51 kg), which is considered normal for an orangutan her size and age.
Future Recommendations for Molika
We want Molika's caregivers to bring her to Forest School as much as possible. With her background involving a lengthy stay with humans, in close proximity, she needs to unlearn any non-natural behaviors and lose her dependence on human contact or provisions. By spending time in Forest School, Molika can develop her forest survival skills and become more independent.