Monita: Spring 2021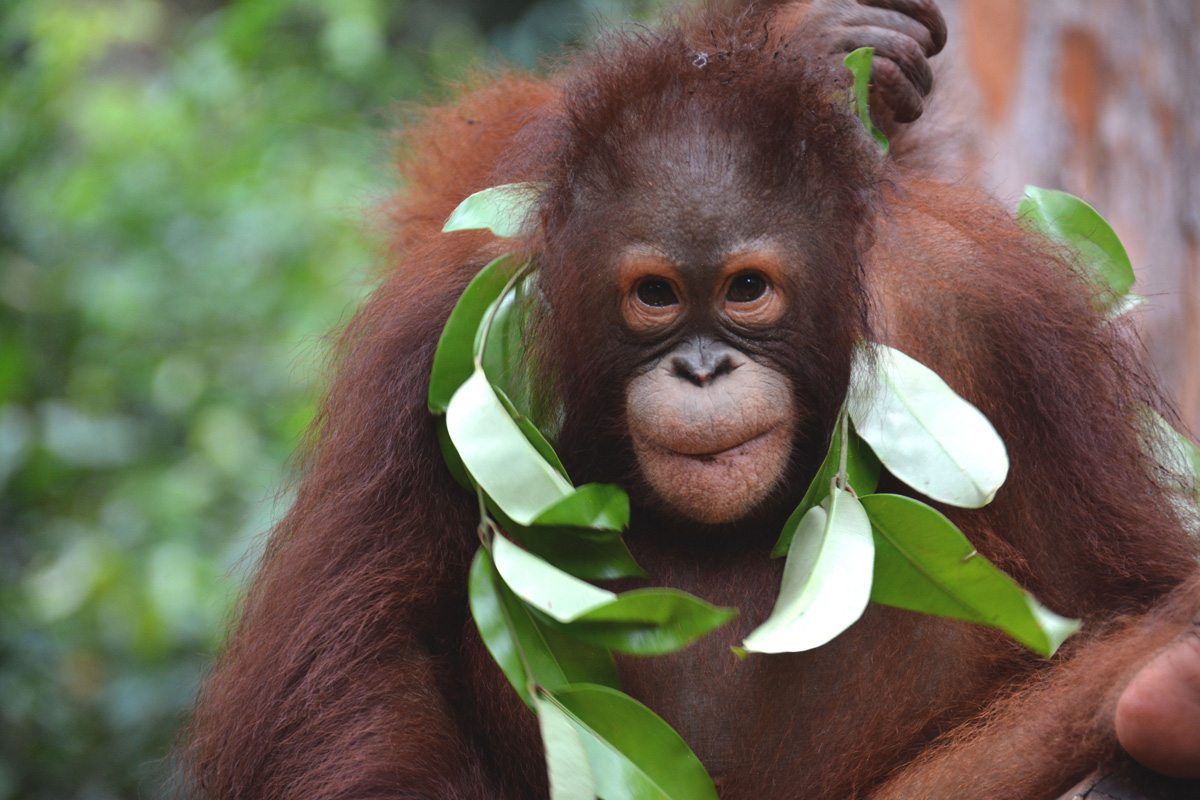 Rehabilitation Center: Nyaru Menteng
Arrival Date: 9 June 2018
Age on Arrival: 3 months
Current Age: 3 years
Gender: Female
Current Location: Forest School – Large Nursery Group
Health Status: Healthy
Last month, the young orangutans in the Nursery Group received a visit from one of our veterinarians, who performed regular deworming for everyone in the group. Each orangutan received a dose of medicine, which was cleverly hidden inside a sweet potato ball. During distribution of the medication, the vet was assisted by surrogate mothers to ensure that each orangutan received only one dose, and that there would be no altercations.
Monita is still seens as a dominant female in the large Nursery Group. Despite the presence of a much bigger orangutan named Christina, Monita still maintains control at the feeding platform, during time with the surrogate mothers, and in most areas of Forest School. Her dominant character is backed by her exceptional skills and independent personality. This is what has seen her gain many friends, or rather, followers! Such charisma!!
Some time ago, due to staffing protocols during Covid-19, the number of surrogate mothers in charge of the Nursery Group was not enough to watch over the orangutans when split into the small and large groups. The decision was made to gather all 14 students from both groups in the same location. Most of the orangutans had not known each other before, and they initially just stayed with members of their own groups.
Then, Monita made the first move and confidently approached Rambo, Uwai, and Hanua, all from the small group, who were learning how to forage for termites. Monita immediately took a piece of weathered wood and positioned herself in front of the younger orangutans. Rambo and Uwai paid close attention to each and every movement that Monita made. What a wonderful lesson they received that day from their peer!
After playing with her younger classmates for a while, Monita decided to venture off alone into the forest. But, unexpectedly, Rambo and Uwai followed after her. It seemed that they had found a role model in Monita; something that Monita appeared to enjoy. The surrogate mothers were amused when Monita took a bunch of young leaves and draped them around her neck – looking very much like the chief of a tribe!
Monita is known as a social individual, and has proven this by creating a friendly atmosphere for members of both the large and small groups, since they have joined together. They now learn and play together, thanks to Monita taking the initiative. Before school hours end, Monita usually leaves her friends to explore the forest alone. She will then approach the surrogate mothers just before it is time to return to the Baby House in the evening to sleep.
Thank you, Monita, for looking out for the youngsters and teaching them new skills. Sleep tight because you need your rest for another day of exciting adventures at Forest School!