Nadya: Fall 2015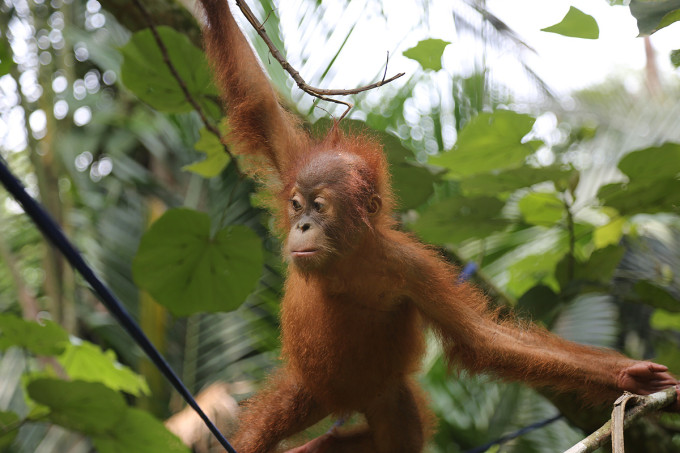 Nadya has been a super star in the last 6 months! She has graduated two levels and now resides in the large Socialization Cages with lots of friends. This is the last stage before a soft, monitored release into the forest.
Nadya has developed strong wild orangutan behaviors and is now unable to be held or carried outside by her caretakers. This is fantastic because she has no interest in people! She will always shy away form her caretakers or try to bite them when approached— especially if thy have a camera! Hanging out with her wild friend Bulan has helped her develop strong, wild instincts. This has really helped her progress quickly through the training school groups.
The last 3 months have been busy at quarantine— moving orangutans into various groups so SOCP can accommodate the 19 new orangutan arrivals. Nadya was one of many who moved to the new Baby House Socialization Unit where her final stages of development can be assessed before she is taken to the release site.
While remaining for 1 month in this large new facility, Nadya quickly took on the role of a dominant female. She has actually turned into a bit of a bully towards her 'friends' Bulan, Cece, Jaggai, Gokong, Siboy and Jambo. She dominates at feeding times, often biting other orangutans and going out of her way to steal the fruit from her companions.
The SOCP staff quickly recognized that as Nadya spends more time with her 'wild' friend Bulan, she has started to grow less attached to her boyfriend Gokong, who she used to follow around and often cling to all day. She has now realized that she doesn't need him so much. Now she will play with him for a bit, but then go off on her own to build a nest and rest. Gokong will still often nest with Nadya at night time, which she seems perfectly fine with. Watching her start to become further independent is one of the most important signs we are looking for.
Nadya is now a role model for everyone in her group: Jagai, Bulan, Siboy, Gokong, Jambo and Cet Lewas. The group is a mix of wild orangutans along with two overly humanized orphans. Activities to promote natural behaviors include providing leaves and other materials twice a day so they can aim to build a nest; problem solving skills with coconuts and making food hard and difficult to get to; 5 feeds per day on a nutritionally balanced diet.
We notice Nadya really likes mangoes and she will often take them from the other orangutans and sit in a corner by herself, not allowing any of the others to take them from her. Her cheeky wild attitude is starting to shine and we can see in the next month Nadya will graduate to the second group (Medium Socialization) with her friends Jaggai and Bulan.
Nadya also like to climb high and nest in the uppermost swings in the training cages. At night she is one of the first to make a nest and Gokong will often climb up and nest with her.
Nadya has been very healthy except for one short bout of flu last month. She has adapted well to her new living area and we're hoping that by early 2016 she'll be able to move to the forest to begin the next phase of her rehabilitation.
Written by Jessica McKelson