Nadya: Spring 2016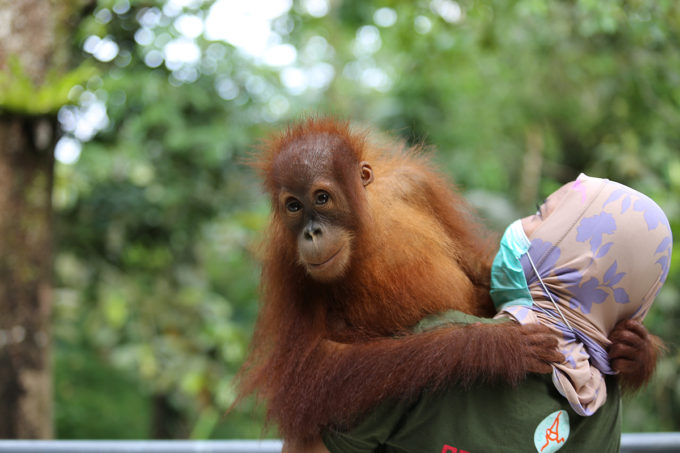 Nadya: estimated 4 years old
Nadya has come a long way in the past six months. For the first few months she was one of the dominant orangutans in the Baby House, leading the way and teaching her friends Gokong and Siboy in the small socialization group. However, Nadya has since graduated to the second, larger training group in the Socialization Cages.
Nadya is quite independent and does not like to interact with people anymore. Previously Nadya was a sweet little female, extremely humanized in her behavior, however she is now maturing into a confident, wild female who bites her keeping staff! (a very good sign!)
This bodes well for her future release. However, for this reason, she is also now unable to go outside into the playground area, as she climbs very high and will not come back down to sleep. She prefers to ignore humans and only interacts around feeding time. her favorite food is sweet potato. As her keeping staff are no longer able to be control her, Nadya is being prepared for release back into the wild.
Although she is still quite small, Nadya likes to play quite roughly with her best friend Bulan and her other good friend Jaggai in the middle group. Nadya is also very good at making a nest – using a combination of hessian sacks, leaves and dried banana leaves.
This excellent nest building ability, her growing independence, and increased activity levels make Nadya a prime candidate for release, so we're very proud she's destined to enter the Jantho reintroduction station, in Aceh (where over 82 orangutans have been released back to the wild). Nadya should start Jantho's animal training school very soon and we are excited to follow her progress back to the wild.
Nadya will follow her friends Siboy, Bulan, Cet Lewas and Jaggai back to the forest school and we know she will excel in the forest, surrounded by wild orangutans as her teachers.