Topan: Fall 2019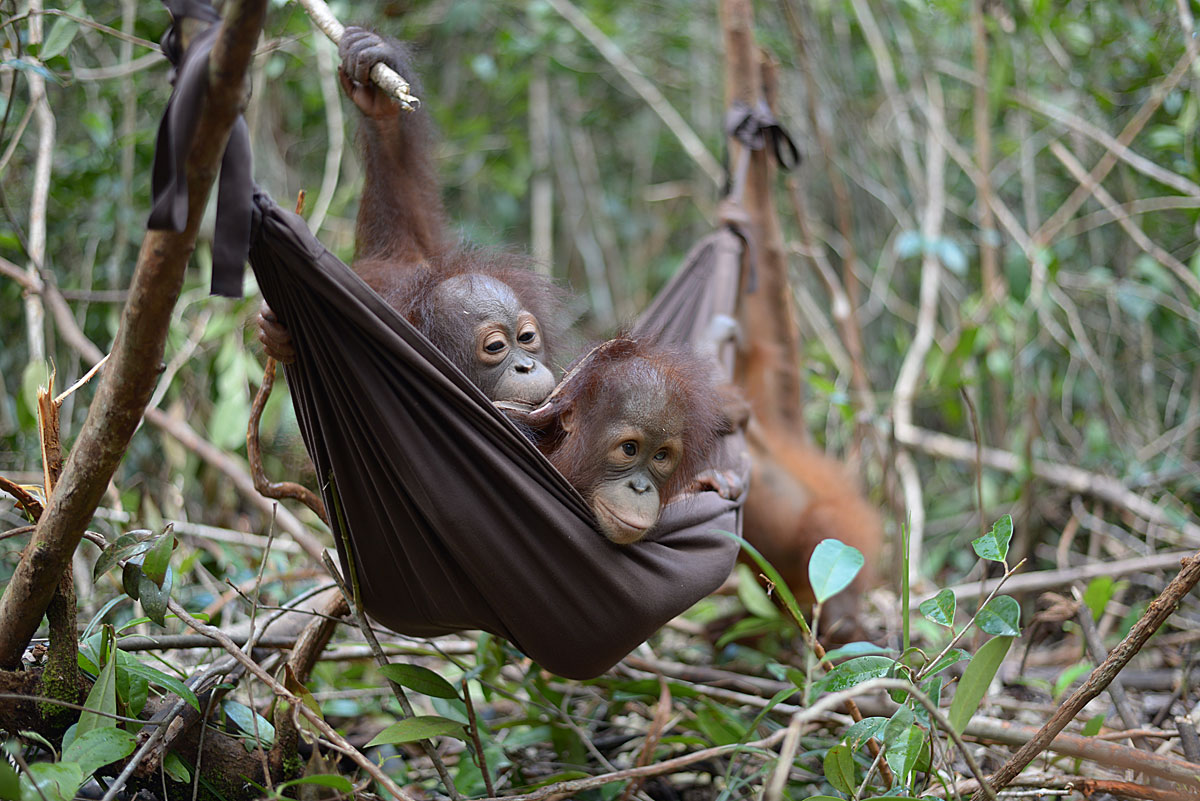 Rehabilitation Center: Nyaru Menteng
Arrival Date: October 13, 2017
Age on Arrival: 8 months
Current Age: 2.5 years
Previous Weight: 17 lbs.
Previous Location: Nursery Group
Current Location: Forest School Group 2
Gender: Female
Health Status: Healthy
Some orangutans adopt a dominant nature from a very young age, as is the case with Topan, who is one of the more confident members of Nursery Group. Topan is older and bigger than the other babies in her group, and is also the most skilled, which has helped established her dominance.
Topan always manages to get whatever she wants from her peers! She not only snatches bottles of milk from them, but also takes control of the two hammocks installed in the group's playground area.
Recently, when Topan was enjoying fruits in the top of a tree, she spotted her friends Alejandra and Baun playing in a hammock below. Unwilling to let the hammock be used by others, she quickly climbed down and rushed over to it. She then pushed the much smaller Baun out of the hammock! Baun cried out and had to be rescued and reassured by a babysitter.
After taking over the hammock, Topan soon noticed that Monita was sleeping in the playground's other hammock. For a minute, Topan hesitated, as if deciding whether or not she should leave the hammock she had just bullied Baun out of. However, the temptation to display her dominance soon kicked in.
Topan approached Monita's hammock and set about sabotaging it; she managed to untie the knot on the tree that was keeping the hammock stretched and taut. Monita was suddenly flipped over onto the ground, and scuttled off in shock to the babysitters. Everybody was startled by Topan's sneak attack! Once satisfied that the hammock was empty, Topan returned to her hammock.
Perhaps Topan needs to be moved to an older group, where her dominance will be challenged!
~
Topan's dominance and rapid skill development in the Nursery Group had our surrogate mothers talking for a long time about promoting her to a more advanced group. They not only wished to see Topan learn more advanced natural skills in another group, but also wanted to see how her strong character would hold up around older orangutans.
Alongside her friend Alejandra, Topan was recently promoted to Forest School Group 2, where she encounters orangutans her age with similar or more advanced skills. This is where Topan's real test begins!
Like other young orangutans, Topan spent her first day in the new group examining her surroundings, and had little interaction with others. Topan and Alejandra spent the whole day in the same tree! This is precisely the reason we promote orangutans in groups or pairs, to keep them comfortable as they ease their way into a new group.
By around noon, Topan had started to gain more confidence and was moving around more. She began to play in a small tree and dangle from liana roots, like a beautiful ballet dancer showing off her moves. It was almost as if she was doing it to impress others and make new friends. Unfortunately, she did not get the same attention from her new peers as she had enjoyed in her previous group. This time, it was only Alejandra who paid interest.
Topan made a decent effort on her first day in the new group. Given time, we are sure she will become the primadonna of this group also!