Topan: Fall 2020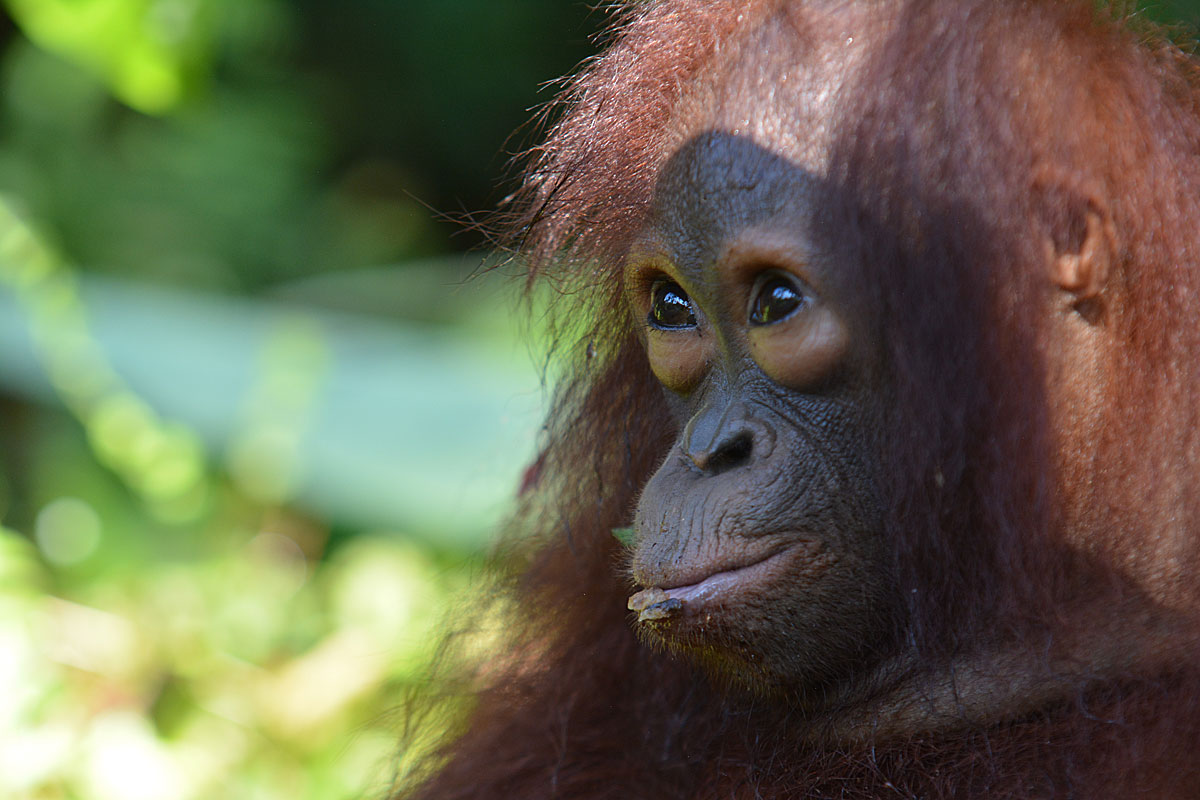 Rehabilitation Center: BOS Nyaru Menteng
Arrival Date: 13 October 2017
Age on Arrival: 8 months
Current Age: 4 years
Current Location: Forest School Group 3
Gender: Female
Health Status: Healthy
In light of the COVID-19 pandemic, the BOS Foundation has introduced several new rules at the Nyaru Menteng rehabilitation program. In addition to stricter health protocols, team members' work shifts have been adjusted. These changes thankfully have not impacted the class schedule at Forest School.
Topan has made significant progress in Nyaru Menteng's Forest School Group 3. At her tender age, she already has the courage to climb the tallest trees, and the ability to identify and forage for natural foods she finds in the forest. This past summer, the Forest School areas were often dotted with puddles due to heavy, nightly rainfall. Topan never misses a chance to play in the puddles while eating her favorite treat: sweet corn. She is not alone, as her best friend Alejandra is usually hanging around doing the same thing.
One day, after she was done playing in the mud, Topan quickly moved toward a tree to climb it, but her mud-covered hands prevented her from doing so. She slid down a couple of times, unable to climb up. However, Topan did not give up easily. She went over to a bush and started rubbing her slippery hands on it to help dry them off. Her efforts worked, and when she tried to climb the tree again she was able to do it without a problem. She even managed to carry some sweet corn with her on the way up! What a clever girl Topan is!
~
Topan is a sweet, courageous individual who has shown steady progression in her skills. Not only is she getting better at climbing tall trees, but she is also starting to occasionally leave the Forest School Group 3 area to venture deeper into the forest.
One day, on the way to Forest School, she encountered two older friends, Josh and Rachel from Group 4, one group above hers. Without hesitation, Topan joined them, and the three proceeded to explore the forest together. On this occasion, Topan had many new experiences; she learned to socialize, forage for natural food, and refurbish a used nest. From watching Josh and Rachel, Topan learned how to make adjustments to an old nest that turns it into an even stronger one.
When her peers from Group 3 headed to the playground in the afternoon, Topan joined them. There they enjoyed play time with some enrichment, and a refreshing drink of milk. Topan, who usually dislikes being crowded, approached a surrogate mother to request some milk. She then spent the rest of the afternoon playing with calm-natured Alejandra, while enjoying some more fruit and milk.
Every day, Topan manages to amaze us with great progress – a direct result of her hard work in Forest School. Her courage and her highly curious nature have helped Topan develop into the adept individual she is today.
Keep honing your skills until you are ready for true freedom in the forest, Topan!