Topan: Spring 2019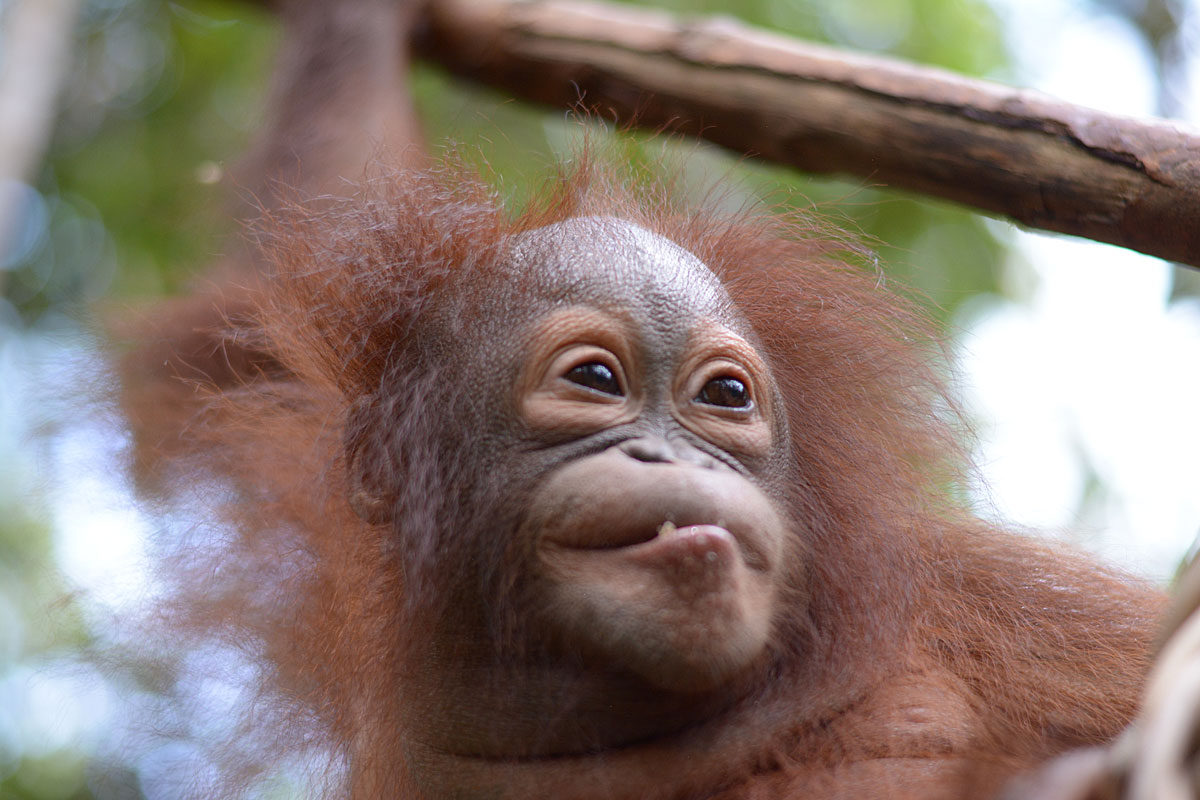 Rehabilitation Center: Nyaru Menteng
Arrival Date: October 13, 2017
Age on Arrival: 8 months
Current Age: 1.5 years
Current Weight: 7.48 kg
Current Location: Nursery Group
Gender: Female
Health Status: Healthy
Topan made friends with Alejandra (affectionately known as 'Ale') on the very first day she arrived at the Nyaru Menteng Baby House, a special complex for the orangutan babies in the Nursery Group. Their friendship kicked off the moment Topan saw traumatized newcomer Ale distraught and crying. Topan quickly approached her and motioned for her to come and play together. Much to our surprise, Ale accepted! From this point on, Ale was much happier and always eager to play with Topan.
The two babies are now inseparable in Forest School: Alejandra will happily trail behind Topan from the second she wakes up until they reach the Forest School area. However, Ale is still somewhat perplexed by Topan's curiosity and thirst to explore.
One day, when Topan and Ale were enjoying rambutan fruits up in a tree, Topan spotted a frog jumping away into the forest. With her curious nature, Topan immediately climbed down to follow it, but Ale became concerned and suddenly cried out in an attempt to prevent Topan from leaving her side. Ale tried to block Topan, and grabbed at her hair. But for Topan, the frog was far too interesting, and she crawled out of Ale's grip to go chase the frog.
Satisfied with her discovery, Topan soon returned to Forest School and back to Ale's side. Ale, who was still sobbing in the arms of a babysitter, could not resist Topan's invitation to resume play together.
Topan and Ale's friendship is definitely unique! We hope Topan will continue to help Ale build her confidence and a sense of independence.
~
Topan is currently a member of Nyaru Menteng's Nursery Group. Her large frame and developed skills make her a dominant figure in the group. Topan always wants to be the first to receive food – and look out if any other orangutan gets food before her!
One day, when it was time for milk, Topan was sleeping soundly in a hammock after a long session of play. The babysitters deliberately left her to sleep and carried on distributing milk to other orangutans. But once Topan woke up and realized what was happening, she quickly jumped out of the hammock and snatched a bottle of milk from classmate Monita.
Topan's dominant nature emerged at an early age, way before she had even entered Forest School. As a baby in quarantine, she once fought her friend Ale for a hammock – she shook it until she fell out of it!
Fortunately, her dominance is backed up by her excellent skill development, which is rather impressive! Keep up the good work, Topan!