Video: Rescued Baby Orangutan 'Hati' Makes Her First Nest!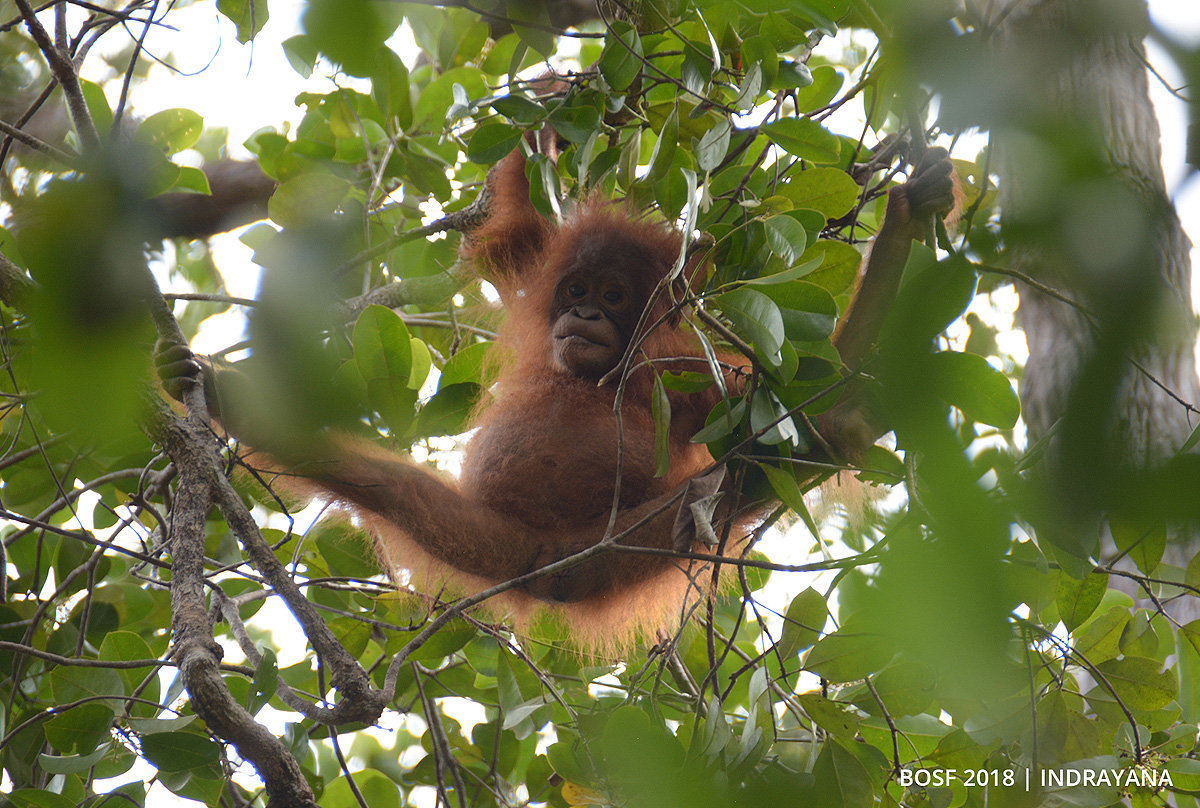 May 2, 2018 — In February, a female baby orangutan was rescued from the village of Tumbang Sanamang, Katingan Hulu Regency, by a joint team from the Central Kalimantan BKSDA and BOS Foundation's Nyaru Menteng team. The baby, who was given the name Hati, was clearly traumatized from being kept in a wooden crate for more than a year. She displayed no wild behaviors— a clear indicator of long-term interaction with humans.
After nearly three months of treatment at the Nyaru Menteng quarantine facility, Hati is beginning to show positive signs of adaptation, improved health, and development of natural behaviors.
Hati Making Great Progress at the Forest School Quarantine Facility
Hati is one of our special orangutans in Nyaru Menteng's quarantine facility. Despite her young age – at just over two-and-a-half years old – Hati is a quick learner. Not only has she become a great climber, but has also picked up some of the basic skills required to build nests up in the trees. Having these skills, especially considering Hati's background, makes her rather advanced for her age when compared to the other orangutans in our care.
Hati's instincts and nest-building skills kicked in on the day our babysitters showed her how to construct a nest by piling up twigs and leaves on the ground. She became very interested, and slowly but meticulously started practicing what she had seen to produce very comfortable nests to lounge on.
Today, Hati is capable of constructing a nest in the branches of a tree; a skill that is most commonly acquired by orangutans in the more advanced Forest School groups. This is astounding progress for such a young orangutan – let's not forget that this little beauty is not even three years old yet!
Babysitters have kept us posted on Hati's progress and tell us that she builds a nest every single day; or makes repairs to an old one. She will climb a tree, play around on a high branch, then start bending and breaking twigs to assemble them into a nest she will later use for a well-earned siesta. This shows that she has developed confidence; a true sign of a healthy, wild orangutan who is escaping the trauma experienced from being caged as a pet.
It is wonderfully rewarding to see rescued orangutans like Hati grow both physically and psychologically, and to see them happy and healthy. Keep up the great work, dear Hati!
Text by: BOS Foundation Communication Team
The Orangutans Need Your Help!
Please make a donation to BOS Nyaru Menteng today!