22nd Orangutan Release from BOS Samboja Lestari: Meet the Candidates!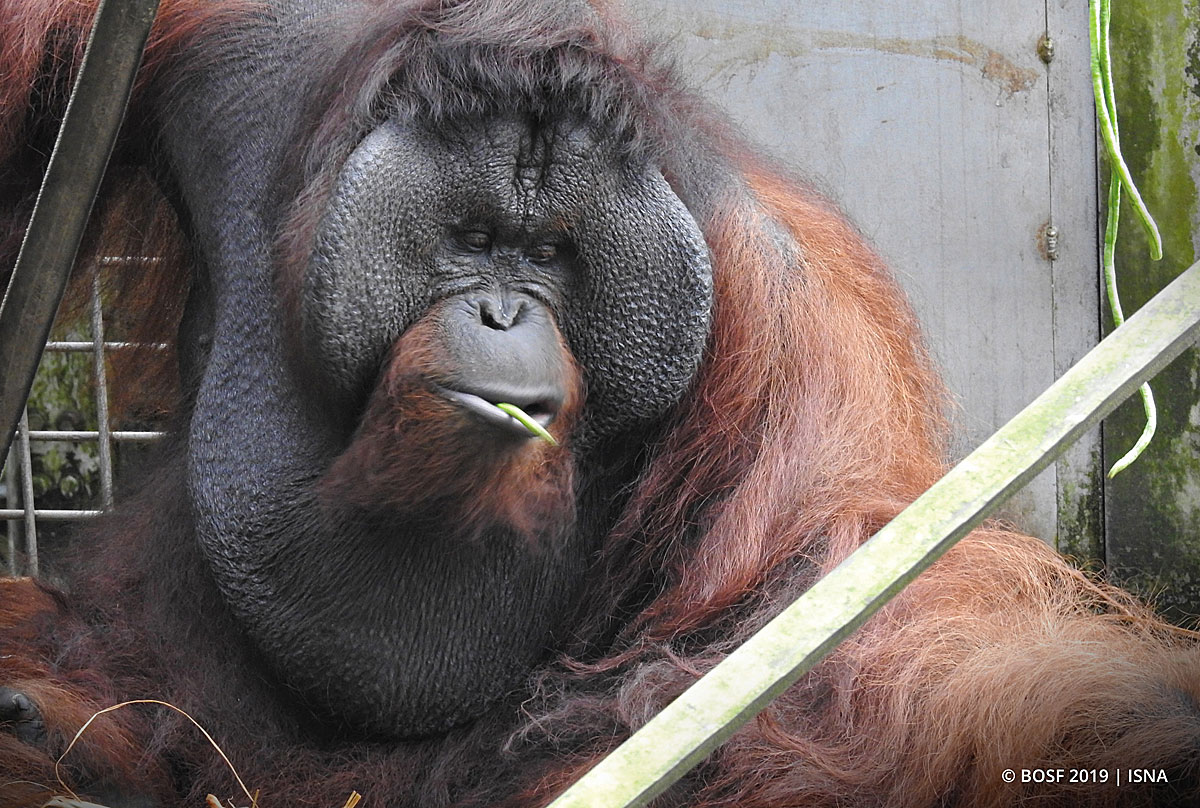 The Borneo Orangutan Survival (BOS) Foundation and the East Kalimantan Natural Resources Conservation Agency (BKSDA) are conducting a fifth release for 2019 in the Kehje Sewen Forest, East Kutai Regency, East Kalimantan. Four orangutans will be released this time, bringing the total number of rehabilitated orangutans released in the forest to 115 individuals.
1 October 2019 — The BOS Foundation, in cooperation with the East Kalimantan BKSDA, is again releasing orangutans that have completed the rehabilitation process at the Samboja Lestari Orangutan Rehabilitation Centre. Four orangutans will be released into the Kehje Sewen Forest, an 86,450-hectare Ecosystem Restoration Concession area located in East Kutai Regency.
Meet the Orangutans
1. RANDY

Randy was rescued from the Lempake village, near the city of Samarinda, in East Kalimantan. He came to the BOS Foundation's Samboja Lestari Orangutan Rehabilitation Centre on 11 October 1997, when he was five years old.
Fortunately, when he first arrived at Samboja Lestari, Randy was still showing signs of learned, wild behaviour. Unfortunately, he was also suffering from hepatitis B. He immediately underwent treatment in a special recovery enclosure with our quarantine facility. Thirteen years later, in 2010, Randy was finally declared free of hepatitis B (Orangutan hepadnavirus). Over the past two decades, a lot has happened and advanced medical science has determined that hepatitis B found in orangutans (Orangutan hepadnavirus) naturally occurs in the wild and is not dangerous
During his 22 years of treatment and rehabilitation, Randy developed sound foraging and nest-building skills. He is known for his calm nature and general disregard for humans around him. Now aged 27 years, this stocky, flanged male is ready to live wild and free in the Kehje Sewen Forest.
2. MARLIES

Marlies came to Samboja Lestari on 20 March 2003, after being rescued by the DKI Jakarta BKSDA from a local resident who had been keeping her illegally as a pet. She arrived at the Samboja Lestari Orangutan Rehabilitation Centre when she was four years old and immediately underwent a compulsory period of quarantine.
After completing quarantine, Marlies started her rehabilitation journey in Forest School, where she was known as a clever and independent student. After mastering the skills of nest building, predator avoidance, and foraging, Marlies continued on to the next stage of rehabilitation on Pre-release Island #5, where she further developed her natural skills. However, her rehabilitation process was interrupted towards the end of 2010, when BOS Foundation staff were astonished to discover that she was pregnant. In response, Marlies was transferred to an individual enclosure where she could securely live until she gave birth, and in May 2011, her daughter Maureen was born. The following year, Marlies returned to the pre-release island to resume her rehabilitation until she completed the process in 2015.
Marlies is now 20 years old, and after 16 years of rehabilitation is ready to experience true freedom in the Kehje Sewen Forest.
3. SUMIRAH

Sumirah came from the Surabaya Zoo in East Java and arrived at Samboja Lestari on 10 June 2002. She was an exceptionally aggressive 8-year-old, and sadly could not join Forest School.
After completing a mandatory period of quarantine, Sumirah was placed in a socialization complex to help her develop natural skills and behaviours. Sumirah completed all stages of rehabilitation in 2018 and was chosen as a release candidate for 2019.
Sumirah, now 25 years old, is ready to live as a true, wild orangutan in the Kehje Sewen Forest.
4. ARMAN

Arman was rescued by the East Kalimantan BKSDA from a local resident of Muara Wahau sub-district who had been keeping him illegally as a pet. He arrived at Samboja Lestari on 4 August 1998, when he was 12 months old.
The health tests conducted upon his arrival revealed that Arman was suffering from hepatitis B (Orangutan hepadnavirus). He was immediately placed in a quarantine facility to receive treatment, and was later placed in a special complex to recuperate and begin rehabilitation. He recovered from hepatitis B (Orangutan hepadnavirus) by 2010 and, finally completed the rehabilitation process in 2018. During his rehabilitation, Arman was known to steadfastly dislike human presence, frequently kiss-squeaking at technicians to show his displeasure.
After 21 years of rehabilitation, and with a comprehensive, natural skillset, 22-year old Arman is ready to roam in his forever home, the Kehje Sewen Forest.
Good luck everyone! Enjoy your freedom!
The Orangutans Need Your Help!
Please make a donation to the Borneo Orangutan Survival Foundation today!
THANK YOU SO MUCH FOR YOUR SUPPORT!
{:(|}