Albino Alba and Friend Kika Released to the Wild!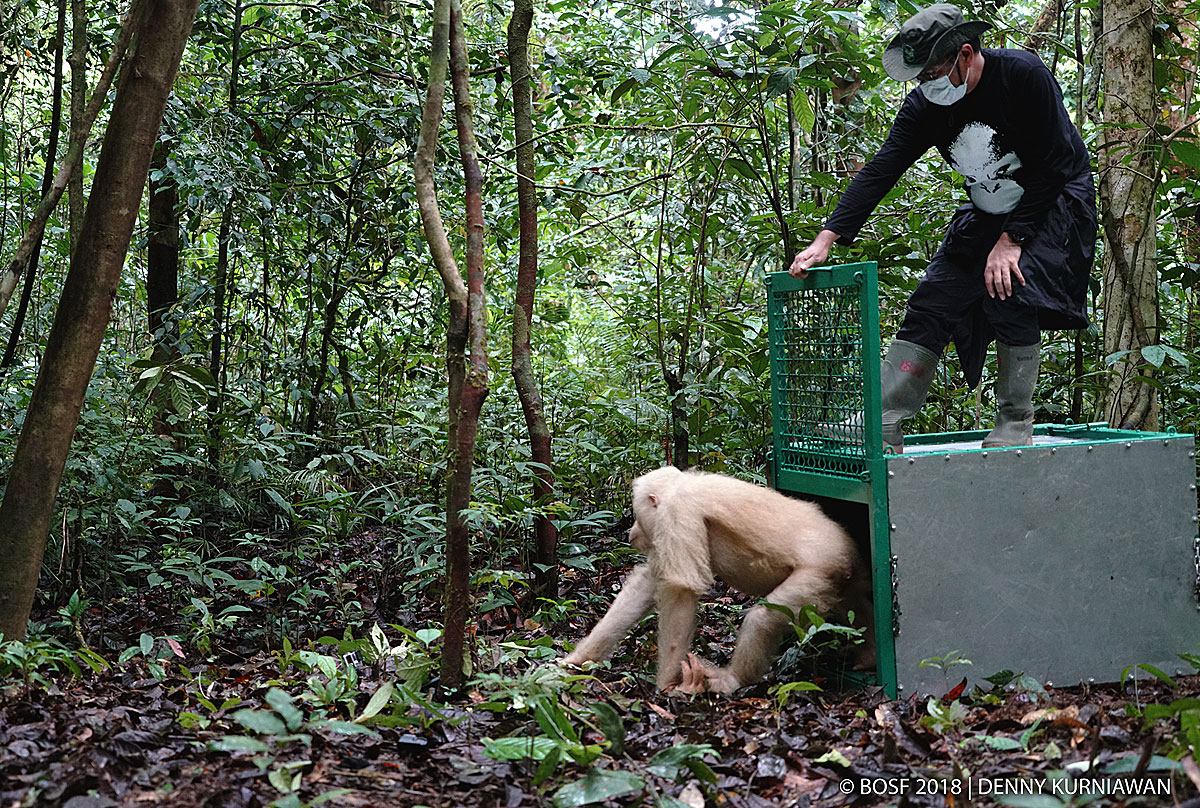 Text by: BOS Foundation Communication Team
December 21, 2018 — Following a long and arduous 16-hour journey over land and by river, on Wednesday, 19 December, Alba and Kika finally arrived at the Bukit Baka Bukit Raya National Park (TNBBBR) to start the new chapter in their lives as true wild orangutans.
Semi-wild orangutans, Alba and Kika, were rescued last year by the Central Kalimantan Natural Resources Conservation Agency (BKSDA) and BOS Foundation. Alba, the only albino orangutan ever recorded, was rescued on 29 April, 2017, in Kapuas Regency, Central Kalimantan. She was five years old at the time and suffering from stress, dehydration, and a parasite infection, and had a very poor appetite. However, thanks to the intensive care provided by our dedicated veterinary team and orangutan caregivers our Nyaru Menteng Orangutan Rehabilitation Center, Alba slowly recovered and showed us her excellent climbing and socialization skills. During her time at Nyaru Menteng, Alba formed a special bond with Kika, another rescued female orangutan.
Kika, who was rescued in Central Kalimantan's South Barito Regency on February 18, 2017, exhibited wild behaviors and a firm dislike for human presence from the very beginning.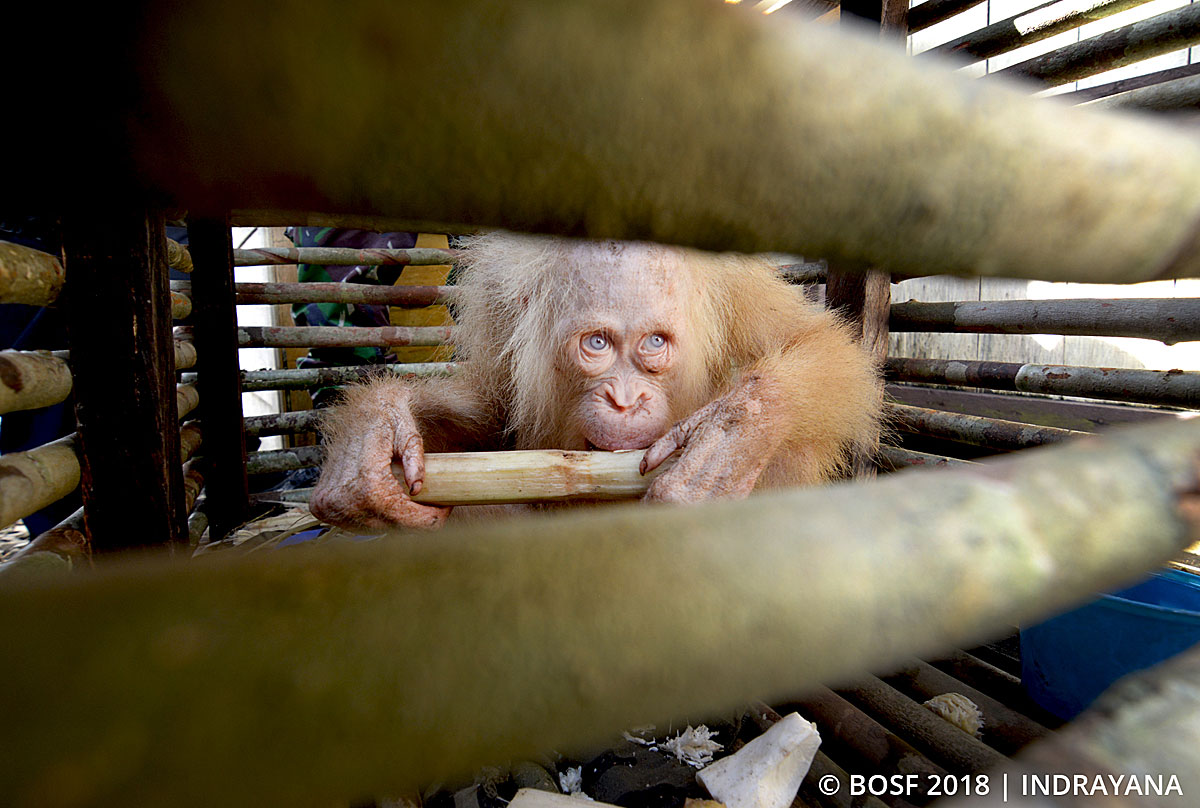 Alba, when she first arrived at Nyaru Menteng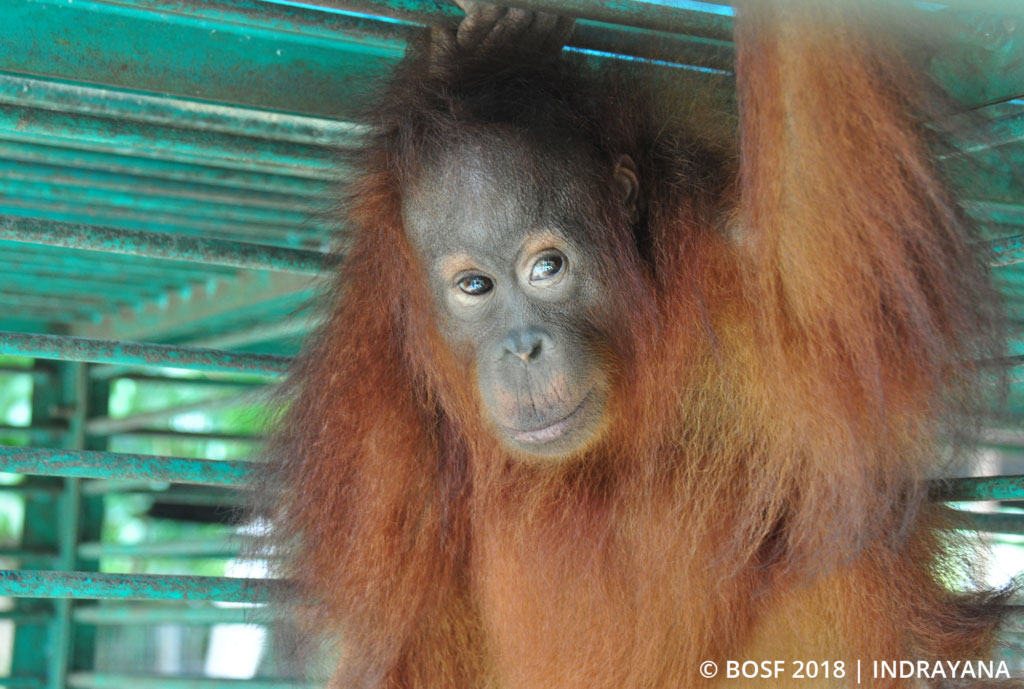 Kika on her arrival at Nyaru Menteng
On December 18, the release team and transport cages carrying Alba and Kika departed from the Nyaru Menteng Orangutan Rehabilitation Center. The team was accompanied by dark skies and heavy rain on the journey to the forest, and even became stuck for a while in the middle of the night along a steep and muddy trail a few kilometers from Tumbang Tundu, the closest village to the release site accessible by car. At an incline at some wooden bridges, our trucks became trapped and we had to winch them away to escape the slippery, muddy track. After some tough hauling, the trucks carrying the transport cages were finally freed and arrived at Tumbang Tundu, with the other vehicles carrying the release team behind them. Following a couple of hours' rest in the village, the team continued the journey at dawn on a 4-hour boat ride upstream into the forest.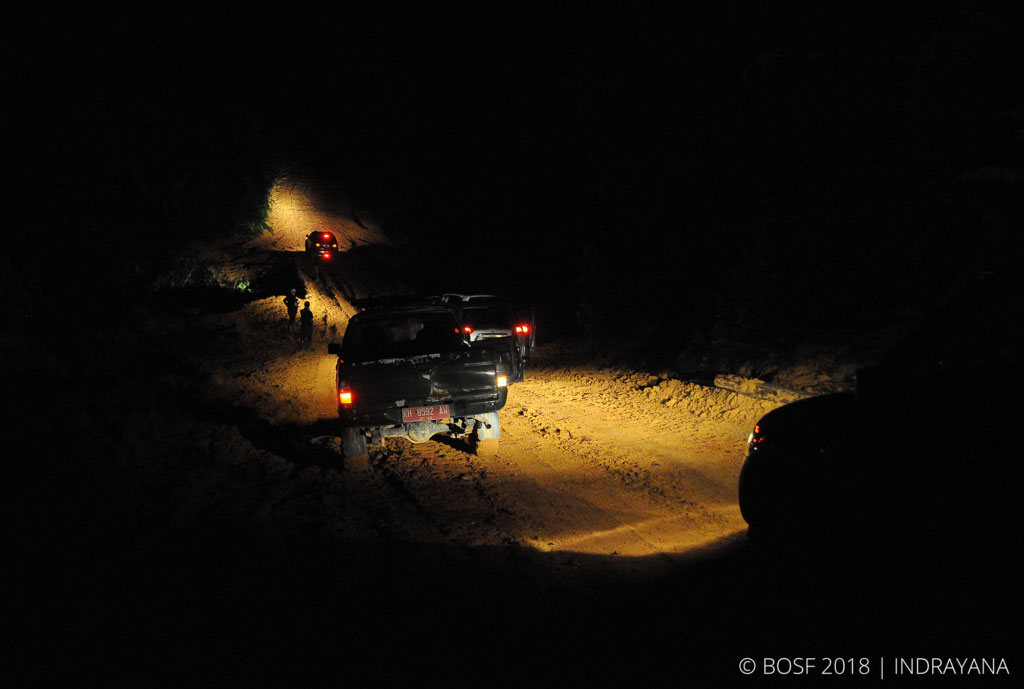 The car convoy gets stuck along the trail
The Cages Are Opened!
At the release site, the sun had come out to shine down on Alba and Kika's release in the Bukit Baka Bukit Raya National Park forest. Kika was the first to exit her transport cage. Firasadi Nursubi, an official from TNBBBR Authority, and Surip, a Nyaru Menteng senior animal technician shared the honor of opening Kika's cage at around 11 AM. Kika burst out of her cage the second it was opened and reached for a small tree close by. She then swung to a larger one, and quickly climbed higher and higher, embracing her freedom!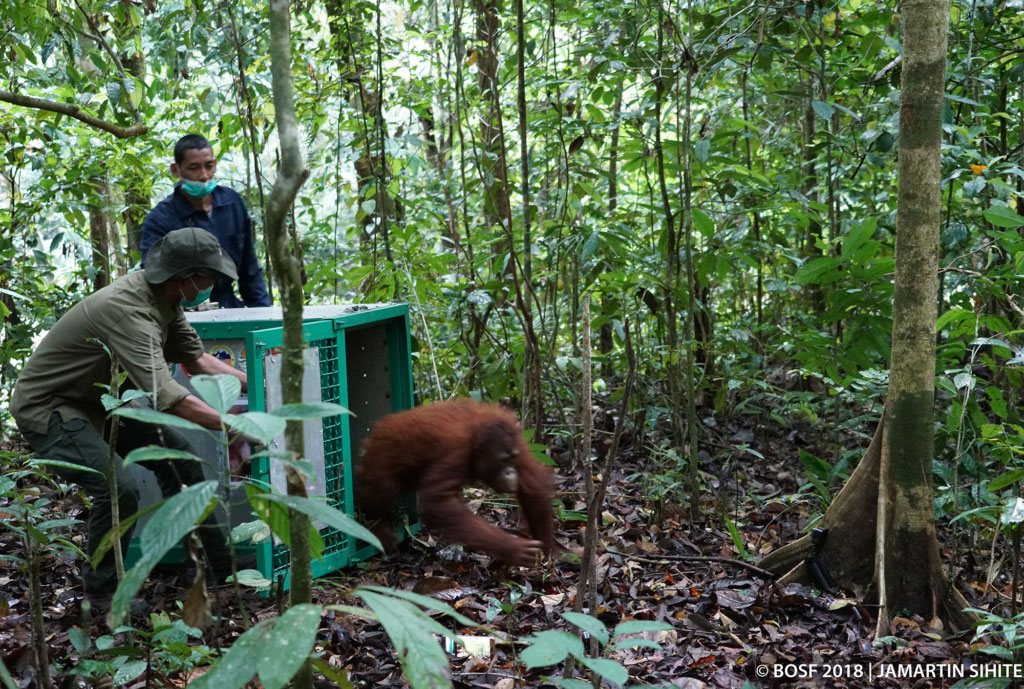 Kika exits her transport cage
BOS Foundation CEO, Dr. Jamartin Sihite, opened Alba's cage next. Alba slowly exited her cage and took in her new surroundings, moving cautiously. However, once she realised that humans were present, she quickly moved away into the forest and climbed up a tree. She brachiated for a while, showing us her familiarity with a wild environment. She finally stopped to rest on a large branch, high up in the forest canopy. This was just the beginning of Alba's adventures to come in this true, wild forest!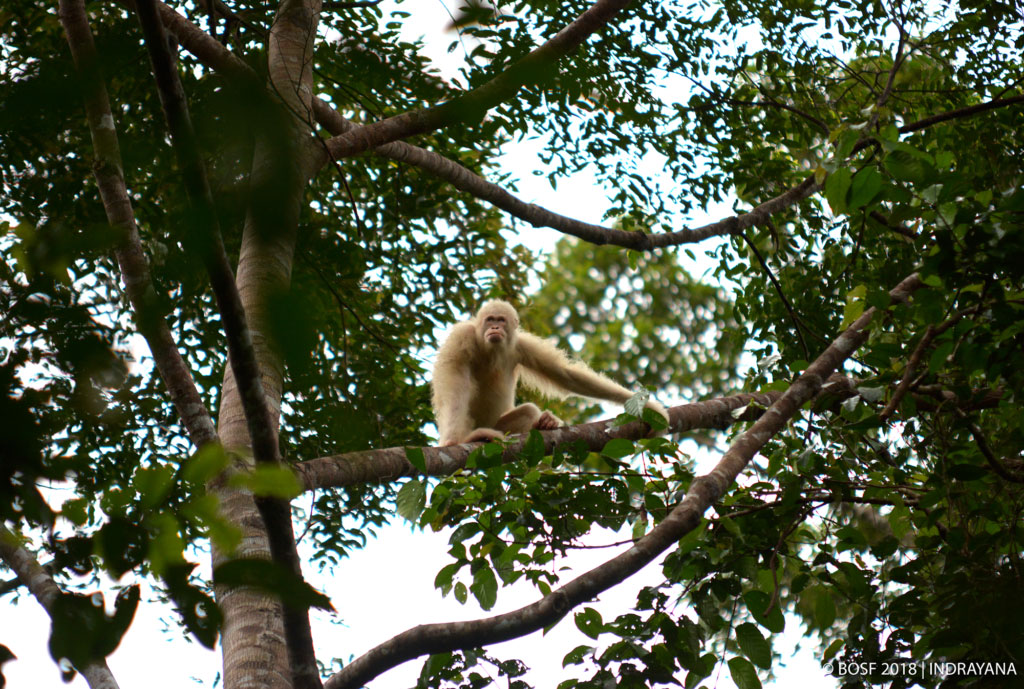 Alba sets foot in the TNBBBR for the first time
This successful release now brings the number of orangutans released to the TNBBBR to 114, and brings the total number of orangutans released by BOS Foundation since 2012 across their Central Kalimantan and East Kalimantan release sites to 386 individuals!
Our Post-Release Monitoring (PRM) team will conduct intensive nest-to-nest monitoring – a continuous observation method that lasts from dawn to dusk – for a period of six months to evaluate Alba's adaptation progress and behavior. Our PRM team will be assisted by a team from the TNBBBR authority and the Central Kalimantan BKSDA, which will provide security through regular patrols.
The first and second days of post-release observations have confirmed that Alba is actively moving in the forest canopy, typically at a height of more than 35 meters from the forest floor. However, the PRM team must continue their intensive monitoring to find out if she can truly adapt to the forest in the TNBBBR, and they are prepared to intervene and rescue her in coordination with the BKSDA and the TNBBBR Authority if they feel that her life is in danger at any point.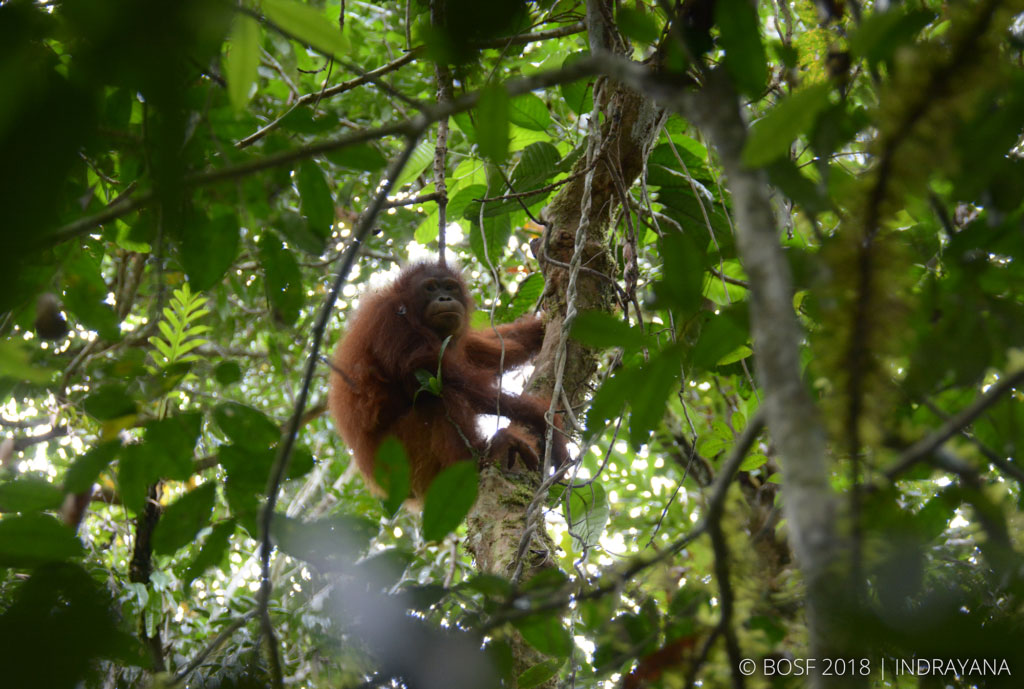 Kika
Enjoy your newfound freedom in the forests of the TNBBBR, Alba and Kika! Our PRM team will be watching over you!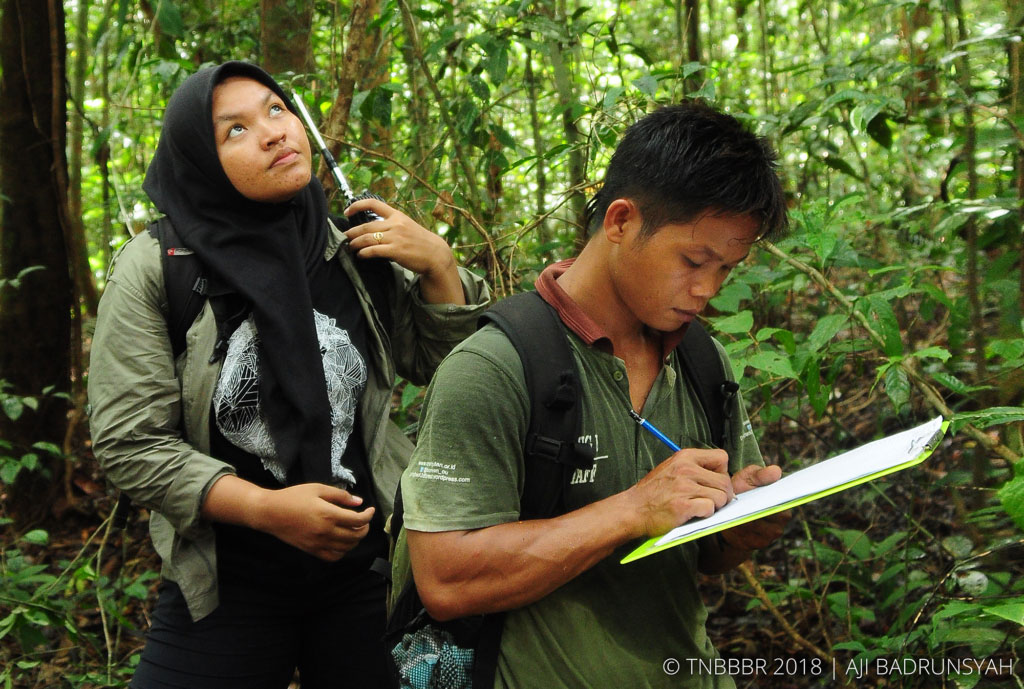 The Orangutans Need Your Help!
Please support Alba and her friends! Make a donation today!
THANK YOU SO MUCH FOR YOUR SUPPORT!
{:(|}