BOS Nyaru Menteng: 4th Repatriated Orangutan Released Back to the Wild
Text by: BOS Foundation Communications Team
September 28, 2018 — The BOS Foundation this week released four more rehabilitated orangutans to the Bukit Baka Bukit Raya National Park (Taman Nasional Bukit Baka Bukit Raya; TNBBBR), in Central Kalimantan. All four orangutans in this release were female – Pangkuy, Sisil, and mother-infant pair, Clara and Clarita – and were selected after each undergoing a long period of rehabilitation over many years at the Nyaru Menteng Orangutan Rehabilitation Centre.
The candidates were sedated at the Nyaru Menteng quarantine complex, where they had all undergone a period of quarantine prior to their release. The medical team also performed a final examination on each of the release candidates before gently moving them into individual transport cages, with Clara and Clarita being placed in a cage together. The cages were then carefully lifted onto utility vehicles, in preparation for departure. Our medical team waited for the candidates to wake from their sedated state before departing from Nyaru Menteng.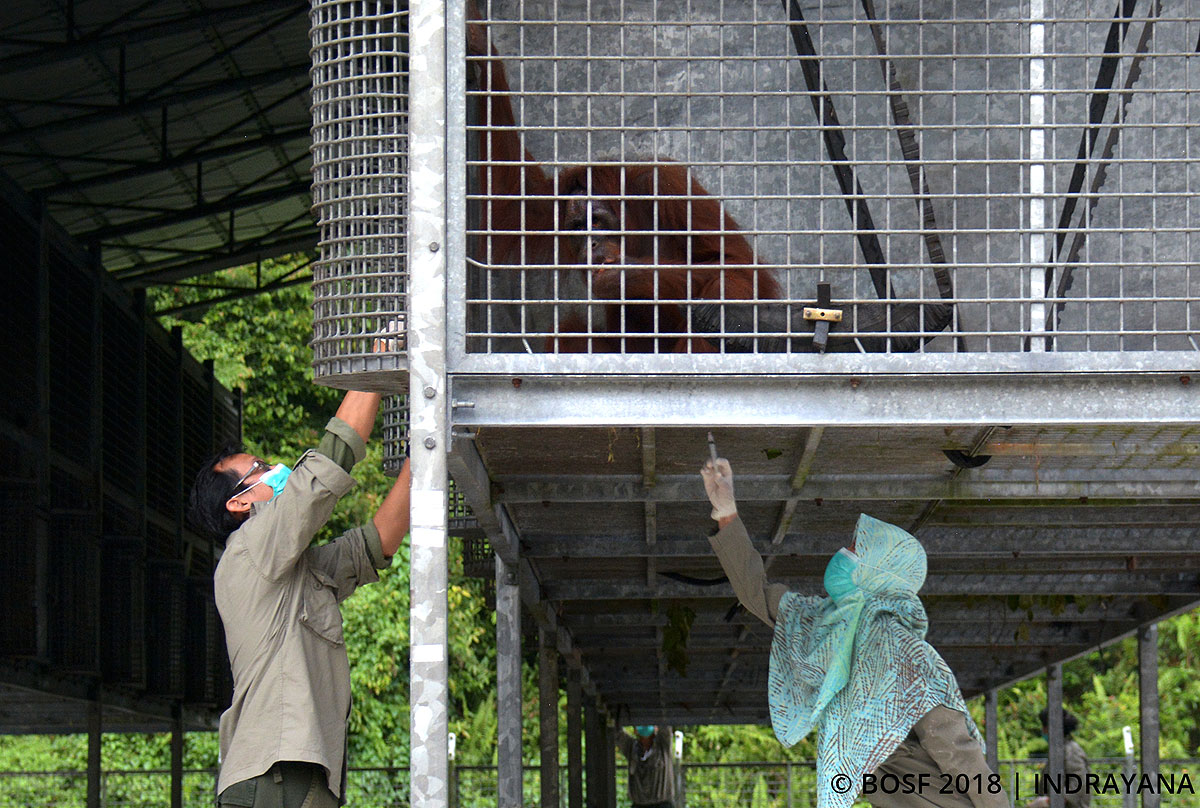 The Nyaru Menteng medical team sedates the release candidates at the quarantine complex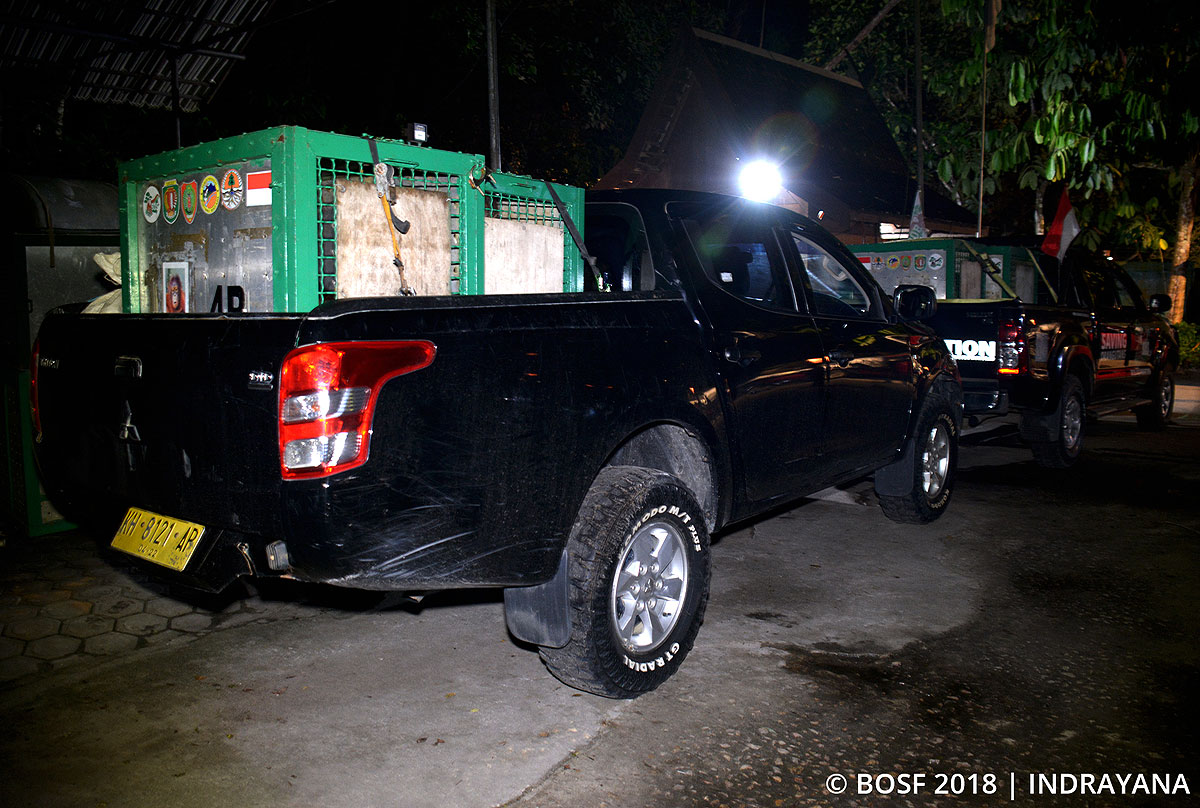 The team departs from Nyaru Menteng
Freedom after 12 long years
Release day marked a special moment for the orangutans; not least of all Pangkuy, who was one of 48 orangutans repatriated from Thailand back in November, 2006. All 48 orangutans in that rescue had been victims of the illegal wildlife trade, which is one of the most serious threats to orangutan survival, along with habitat destruction and poaching. The illegal wildlife trade is the world's fourth-largest crime sector after the drug trade, counterfeiting and human trafficking (Global Risk Insights, 2017). Serious commitment and tangible action from the authorities is urgently needed to find long-term solutions to help prevent and stamp out wildlife crime and the corruption linked to it.
Pangkuy is now the fourth repatriated orangutan to successfully complete our rehabilitation program, and be released to the wild. After 12 long years of rehabilitation, she now follows in the footsteps of her repatriated pals Wanna, Nanga, and Sukamara, who were released to the TNBBBR in 2016 and 2017.
The release team arrived at the banks of the Bemban River after a long journey across both road and river, and the transport cages were immediately carried to the predetermined release point.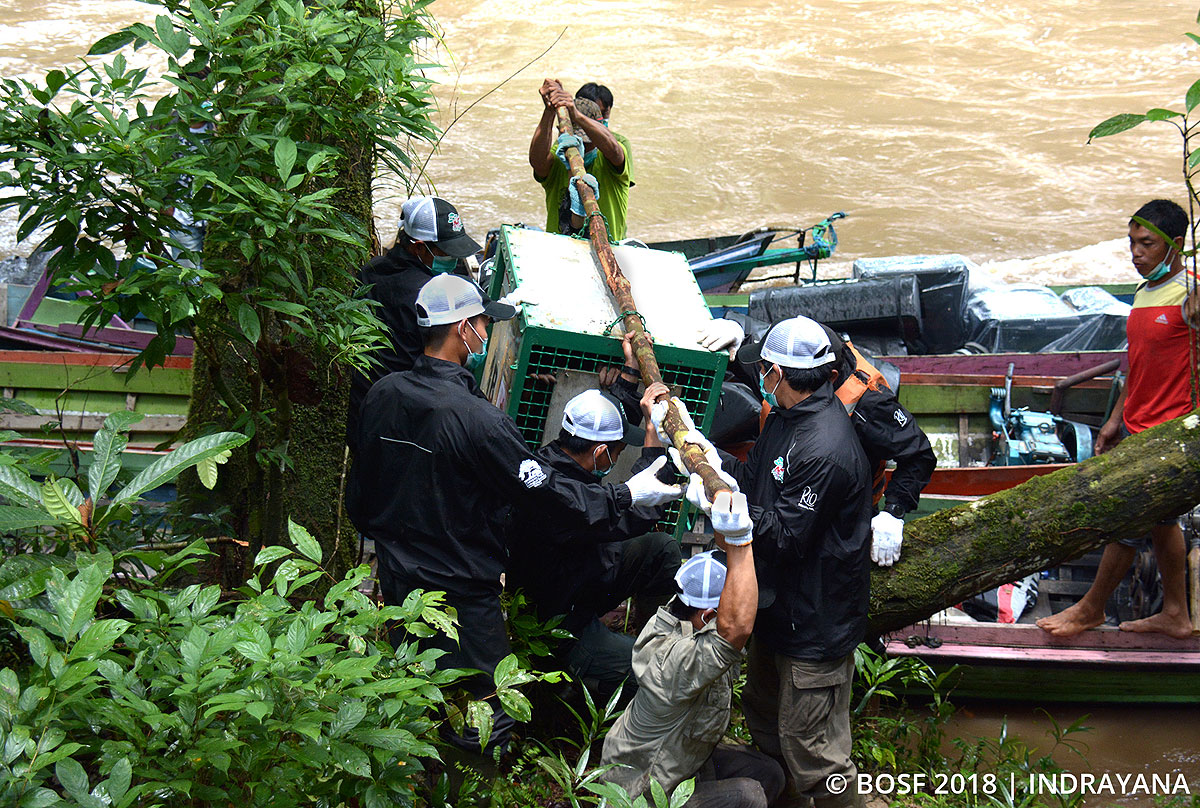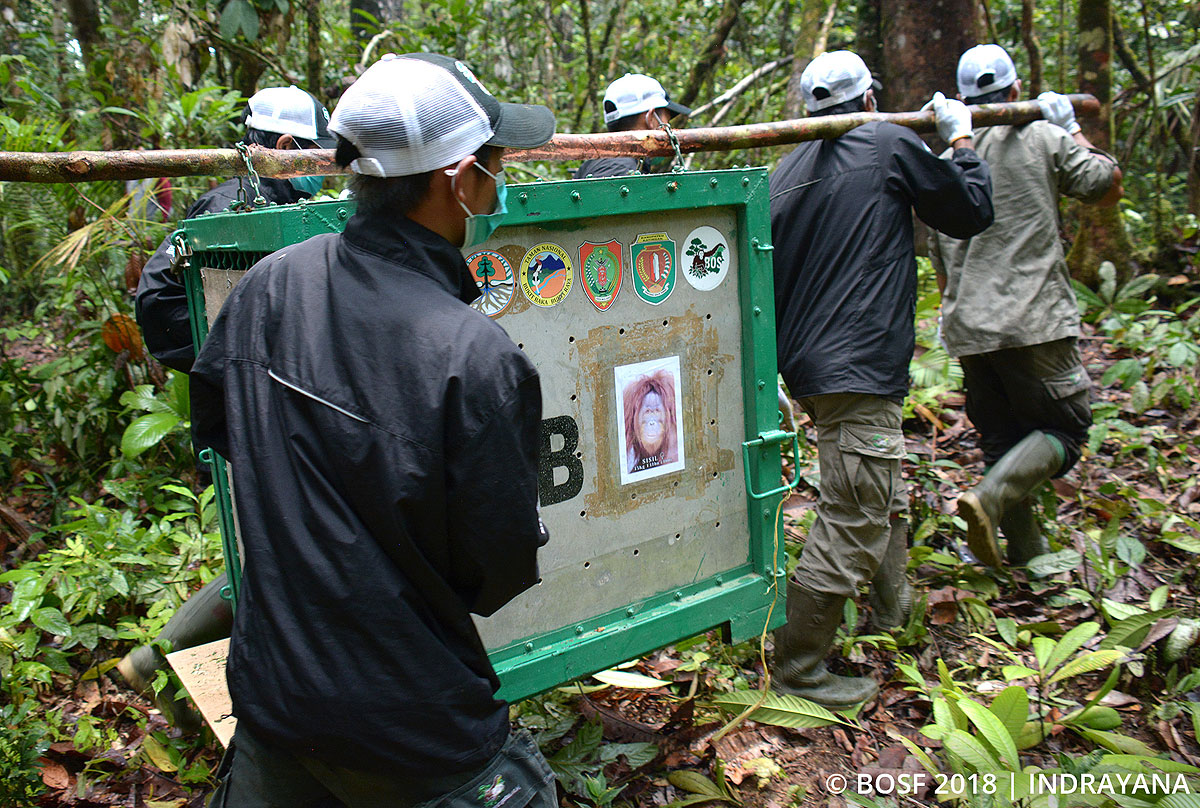 Team members transport orangutan cages to the release point
Once they had reached the release point, all four females were released to the wild to enjoy their newfound freedom. Clara and Clarita's cage was opened first, followed by those of Sisil, and Pangkuy.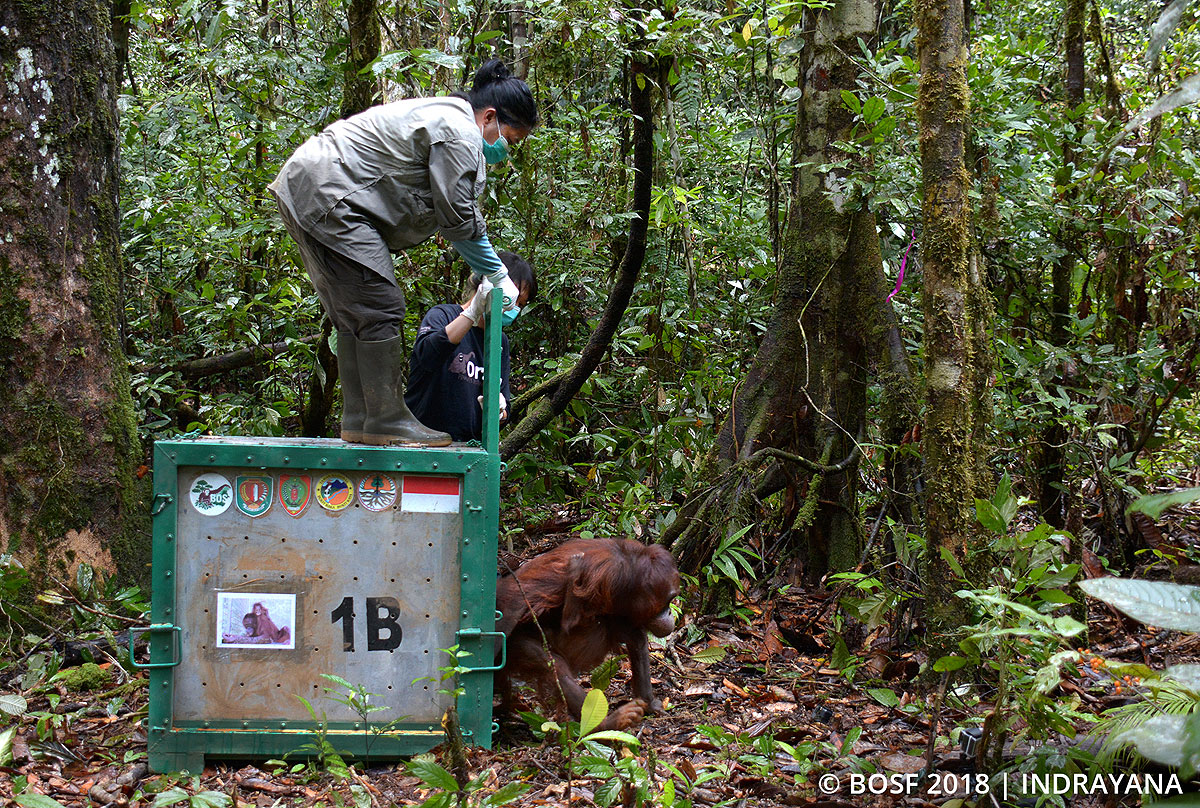 Babysitter Ursula and Vet Lia Kristina open Clara and Clarita's cage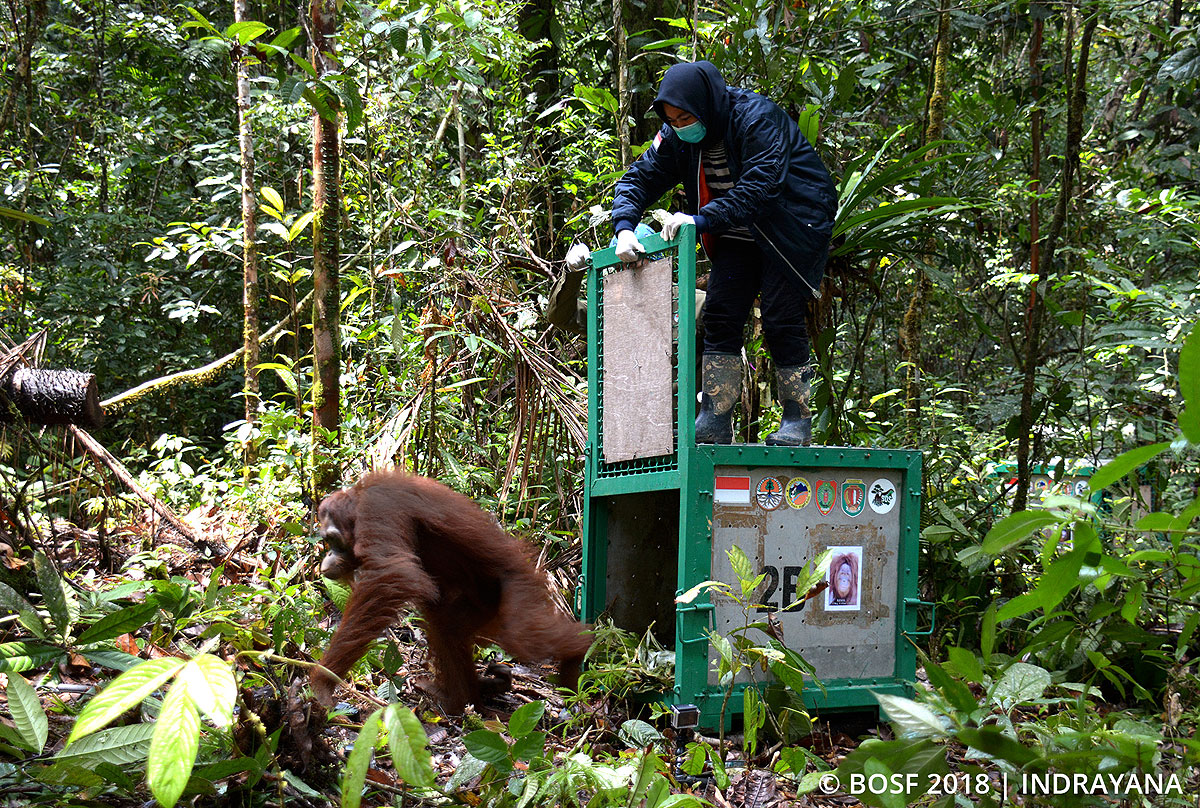 Fheny Anggriyani (PT. SSMS Tbk) dan Firasadi Nursub'i (TNBBBR) open Sisil's cage
Pangkuy's cage was opened by Risfatul Ulya (our Post-Release Monitoring/PRM Coordinator at Camp Lewun Kahio, TNBBBR) and Abdul Karim from Central Kalimantan BKSDA. When her cage was opened, Pangkuy stepped out cautiously and took her first, slow steps in her new forest home.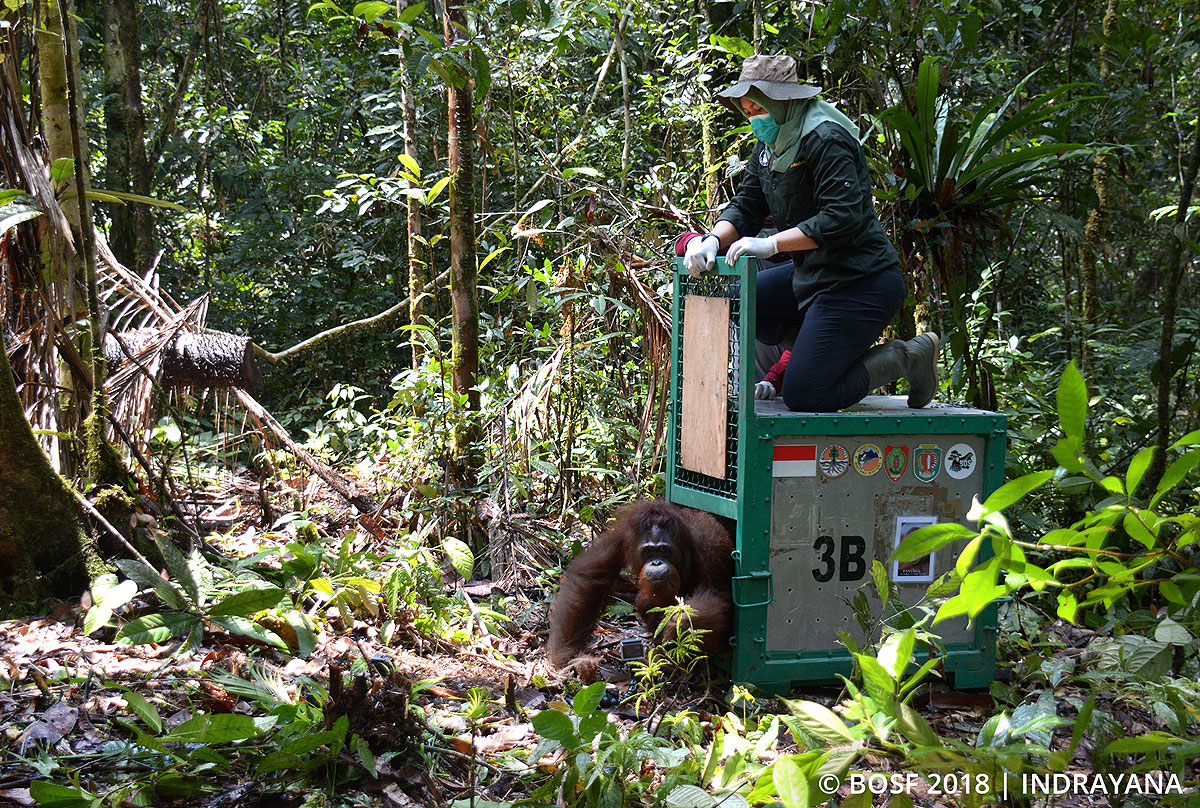 Risfatul Ulya dan Abdul Karim open Pangkuy's cage
Emotions were high among our team members, all feeling a sense of pride and elation that they had helped more orangutans gain true freedom. With the addition of these four, the BOS Foundation has now released a total 106 orangutans to the TNBBBR.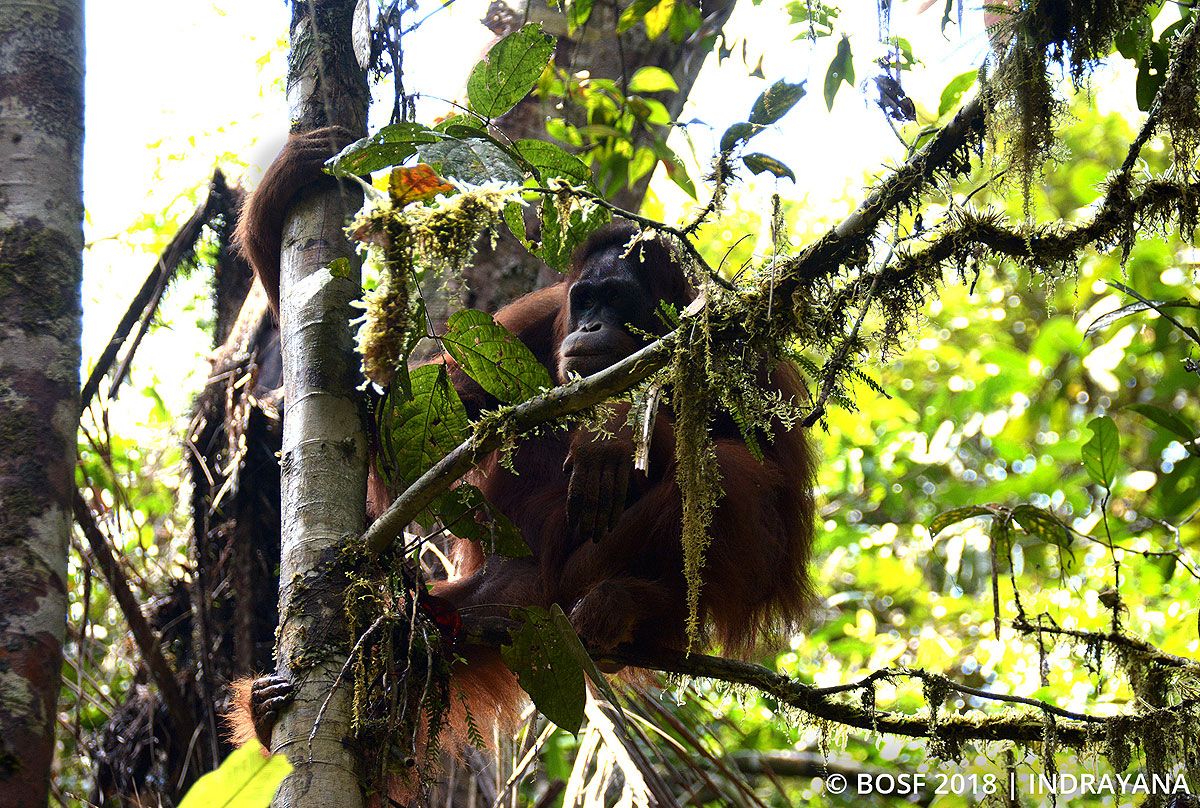 Pangkuy relaxes in her new forest home
These four orangutans have now returned to their natural habitat, but that doesn't mean our work is done. Our Post-Release Monitoring team is standing by in the forest to conduct daily monitoring and observations on these released orangutans over the coming weeks, to ensure they are all adapting well to their new environment.
What a gift it is to see more orangutans gain true freedom in the forest!
Orangutans in Borneo Need Your Help!
Donate crypto or with a Card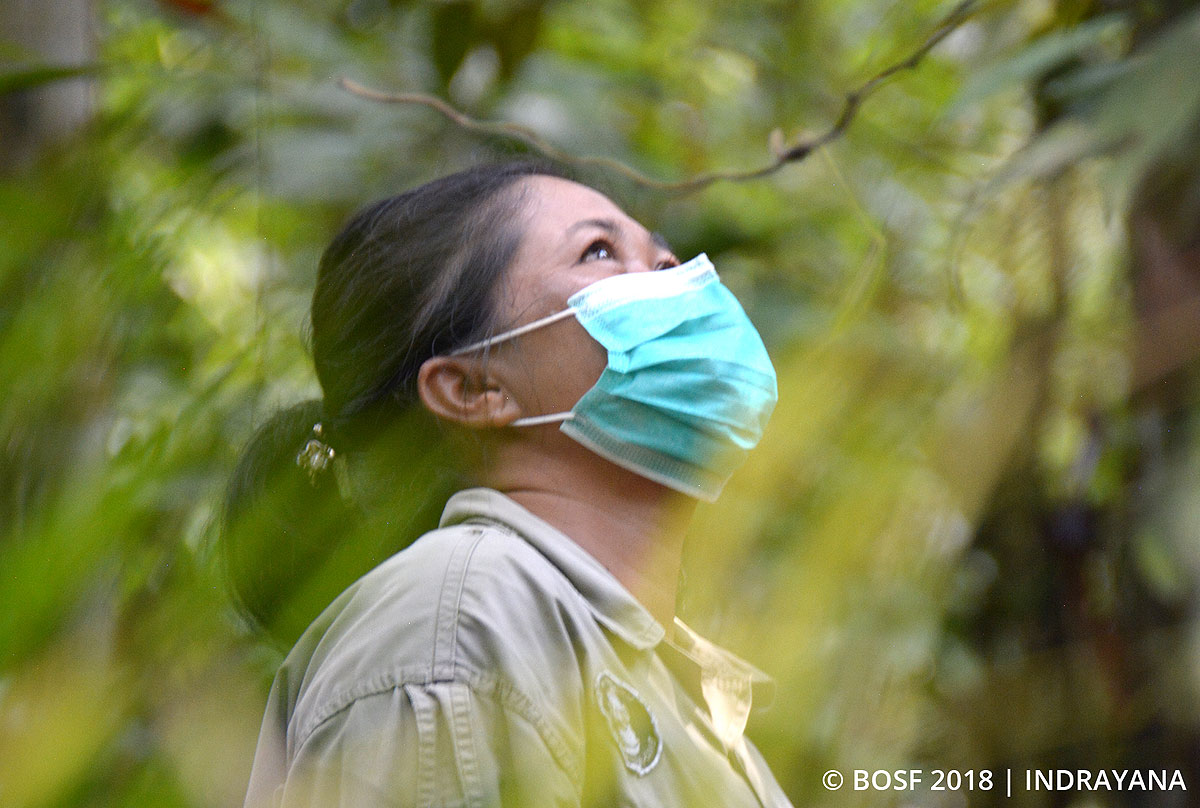 THANK YOU SO MUCH FOR YOUR SUPPORT!
{:(|}