SOCP Press Release: First wild infant born at Sumatran Orangutan Reintroduction Centre in Jantho, Aceh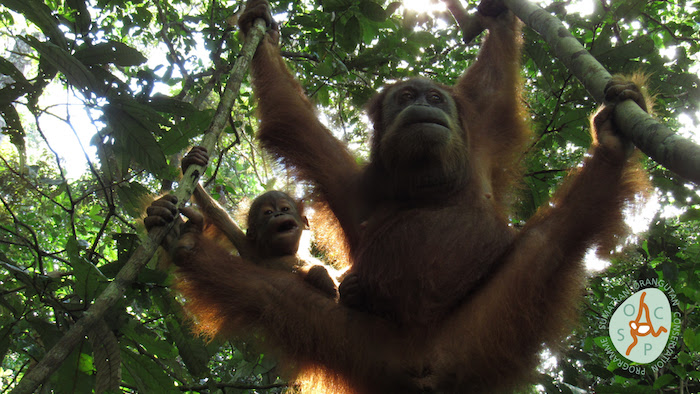 September 11th 2017 — Whilst on a routine patrol in the Jantho Nature Reserve, in Aceh, Indonesia, a team from the Sumatran Orangutan Conservation Programme (SOCP) and BKSDA Aceh were delighted to find an adult female orangutan named Marconi, carrying a newly born infant. This infant male, Masen (named after the Ulu Masen Ecosystem, which Jantho sits within) is the very first to be born to an entirely new wild population of orangutans being established in Jantho by the SOCP.
The SOCP first began releasing confiscated former illegal pet orangutans in Jantho in 2011 and to date has reintroduced 100 orangutans into Jantho's forests. The mother, Marconi, was confiscated by the SOCP and BKSDA Aceh in December 2009. Ironically, she was being kept illegally by a police officer, in the town of Alue Bilie, Nagan Raya District in Aceh Province. She was one of only the third group of orangutans returned to the wild in Jantho, in August 2011.
"This is fantastic news" proclaimed Dr Ian Singleton, Director of the Sumatran Orangutan Conservation Programme. "We've been working hard in Jantho to start building a brand new wild population of the species in the forests there. The goal is to create an entirely new, self-sustaining wild population of this Critically Endangered species."
Mukhlisin, manager of the Orangutan Reintroduction Centre in Jantho added "After several years of hard work, by the whole team in Jantho, we are finally seeing the results. This new infant is just the start of what will eventually be a new population of orangutans that have never experienced captivity or contact with humans. He gives all of us new hope that we really can prevent the extinction of these amazing creatures."
Sapto Aji Prabowo, Head of the Aceh Conservation Agency emphasized, "We really weren't expecting to see this little guy when we went to Jantho the other day, it was a real surprise, and a real treat! What we must do now, however, is deal with the root of the problem, and the fact that orangutans like Marconi and many others are still being captured and kept illegally as pets in the first place. It is illegal to capture, kill, trade, own or even transport an orangutan in Indonesia and prosecutions are on the increase. People need to be aware that they face prosecution, fines and prison if they get involved in these criminal activities!"
Background:
• The Sumatran orangutan (Pongo abelii) is a distinct species from its neighbor in Borneo (Pongo pygmaeus).
• Only around 14,000 Sumatran orangutans remain in the wild and the species is listed as Critically Endangered by the World Conservation Union (IUCN) in their Red List of Threatened Species.
• The Sumatran Orangutan Conservation Programme (www.sumatranorangutan.org) is a collaborative initiative implemented by the Swiss based PanEco Foundation (www.paneco.ch), its Indonesian partner Yayasan Ekosistem Lestari (YEL: Sustainable Ecosystem Foundation; www.yel.or.id), and the Indonesian Ministry of Environment and Forestry's Directorate General of Natural Resource and Ecosystems Conservation (Ditjen KSDAE; www.ksdae.menlhk.go.id).
• The SOCP is active in all aspects of Sumatran orangutan conservation including:
o Confiscation and reintroduction of illegally captive orangutans to create new wild populations.
o Surveys and monitoring of remaining wild Sumatran orangutan populations.
o Environmental education and awareness raising.
o Habitat protection
• Since 2001 the SOCP has received over 350 orangutans at its specialist orangutan Quarantine Centre near Medan, North Sumatra. Over 170 of these have been released at the SOCP Reintroduction Centre in Jambi, in southern Sumatra and since 2011, 100 have been reintroduced to the forests of Jantho, in Aceh province.
Contact details:
1. Suryadi, YEL-SOCP Communications, Email: email hidden; JavaScript is required, Tel: +62 812 88354572
2. Citrakasih Nente, Supervisor Quarantine and Reintroduction, YEL-SOCP, Email: email hidden; JavaScript is required, Tel: +62 812 53041021
3. Ir. Sapto Aji Prabowo, Kepala Balai KSDA Aceh. Email: email hidden; JavaScript is required. Tel: +62 812 5006527
Please support SOCP. Make a donation today!