BOS Foundation Releases 12 Orangutans to BBBR-NP Including 2 Repatriated from Thailand
14 November 2017 — The BOS Foundation's #Orangutanfreedom campaign is still going strong and they have just released another 12 orangutans to the Bukit Baka Bukit Raya National Park (BBBR-NP) in Katingan Regency, Central Kalimantan. This release includes four male and eight female orangutans, two of which completed 11 years of rehabilitation at Nyaru Menteng after being repatriated from Thailand.
The repatriated females, Nanga and Sukamara, arrived at Nyaru Menteng in November 2006, when they were five and nine years old respectively. Very little background information was known of the two, but from their behaviour it was clear that they had spent a long time in captivity and may likely have been used in some kind of entertainment facility. When they arrived at Nyaru Menteng, Nanga and Sukamara were placed with 46 other orangutans repatriated from Thailand in a special Forest School class aimed at helping them develop basic skills like climbing, nest-building, foraging, socializing, and identifying predators. It took Nanga and Sukamara a long time before they were deemed ready for the final stage of rehabilitation on a pre-release island. But in 2016, the two were moved to Bangamat island and their positive progress gained them the chance to be selected as candidates for this release.
Nanga and Sukamara follow in the footsteps of Wanna, another orangutan repatriated from Thailand who was released to the BBBR-NP in February, and others like her who successfully completed rehabilitation and were released to the wild.
The Nyaru Menteng team transported the 12 orangutans in two separate groups: Nanga, Imot, Kahim, Puput, Puji, and Hangei departed on November 9, and were released the following day. While Sukamara, Stuart, Rawa, Bruni, Rebecca, and Rowo departed on November 11, and were released on November 12.
Each release group of six orangutans left Nyaru Menteng after being moved into transport cages, then loaded onto 4×4 vehicles at the Nyaru Menteng quarantine complex.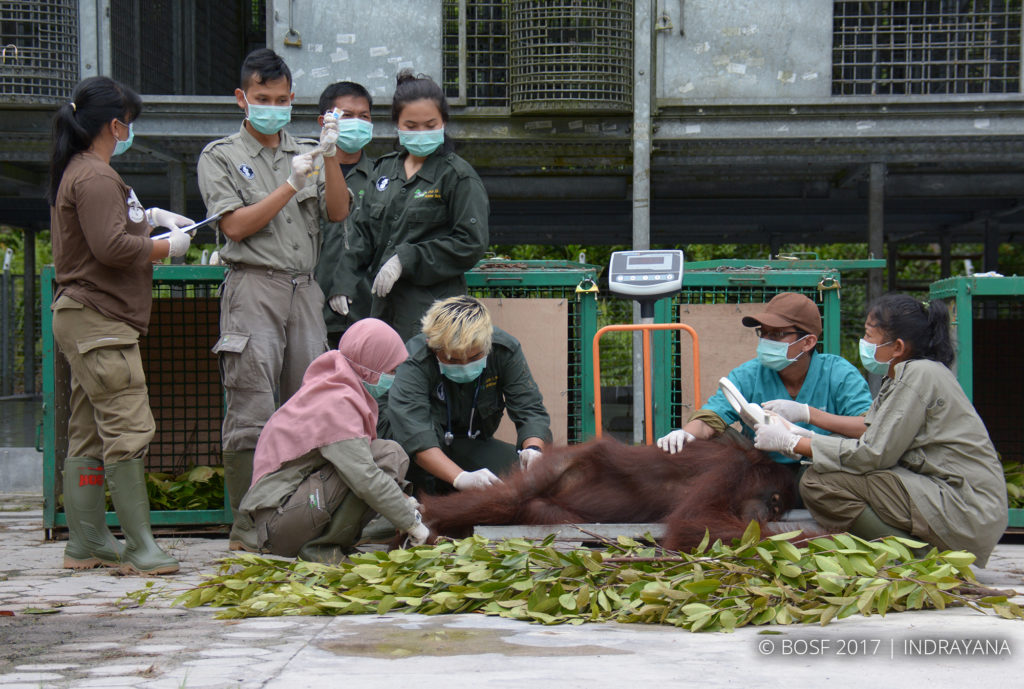 Sedation carried out by Nyaru Menteng vets, with assistance from technicians
The first team set off from Nyaru Menteng at around 7 p.m. and headed to Tumbang Tundu, the last village located on the edge of the BBBR-NP. The road trip took 10 hours to complete, with the team stopping every two hours to check the orangutans.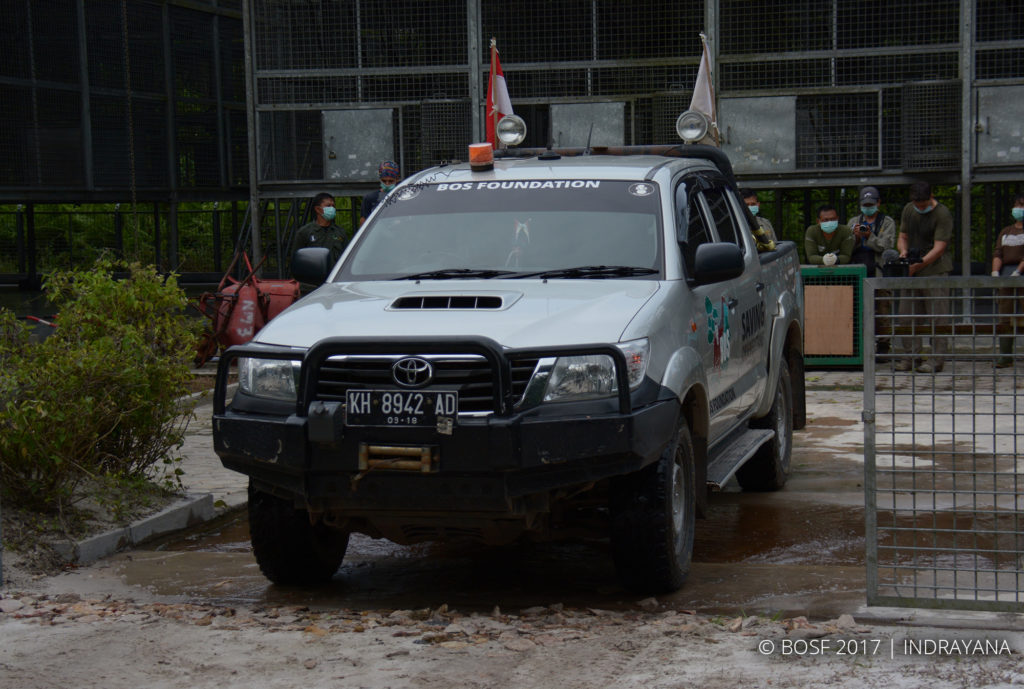 The team left Nyaru Menteng and heads toward Tumbang Tundu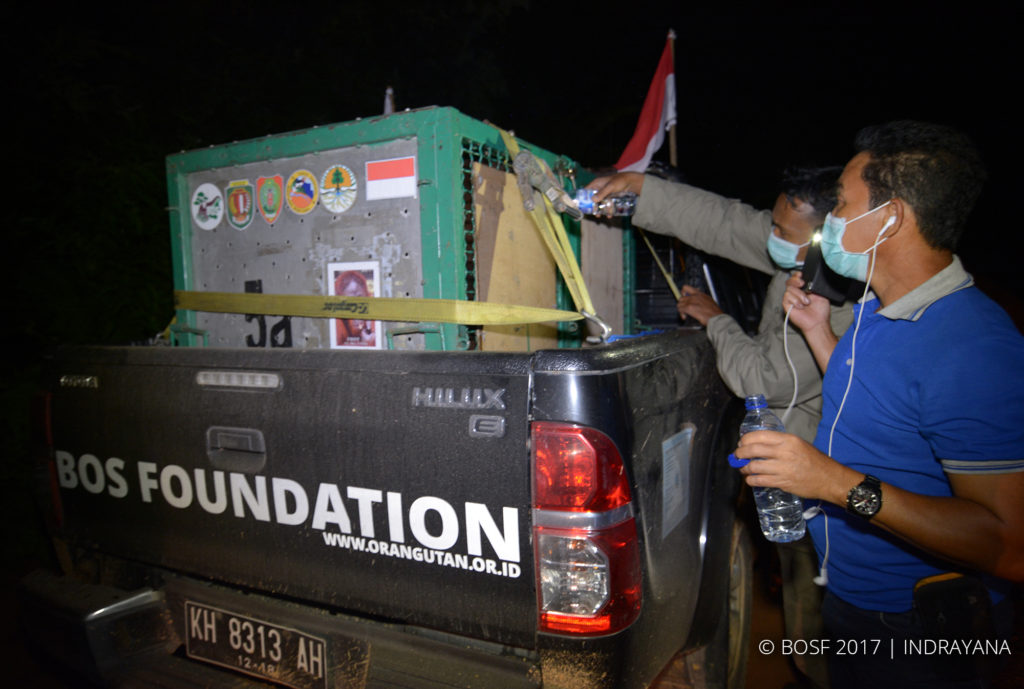 The team stopped to ensure the orangutans are travelling well
From Tumbang Tundu, the team secured floatation devices around each travel cage then continued the journey for another four hours upstream in small motorized boats known as 'ces', or 'kelotok'.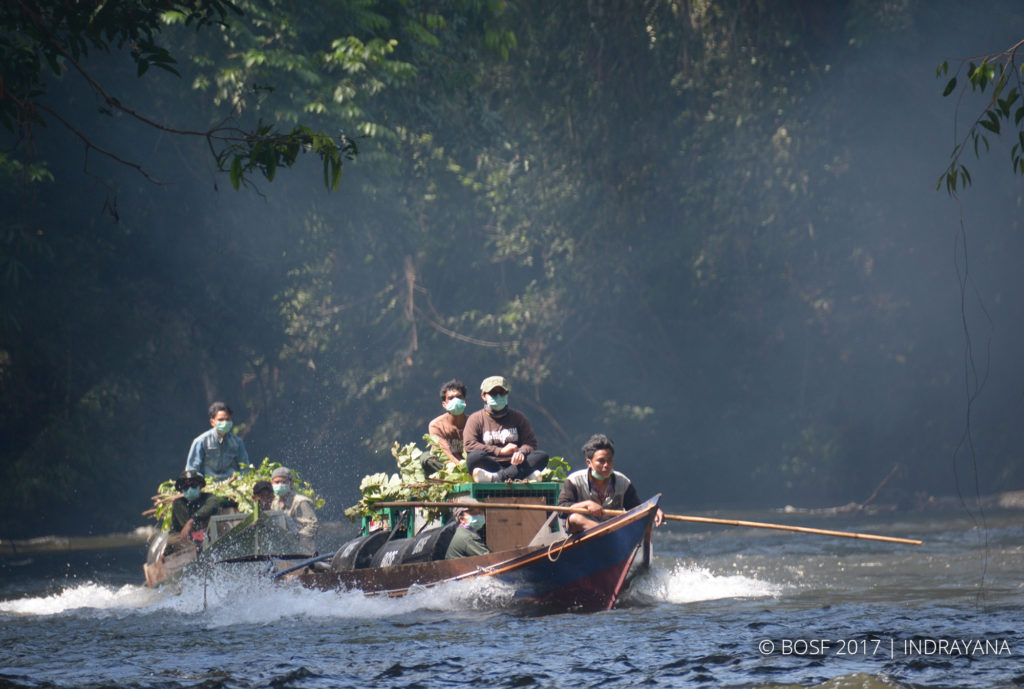 The team took small boats upstream to reach the release points
Twelve Orangutans Finally Set Free!
The team reached the riverbank near the release points deep inside the National Park at around 10 a.m., and the transport cages were lifted off the boats and carried to predetermined release points. The orangutans were about to take their first steps to freedom in their new home!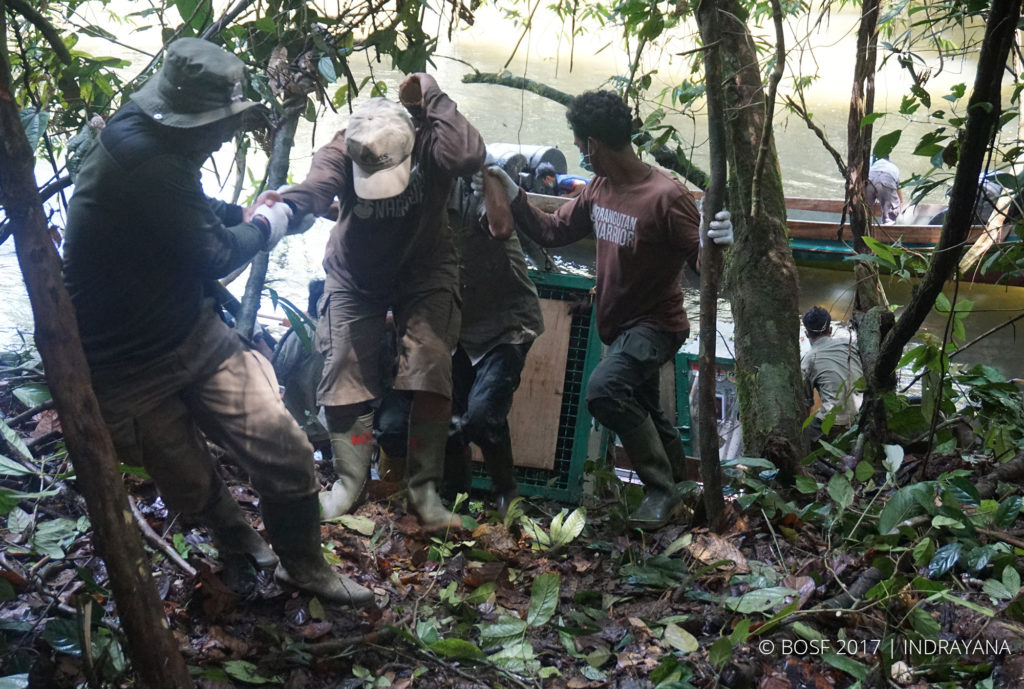 Team members carried transport cages to release spots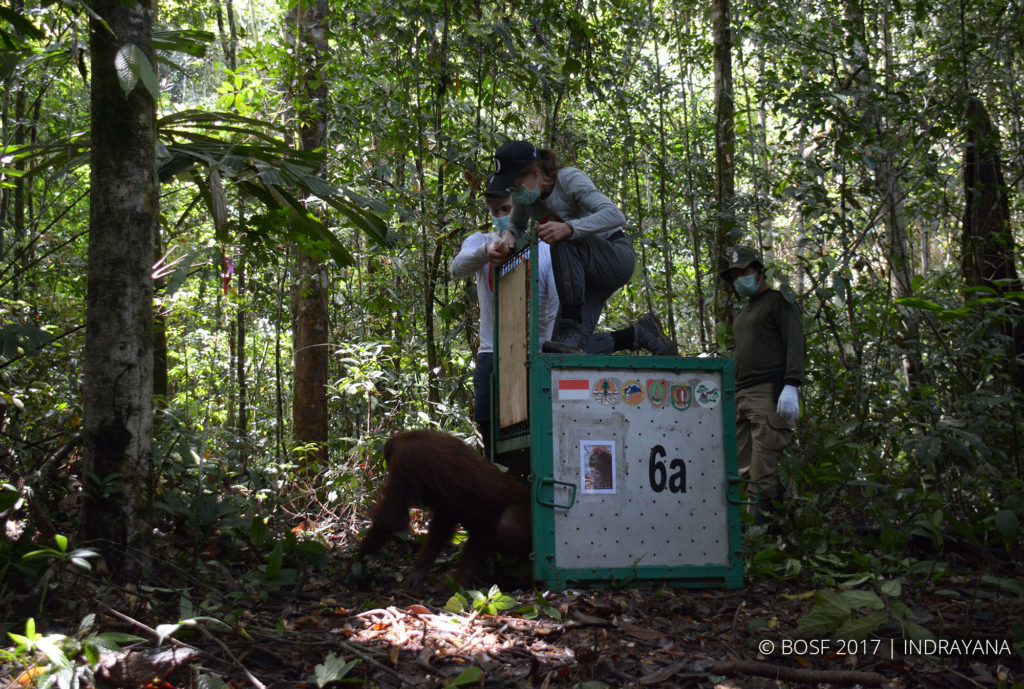 Hanne and Bue from STO Denmark opened Nanga's cage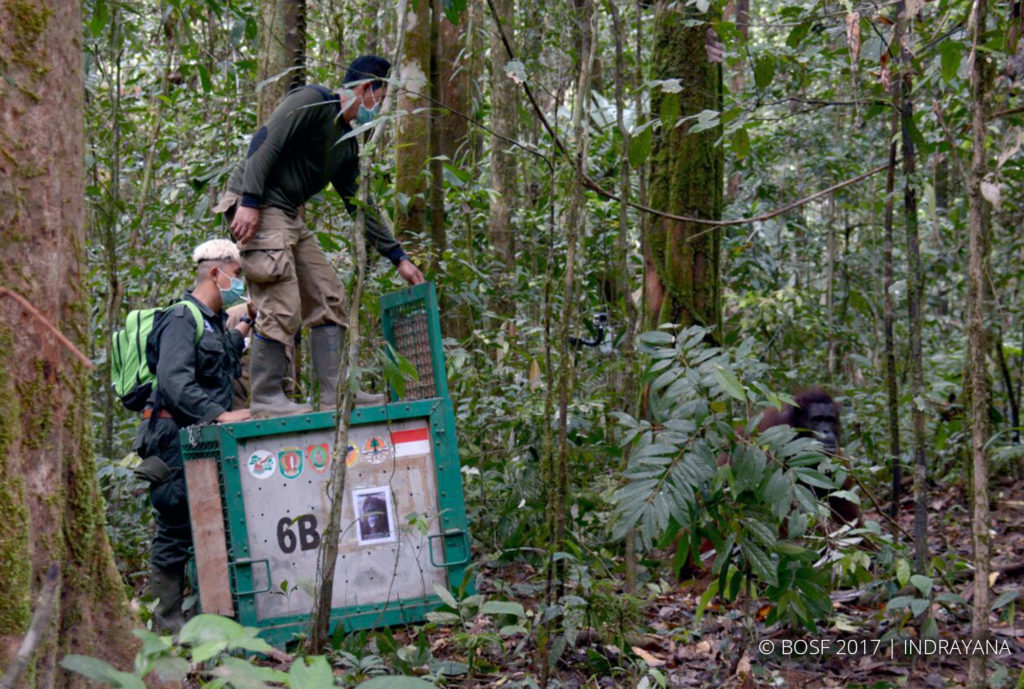 Our Technicians, Toni and Sugiharto opened Sukamara's cage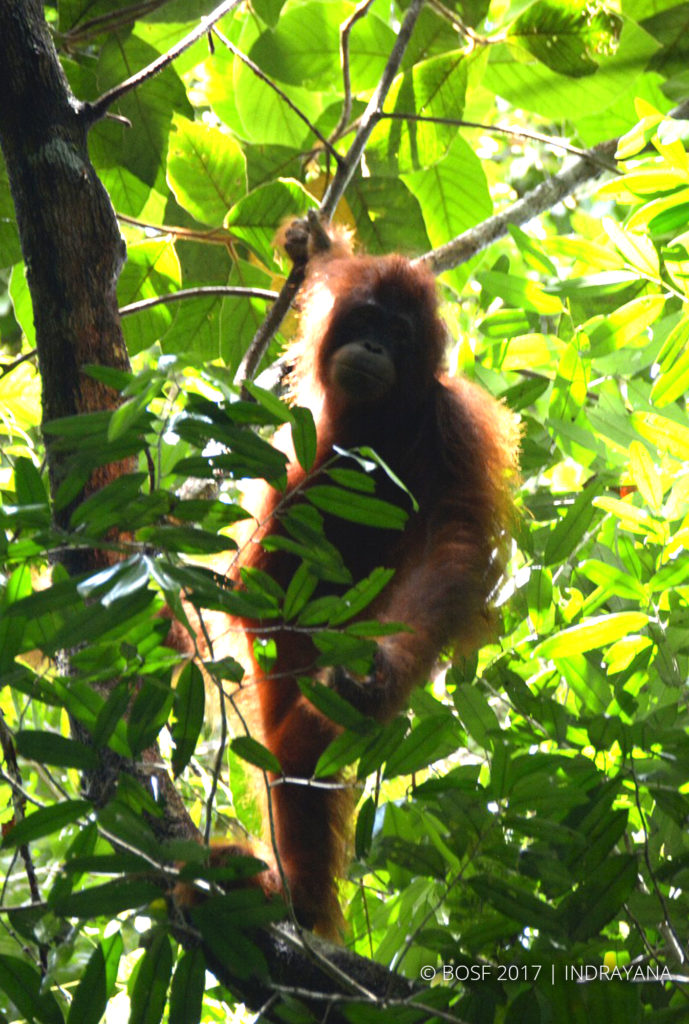 Finally, the twelve orangutans gain their #Freedom
This is the 19th orangutan release that BOS Foundation has conducted in Central Kalimantan, and the 7th to take place in the BBBR-NP, which now accommodates 71 rehabilitated orangutans from Nyaru Menteng.
We greatly appreciate the support given by the Central Kalimantan government, and all stakeholders committed to orangutan and habitat conservation efforts in the province. This is an ongoing reintroduction program which aims to establish yet another healthy, viable population to bolster conservation of Critically Endangered Bornean orangutans in the wild, and we well on our way to achieving this. A huge thank you to all who have supported our release programs and our orangutan conservation efforts!
Text by: Communications Team BOS Foundation
Learn more about the Release Program here.
Orangutans in Borneo Need Your Help!
Donate crypto or with a Card