First BOSF Release of 2020: Three Orangutans Returned to Forest
Text by: BOS Foundation Communication Team
January 21, 2020 — Starting the new year with new hope, BOS Foundation has released three more rehabilitated orangutans from the Nyaru Menteng Orangutan Rehabilitation Centre to the Bukit Baka Bukit Raya National Park (TNBBBR) in Central Kalimantan.
The group of three orangutans included a male named Rizki, and two females, Chio and Mia. Read all about them here. The three were transported from Nyaru Menteng on 15 January, following a compulsory final health check by our medical team prior to departure.
Sedation process and final health check before departing for the forest
After the orangutans were each carefully placed into a transport cage and had woken from the anaesthetic tranquilizers, the team immediately headed to the Hiran watershed area in the national park. This area was first utilized as a release point last year. This expansion of our releases outside the previously utilized Bemban watershed was intentionally conducted to help better disperse the population of released orangutans in the forest.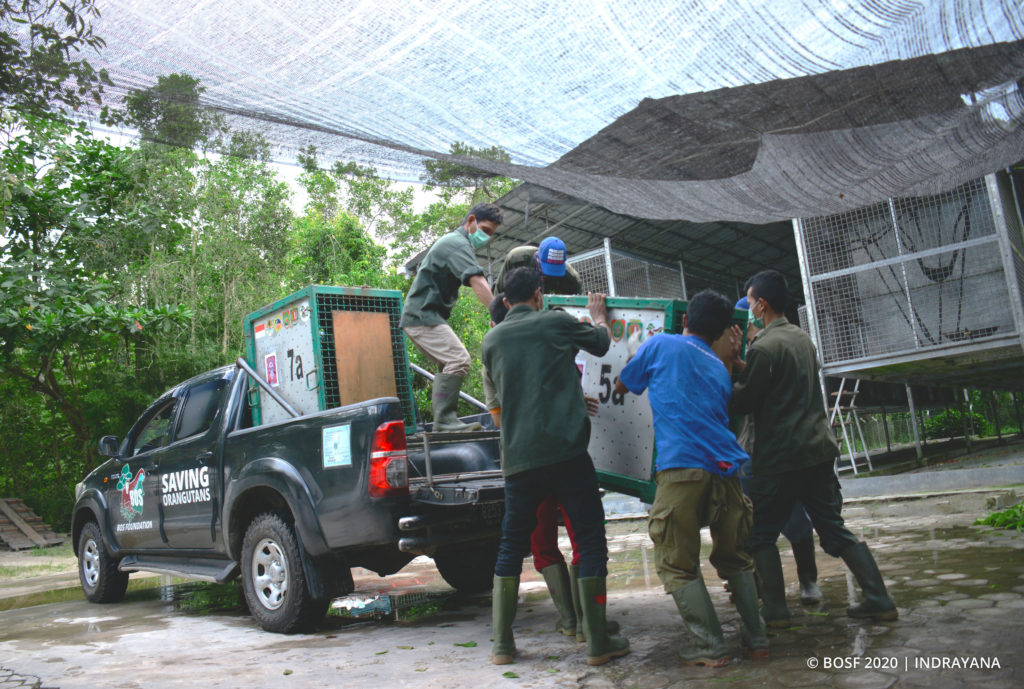 Moving cage to car transportation
Three Orangutans Arrive in the National Park!
After an exhausting 19-hour journey, the team had finally reached their destination. Around noon the day after leaving Nyaru Menteng, the three orangutans were finally released from the confines of their transport cages and into the forest!
Rizki, Chio, and Mia all rushed out from their respective cages and climbed up the nearest trees. The steep terrain of the area allowed them to quickly reach vantage points high up in the treetops, where they could observe their new surroundings.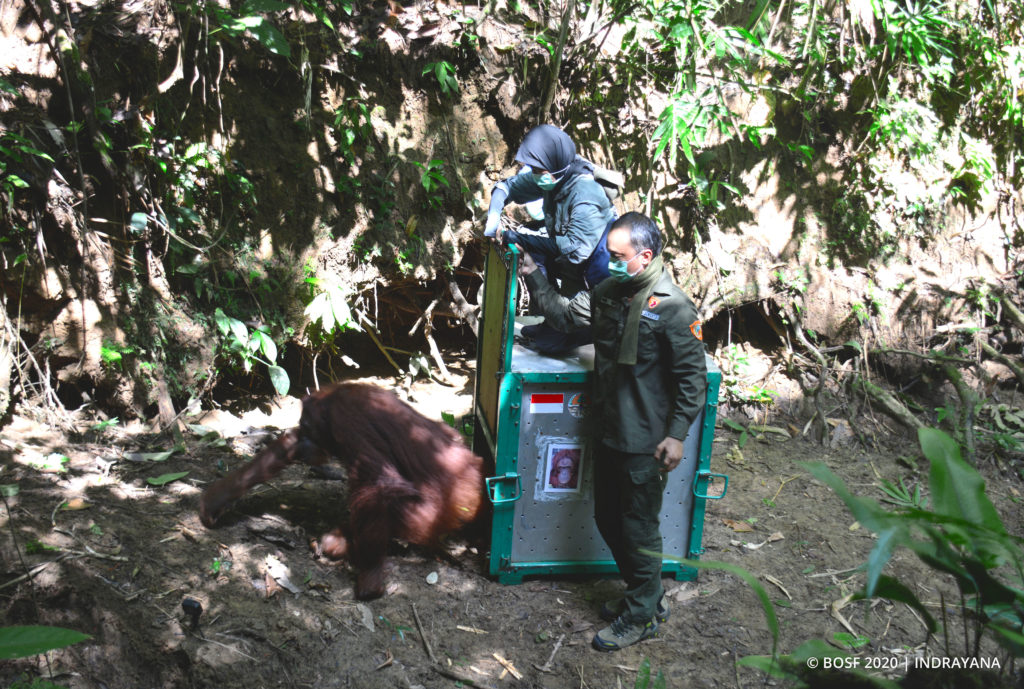 Mia, the oldest orangutan in the group, is finally free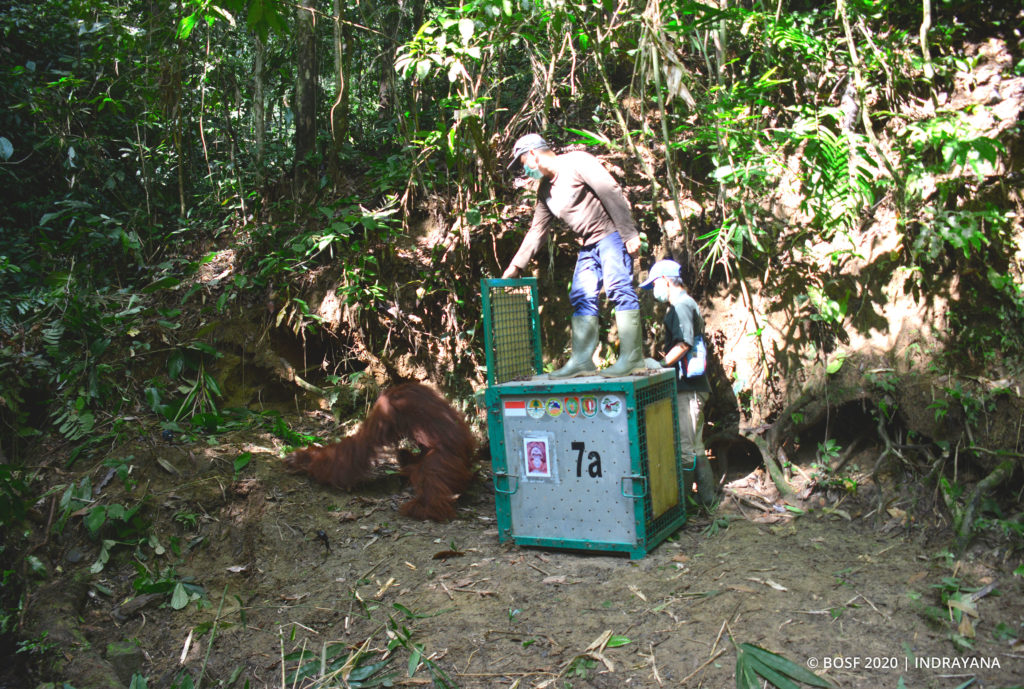 Rizki exits the cage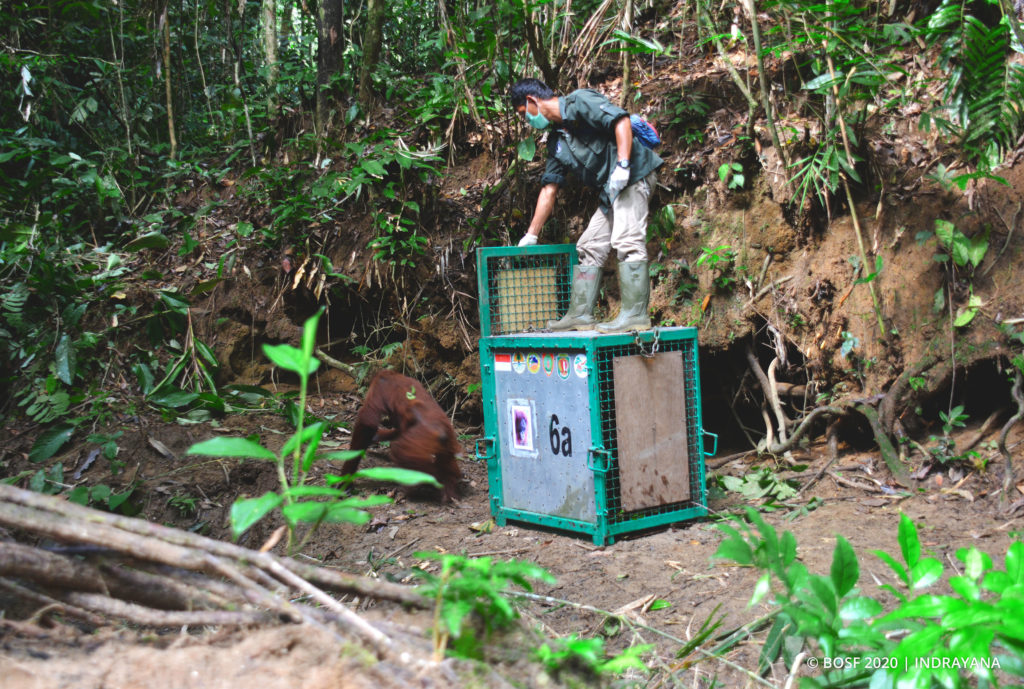 Chio exits the cage
The release team was relieved and delighted to see Chio, Rizki and Mia complete their long journeys to freedom. Mia's release in particular moved the team as they watched an orangutan who had undergone 16 years of rehabilitation, finally start her life anew, free in the forest!
We wish these orangutans well, and hope they will thrive as true, wild orangutans in the forests of the Bukit Baka Bukit Raya National Park. Enjoy your newfound freedom, everyone!
Orangutans in Borneo Need Your Help!