BOS Nyaru Menteng Baby Update: Little Alejandra Taking Big Steps in Forest School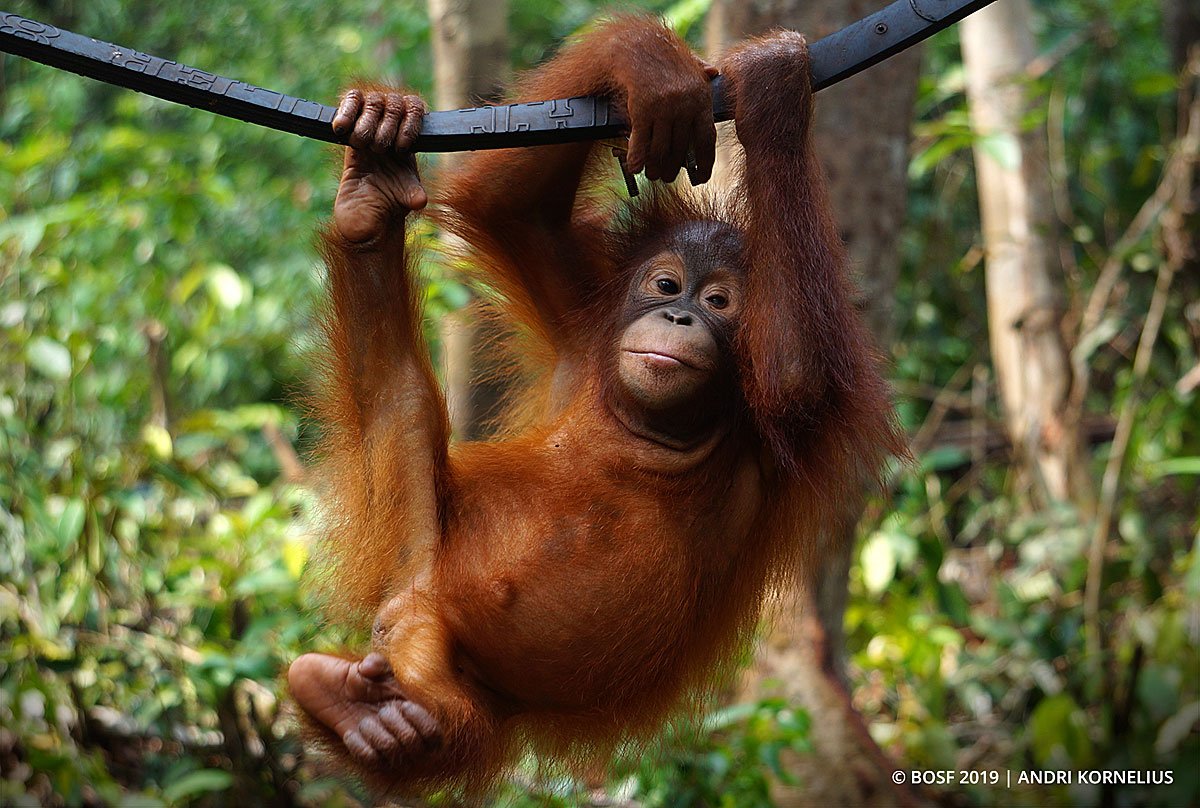 Text by: BOS Foundation Communication Team
October 21, 2019 — The first time we met Alejandra was when she was rescued by a joint team from the Central Kalimantan BKSDA and BOS Foundation Nyaru Menteng in the village of Tapen, Pujon Sub-District, Kapuas Regency, Central Kalimantan.
She arrived at Nyaru Menteng on 22 December 2017, at the age of just 3 months, and was in a very unfortunate condition: weak and traumatized, the results of being kept as a pet. She was immediately placed in the Baby House quarantine facility to undergo extensive health checks and while being given the support needed to recover.
Read also: One Week Post-Rescue, Alejandra and Rachel Doing Well
Three months later, Alejandra had passed quarantine and joined the Nursery Group in Forest School along with other orangutans her age. She found a good friend in Topan, another young female orangutan who was rescued in October 2017. The two hit it off straight away and enjoyed doing everything together.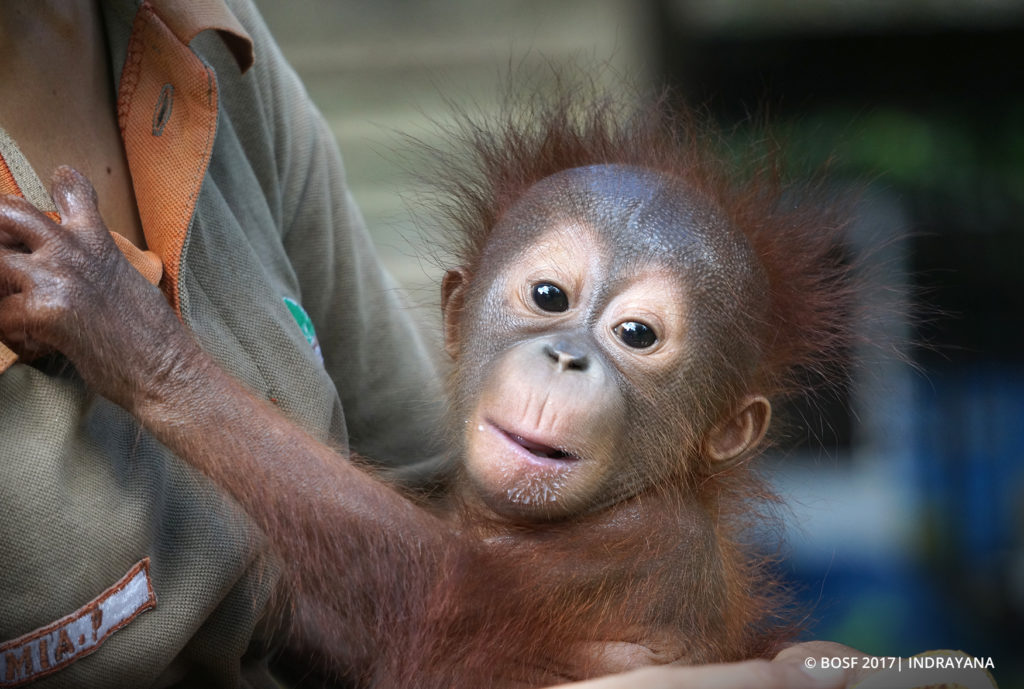 Alejandra in the Nursery Group
Read also: Rachel and Alejandra's First Days in Nursery Group
Now, two years after arriving at Nyaru Menteng, Alejandra has advanced to Forest School Group 3. Our surrogate mothers report that Alejandra's progress in Group 3 has been excellent: "She's grown more confident and independent. She no longer cries for help climbing down a tree, or seeks comfort from surrogate mothers. Although she has been close with Topan since her days in Nursery Group, Alejandra now spends more time alone, and will only occasionally play with Topan".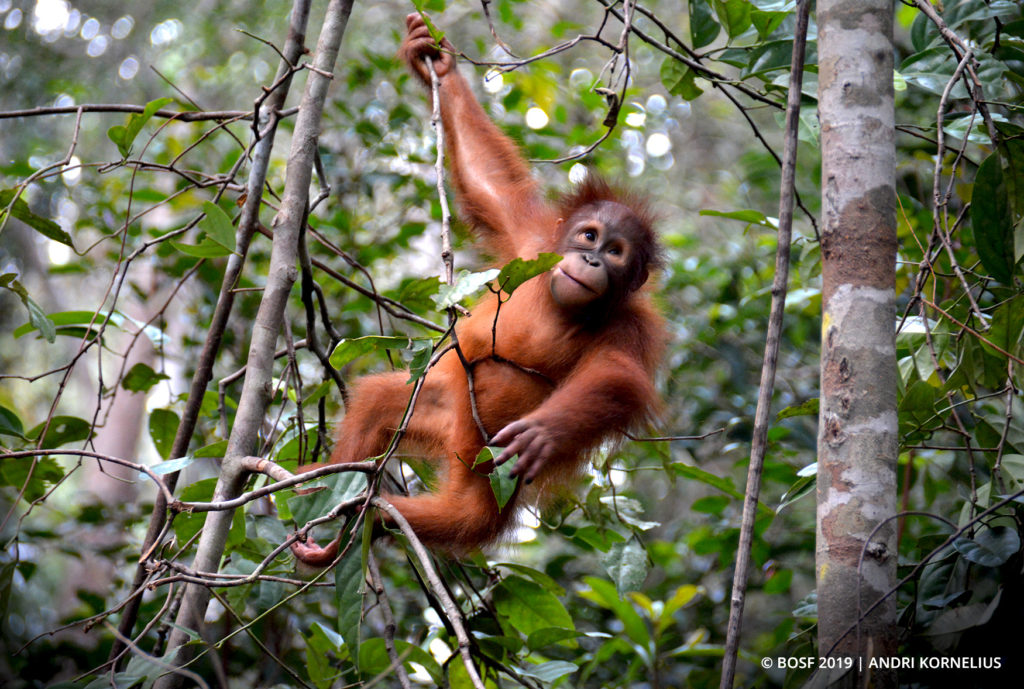 Alejandra in Forest School Group 3
After school hours, the orangutans leave the forest and spend time in the playground near the office. On the playground, Alejandra will sometimes interact with the larger and older orangutans from Group 5, such as Mochi, Beni, Madara, and Yutris. Interestingly, they do not seem to mind her joining in, and are happy to play together with her. They all love to hug Alejandra and sometimes they even compete over who gets to cuddle her!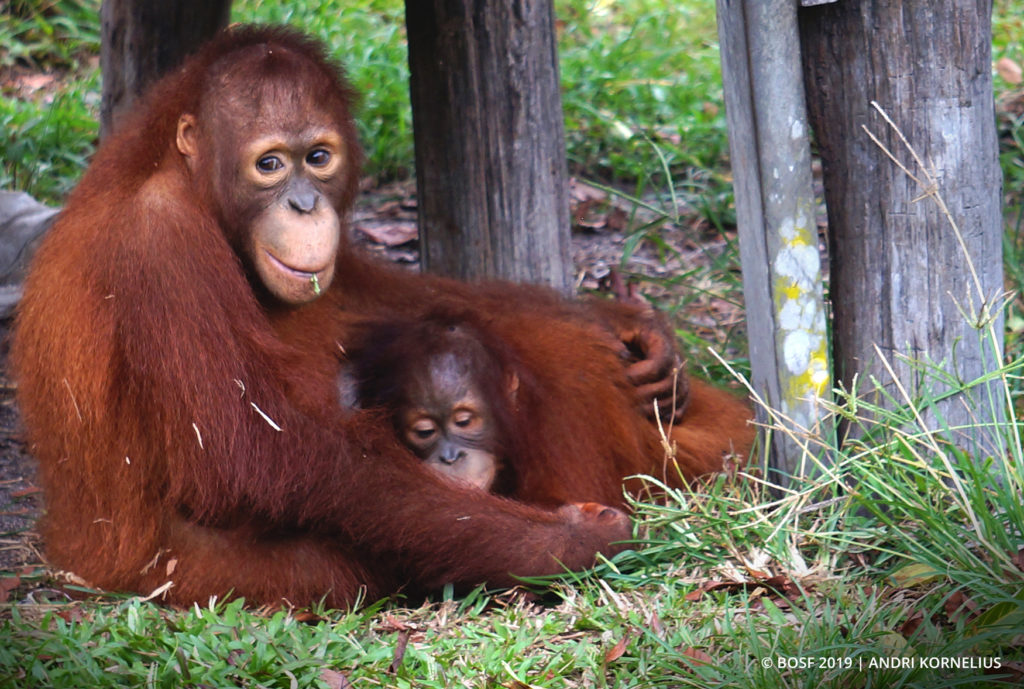 Moci, a member of Forest School Group 3, plays with Alejandra
Alejandra's small physique has become one of the most unique things about her. One day, when it was time for the orangutans to return to the complex to sleep, it was discovered that one was missing following a head count by a surrogate mother. Alejandra was nowhere to be seen! Some of the surrogate mothers quickly went to the playground in search of her, while others returned to the Forest School area, which had started to grow eerily dark.
Minutes went by, and when the surrogate mothers reconvened at the playground they found Alejandra hiding in a piece of enrichment made from a tire. It was clear that due to her small size and growing independence, she had managed to evade the team.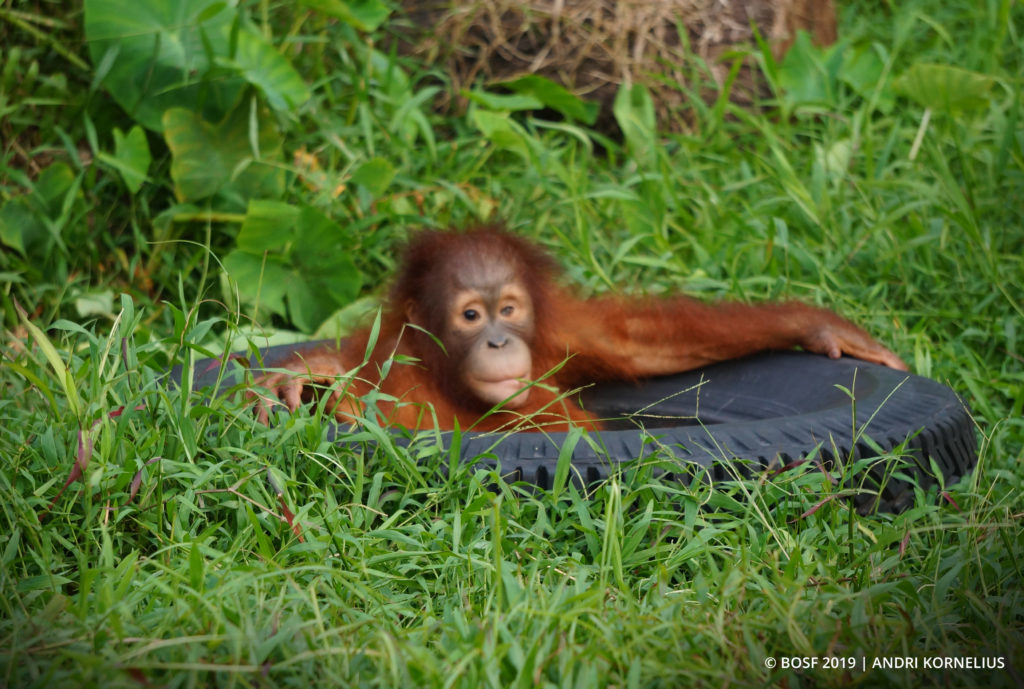 Alejandra in the tire
Judging from her positive development in Forest School, we are convinced that Alejandra will have no trouble in mastering all the necessary skills that she will need to become an independent orangutan, and will one day live wild and free in the forest where she belongs.
Orangutans Need Your Help!
Please make a donation to the Borneo Orangutan Survival Foundation today!
THANK YOU SO MUCH FOR YOUR SUPPORT!
{:(|}