Orangutan Outreach joins Leonardo DiCaprio Foundation's "Global Deal for Nature" campaign

Orangutan Outreach is proud to endorse the Leonardo DiCaprio Foundation's One Earth initiative and support the Global Deal for Nature campaign.
BIODIVERSITY AT RISK
In late 2020 in Kunming, China, world leaders will gather to set new targets to protect nature under the United Nations Convention on Biodiversity (CBD). The last global targets, set in 2010, were simply not ambitious enough, and we have seen the consequences.
A new United Nations report by the Intergovernmental Science-Policy Platform on Biodiversity and Ecosystem Services (IPBES) has been compiled by 500 scientists and experts and shows an alarming trend that could undermine life as we know it on Earth: "The loss of trees, grasslands and wetlands is costing the equivalent of about 10% of the world's annual gross domestic product, driving species extinctions, intensifying climate change and pushing the planet toward a sixth mass species extinction."
It's clear that we must reverse this trend, and the time is now.
In 2017, 49 scientists authored a landmark paper, "An Ecoregion-Based Approach to Protecting Half the Terrestrial Realm" that called for a Global Deal for Nature (GDN) — a companion to the Paris Climate Agreement — to promote increased habitat protection and restoration, national and regional conservation strategies, and the empowerment of indigenous peoples to protect their sovereign lands. The goal of such a deal would be to protect half the terrestrial realm to halt the extinction crisis while sustaining human livelihoods.
In April 2019, many of these scientists published a new paper called "A Global Deal for Nature: Guiding Principles, Milestones, and Targets" that explains why protecting half the Earth is needed, and presents a science-driven plan to save the diversity and abundance of life on Earth.
SUMMARY OF THE GLOBAL DEAL FOR NATURE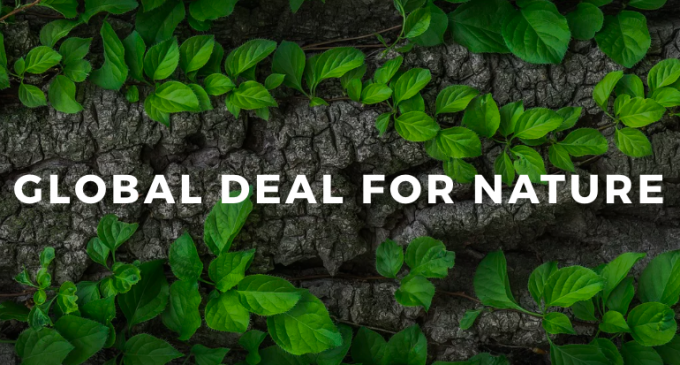 The Global Deal for Nature (GDN) is a time-bound, science-driven plan to save the diversity and abundance of life on Earth by protecting, connecting and restoring half of our lands and seas. The GDN offers guiding principles, milestones, and targets that, paired with the Paris Climate Agreement, would avoid catastrophic climate change, conserve species, and secure essential ecosystem services.
Opportunities to address both climate change and the extinction crisis are time-bound. It has become clear that beyond 1.5⁰C average rise in global temperature, the biology of the planet becomes gravely threatened as ecosystems literally begin to unravel. Similarly, if current land conversion rates, poaching of large animals, and other threats are not dramatically slowed or halted in the next ten years, a 'point of no return' could be reached for multiple ecosystems and species.
Try to imagine a tropical forest without pests, pathogens, pollinators, decomposers, or predators. You likely can't. That's because their interactions with primary producers (the plants) are what generates the carbon rich growth forms that take the carbon out of the atmosphere and store it in the soil and woody biomass.
The GDN aims to highlight a new era of ambitious conservation in which international institutions, governments and people are working together to save nature -- from supporting communal conservancies in Namibia's Damaraland refuge for lions and elephants, to indigenous communities in the Peruvian Amazon that conserve key ecosystems and safe havens for jaguars and rare primates, to the last home of the orangutan in indigenous reserves in Borneo.
Because protection will be phased in over time, and because life on Earth is distributed unevenly, it's crucial that biologically important areas are protected first, and that protection is done in a representative matter. The paper also highlights groups of high-priority natural sites and species that should be targeted within ecoregions.
Earth's bounty underpins human well-being, and yet we are poised to wipe these out in the blink of an eye in geological time. Now it is time to give back before our living standards and spirits are further diminished by the loss of the diversity around us. With recent advances in technology and globally available earth information systems, we have the tools necessary to protect most of life on Earth and monitor our progress, should we organize and choose to do so.
Creating a Global Deal for Nature would allow humanity to develop a vibrant low-impact economy while leaving room for the rest of life on Earth, becoming the overarching conservation paradigm for this century. Together, the Global Deal for Nature and Paris Climate Agreement will foster nature and humanity's health and a future for all species and future generations.
THE PETITION
A petition has been created asking citizens around the world to join together. It calls on government leaders to support a Global Deal for Nature that protects and restores half of the Earth's lands and oceans and affirms the vital importance of indigenous territories in safeguarding all life on Earth.
The petition reads:
To World Leaders,
I urge you to support a Global Deal for Nature that safeguards half the Earth with a milestone of protecting 30% of lands and oceans by 2030. Scientists say this bold target is needed to prevent the extinction crisis, halt runaway climate change, feed the world, and ensure a healthy planet for future generations. The agreement must ensure our living planet is sustainably managed; must have the active support of indigenous peoples; and must address the needs of human development.
Read the full petition and sign it here: https://www.globaldealfornature.org/petition/en/