Action Packs
How can we make a difference?
We must demand that any of our favorite products which currently contain palm oil be switched to alternative ingredients. In order to do this Orangutan Outreach needs help to find out which products in the USA contain palm oil. This is where your help is so badly needed. Please help us find products in the supermarket and other shops that contain palm oil and tell us about it. Go to your shop and look at product like ice cream, milk, yoghurt, chocolate, cookies, cakes, margarine, toothpaste, soap, shampoo, detergents and cosmetics... and see if there is any mention that the product contains palm oil. Chances are they do! If you find products that contain "vegetable oil" and you suspect that it may be palm oil, call the producer and ask them directly.
Possible actions
Start a campaign at work or in your school (e.g. to collect money to adopt an orangutan)
Call your local newspaper or radio station and tell them about the disastrous situation in Borneo
Draw the attention of friends and relatives to this situation and encourage them to change it
Link to us from your homepage. The address of this site is: https://redapes.org
Contact us and we'll help you get started!
Materials
All of the materials below are yours to download and use to help raise awareness of the crisis facing wild orangutans. Just click on the image to download the FULL_SIZE PDF onto your desktop. We will be constantly updating this section, so keep checking back!
HANDOUT CARDS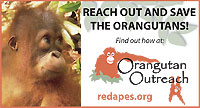 Just print and clip! An easy way to get the message out!
Download Handout Cards
FACT SHEETS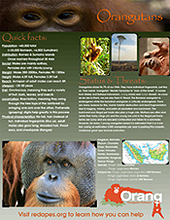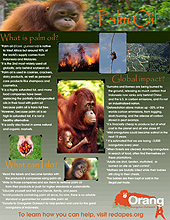 Download the Orangutan Fact Sheet Download the Palm Oil Fact Sheet
WORD SEARCH: ORANGUTANS FROM A TO Z (with answer key)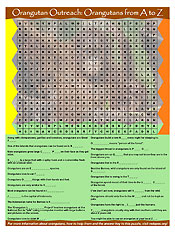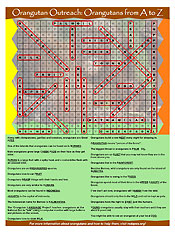 Orangutan Word Search - Download Orangutan Word Search (answer key) - Download
ORANGUTAN ARMSPAN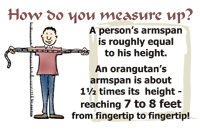 ORANGUTAN HANDPRINTS
Orangutan Coloring Page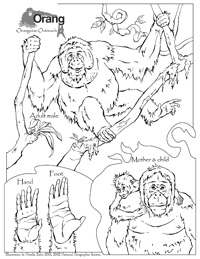 More Activities
Globe - Where Do Orangutans Live?
Joke Jar (Much funnier than a Barrel full of Monkeys!
How Many Monkey Biscuits?
Are You Smarter Than an Orangutan? Doc 1 of 2 ... Doc 2 of 2
VIDEOS
Check out the Orangutan Outreach YouTube Channel to see all our Video Content