GREEN THE FILM

Green is by far the best film ever made about orangutans, palm oil and deforestation.

Check out this great review on Al Jazeera

The film is available for free viewing on YouTube.

Her name is Green, she is alone in a world that doesn't belong to her. She is a female orang-utan, victim of deforestation and resource exploitation. This film is an emotional journey with Green's final days. It is a visual ride presenting the treasures of rainforest biodiversity and the devastating impacts of logging and land clearing for palm oil plantations.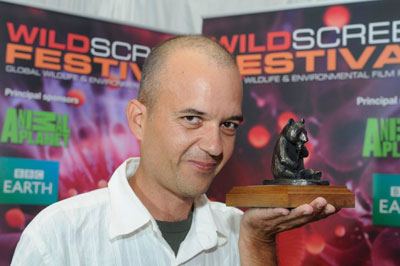 Patrick Rouxel taking home the Golden Panda
Check out this interview with Patrick Rouxel:  http://networkedblogs.com/e1p3K
Awards:
« Golden Panda Award » - Wildscreen – USA 2010
« Grand Teton Award » - « Best Conservation Program » Jackson Hole Wildlife Film Festival – USA 2009
http://www.jhfestival.org/festival/festival2009/winners.htm
« Grand Prix » - « Meilleur Scenario »
Festival International du Film Animalier - France 2009
« Sapphire Award »
« Best Conservation and Environmental Issue »
« Best Sound Design »
« Best Editing »
Missoula International Film Festival - USA 2009
« Best Short Documentary »
Durango Film Festival - USA 2009
« Prix Ushiaïa TV » - « Meilleur Film de Fiction »
Festival International du Film Ecologique de Bourges - France 2009
« Herisson de Bronze »
Festival International du film Nature et Environnement - France 2009
« Message Award »
Japan Wildlife Film Festival - Japan Aug 2009
« Judge's Choice Finalist »
Durban Wild Talks Africa - South Africa 2009
Nominated to:
Festival International du Film Ecologique de Bourges - France Oct 2009
Festival Film Nature - France Oct 2009
Festival International du Film Ornithologique - France Oct 2009
Amazonas Film Festival - Brazil Nov 2009
Wild and Scenic Environmental Film Festival - Jan 2010