Donate Cryptocurrency to Orangutan Outreach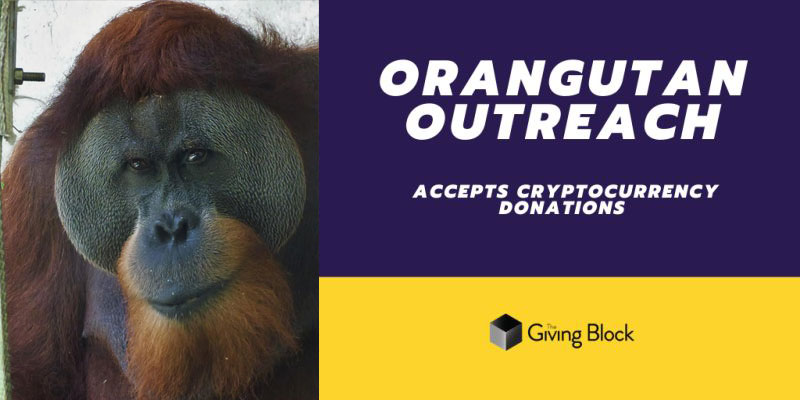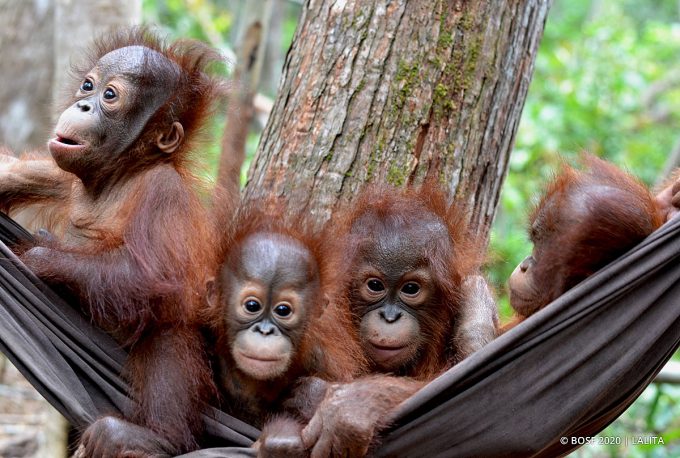 Precious Red Apes
There are three species of orangutans and they are all CRITICALLY ENDANGERED in the wild. Orangutan Outreach works to protect wild orangutans in their forest homes and to assure that orphaned and displaced orangutans receive the care and support they need until they can be returned to their natural environment. YOU can help us make a difference in the lives of orangutans in Borneo and Sumatra.
Orangutans face many challenges including deforestation, poaching, and capture for sale on the black market (mothers are killed so babies can be snatched). Adult males are killed on sight. Covid-19 is a new and serious threat to wild orangutans, as they share 97% of our DNA and are susceptible to many human illnesses. Anyone with Covid-19 that comes into contact with an orangutan could easily spread it to the ape. If the virus gets into the wild orangutan population, the results could be devastating.
We need your help now more than ever. Contributions are needed to continue to rescue, rehabilitate, and release the orphaned and displaced orangutans. Funds are also used for forest protection and monitoring. Donations and funds from virtual orangutan adoptions are allocated to our partners in Indonesia so they may continue with their life-saving work.
Why crypto?
By donating cryptocurrency, you can make a meaningful difference in the fight to save orangutans! A cryptocurrency donation is classified as property by the IRS, which means it is not subject to capital gains tax and is tax-deductible. We are now working with The Giving Block to make donating cryptocurrency as easy as possible. Learn more on The Giving Block's website.
Orangutan Outreach is a registered 501(c)(3) US charity. EIN: 26-0521285
We accept the following cryptocurrencies: Bitcoin (BTC), Ethereum (ETH), ApeCoin (APE), DOGE, Storj (STORJ), Litecoin (LTC), Bitcoin Cash (BCH), Zcash (ZEC), Gemini Dollar (GUSD), Basic Attention Token (BAT), Chainlink (LINK), Balancer (BAL), Bancor Network Token (BNT), Polygon (MATIC), Synthetix (SNX), Yearn.Finance (YFI), Decentraland (MANA), Kyber Network (KNC), Maker (MKR), PAX Gold (PAXG), Ren (REN), Enjin Coin (ENJ), Fantom (FTM), Injective Protocol (INJ), Livepeer (LPT), Loopring (LRC), The Sandbox (SAND), Skale (SKL), Somnium Space (CUBE), Orchid (OXT), Mirror Protocol (MIR), Filecoin (FIL), Ankr Network (ANKR), Tezos (XTZ), BarnBridge (BOND), Alchemix (ALCX), Axie Infinity Shards (AXS), Smooth Love Potion (SLP), Moss Carbon Credit (MCO2), TerraUSD (UST), Terra (LUNA), Shiba Inu (SHIB), Audius (AUDIO), Mask Network (MASK), Wrapped Centrifuge (wCFG), Quant (QNT), Radicle (RAD), Fetch AI (FET), Numeraire (NMR), API3 (API3), USD Coin (USDC), SPELL, MIM, RNDR, GALA, MC, ENS, KP3R, ELON, CVC, Liquity USD(LUSD), Liquity(LQTY), Lido (LDO), DeFI Pulse Index(DPI), Rally(RLY), Maple Finance (MPL), Saber(SBR) and Raydium(RAY).
USD $50 purchases stimulating enrichment items for the apes in rehabilitation & Forest School
USD $75 provides an orangutan with a vital health check-up
USD $100 supplies an orangutan with fruit, vegetables, milk, and vitamins for a month
USD $3,000 covers the costs to care for an orangutan for a whole year!
USD $5,000 covers the full cost of releasing one orangutan back to the wild!
Combined, our partners are caring for nearly 800 orangutans across several care centers! Many of these orangutans will not be able to be released back to the wild and will need permanent sanctuary care for the rest of their lives! And orangutans can live into their 50s or beyond!
Choose your preferred cryptocurrency below and make a donation today. If you would like to symbolically adopt an orangutan using cryptocurrency, please contact us and we will help you get set up.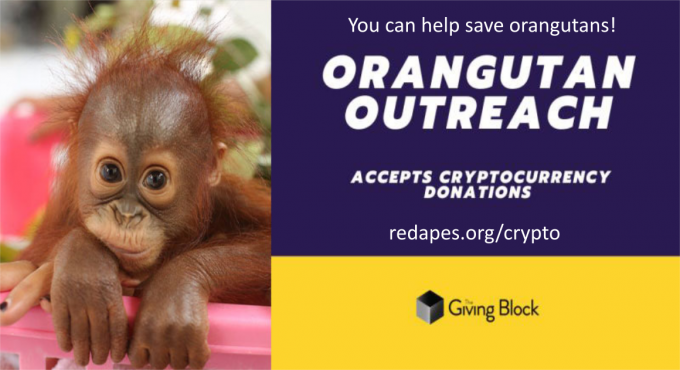 No crypto, no problem! We offer many ways to donate.
Visit our Donate page today!
Click here to learn about more ways to help!