Retirement (Cage-Free Sanctuary Space)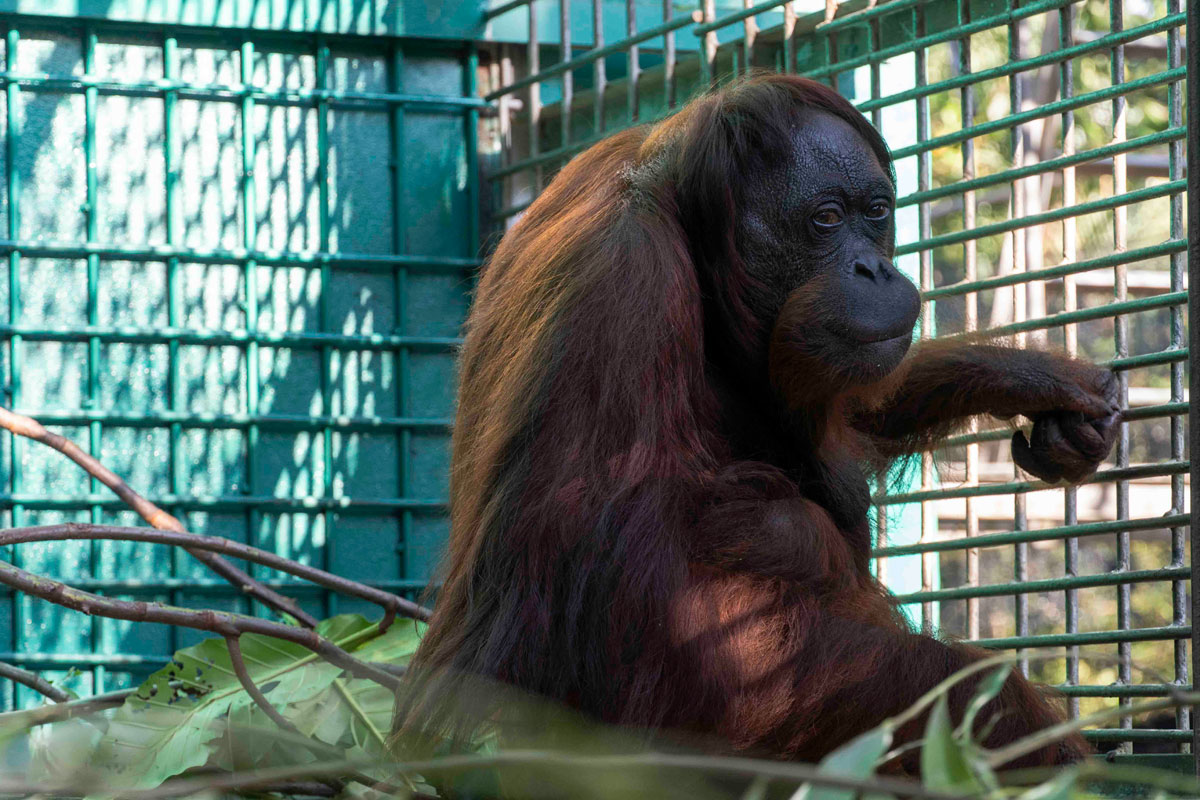 Pingky is being cared for at IAR Ketapang. Learn more about her here.
RETIREMENT – A Necessary "R" of "Red Ape Relief"
The aim of the orangutan rehabilitation process is to teach orangutans vital survival skills, and the goal is for each orangutan to return to life in the wild. The sad reality is that there are hundreds of orangutans in rehabilitation centers who will never be able to live successfully in the wild. We refer to these orangutans as "unreleasable" and we strive to provide them with a life of respect and dignity under human care. We call this process retirement, as these special orangutans are in need of a permanent home to live out their days in peace and comfort. Many of these orangutans are magnificent adult flanged males, affectionately called cheek padders.
Learn more about 'Unreleasable Orangutans'.
There are many reasons why orangutans may be "unreleasable". For some, they were kept in captivity for so long that they were not able to learn to be an orangutan and develop forest skills. Other orangutans suffer from physical disabilities and limitations, often caused by the many years in captivity. There are also some orangutans who suffer from infectious diseases, such as tuberculosis and hepatitis B or C, which could relapse or be transmitted to the wild orangutan population. All of these precious souls require a lifetime of medical attention and tender loving care. Orangutan Outreach has made a commitment to move these orangutans out of cages and into sanctuary spaces.
The biggest challenge in providing sanctuary for unreleasable orangutans is securing the funds required to build and maintain the proper facilities. Donations are desperately needed to cover the costs for decades of food and medication and the expenses associated with building new, appropriate sanctuary enclosures and islands. Providing lifelong care requires more funding than what is needed to put an orangutan through the rehabilitation process. Please help us care for these beautiful red apes.

Learn about our partners working to provide lifetime sanctuary care for orangutans.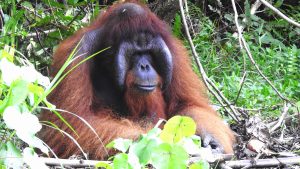 Borneo Orangutan Survival Foundation (BOSF)
BOSF believes that orangutans who lack survival skills and natural behaviors must still have the chance to live outside of a cage, on a sanctuary island. These forested islands are regularly monitored, allowing for unreleasable orangutans to live a semi-wild life while still receiving all the support they need from the BOSF teams. At this time there are not enough sanctuary islands for all of these orangutans, so most of the unreleasable orangutans must wait in caged enclosures. YOU can help move more orangutans out of cages. Learn more about the BOS Foundation sanctuary islands here. Papa is being cared for at BOS Samboja Lestari. Learn more about him here.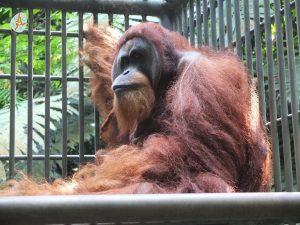 Sumatran Orangutan Conservation Programme (SOCP)
SOCP has long envisioned a permanent sanctuary for its unreleasable orangutans, with planning and development starting in 2015. A lush wetland valley has now been developed into orangutan island homes - the SOCP Orangutan Haven. This remarkable sanctuary in Northern Sumatra will serve as the permanent home for some very special orangutans. The Haven will allow each individual orangutan an enriching life within a natural habitat setting. It will also become a crucial conservation education resource aimed at changing attitudes towards wildlife and the environment within the region. Learn more about the SOCP Orangutan Haven and how you can support its residents here. Krismon is being cared for by SOCP. Learn more about him here.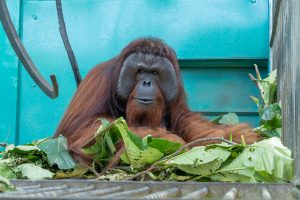 International Animal Rescue (YIARI)
YIARI manages an orangutan center near Ketapang, in West Kalimantan (Borneo). The facility covers 150 hectares and includes office space, a guesthouse, a learning center, and a medical clinic. This amazing site also includes a quarantine area, cages for all the rescued orangutans, and ample space for forest schools and the rehabilitation islands. To complete this complex, YIARI is constructing a large 1 acre forested area on the grounds to be utilized by their unreleasable orangutans. Learn more about this ambitious project here (link coming soon). JoJo is being cared for at IAR Ketapang. Learn more about him here.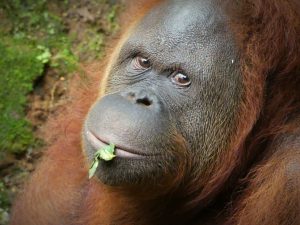 Cikananga Wildlife Centre
Cikananga is dedicated to conserving Indonesian wildlife. Located in Java, the center provides facilities to rehabilitate a variety of confiscated wild animals with the goal to reintroduce them into their natural habitat. The center also provides a permanent sanctuary for animals that cannot be released back into the wild. Cikananga is the home to two wonderful orangutans, Noni and Dodo. They receive much love and attention from the animal care staff at Cikananga. Learn more about Noni and Dodo and their home here.
---
The 5 Rs of Red Ape Relief
Rescues
Rehabilitation
Releases
Retirement (back to the top)
Reforestation
---
Orangutans Need Your Help!
No PayPal?
Donate crypto, stock, with a credit card or DAF