Reforestation
REFORESTATION – A Vital "R" of "Red Ape Relief"
Orangutan Outreach is proud to support several large-scale reforestation projects as part of our Bored in Borneo initiative. With your generous donations, we are able to provide the finances needed to restore huge areas of forest that were destroyed in years past.
We are doing everything we can to make sure that there will be orangutan habitat for years to come!
Why Reforest?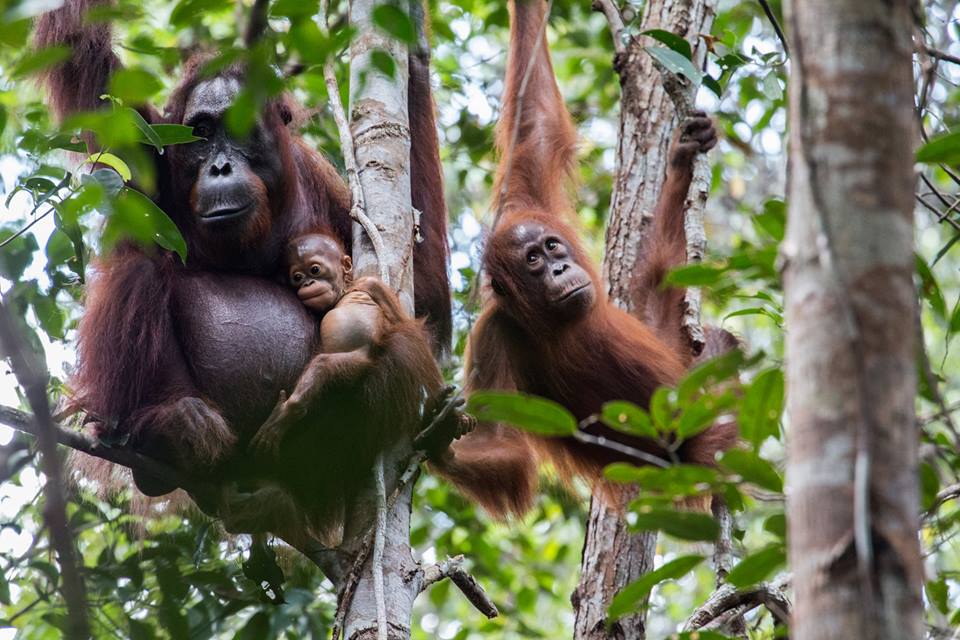 Reforesting land that has been burned and logged is an essential part of orangutan conservation. Our work to rescue and rehabilitate orphaned and displaced orangutans is just a part of the solution. We also MUST assure there is healthy, suitable forest in which to release the orangutans! This is the only way to maintain viable wild populations of the beautiful red apes. In other words, no trees, no orangutans.
Reforestation has so many benefits. Planting trees expands orangutan habitat, and planting specific species provides fruit that the orangutans love. New trees also prevents soil erosion and reduces the risk of fires. We do not want to lose any more precious orangutans to forest fires! Reforestation projects also engage local communities in conservation, which is vital to project success. And if that isn't enough - more trees contributes to the global fight to stop climate change.
Learn more about our reforestation projects!
MAWAS Conservation Area
Orangutan Outreach is proud to support our partner, the Borneo Orangutan Survival Foundation (BOSF), with their conservation program in Central Kalimantan. The MAWAS area is 309,000 hectares (763,500 acres) of peatland and peat swamp forest that has global importance as a carbon reservoir and biodiversity stronghold. With many factors still threatening the area, we need to ensure its survival. We will support BOS Foundation's work to restore and protect the area through sustainable community development, reforestation, forest fire management, and biodiversity monitoring. Learn more about Mawas here.
Sebangau National Park
Orangutan Outreach is supporting our partner, Borneo Nature Foundation, to plant 1 million trees in fire-damaged rainforest in Sebangau National Park in Central Kalimantan by 2025! Seeds collected from the forest are nurtured in community nurseries. Once the seedlings have matured, the BNF team works with local villagers to replant priority areas of the rainforest, focusing on critical orangutan habitat. Learn more about this ambitious effort here.
Pematang Gadung Community Forest
Orangutan Outreach is supporting the IAR Indonesia Foundation (YIARI) to restore Pematang Gadung, a peat swamp forest in West Kalimantan (Borneo). This area is home to roughly 800 wild orangutans. This forest should usually be flooded with water. However, some peat areas have drained due to land degradation through logging, opening canals, and other activities, leaving them highly flammable. YIARI is working with the local community to restore the burnt areas of forest, nurture and plant thousands of trees, build sustainable development programs for the community, and educate people on how to protect their forests. More info coming soon! Learn more about Pematang Gadung here.
Batang Toru Community Forest Park
Orangutan Outreach is proud to support our partner, the Sumatran Orangutan Conservation Programme (SOCP), in the creation of Batang Toru Community Forest Park in North Sumatra, Indonesia. This area is home to the 800 remaining Tapanuli orangutans, the most endangered great ape on Earth. The apes are facing threats from illegal wildlife trade, mining, conflicts with humans, and a planned hydroelectric dam. SOCP will complete reforestation in corridors and adjacent areas to improve forest connectivity for the orangutans. More info coming soon. Learn more about SOCP here.
Kelay River buffer zone
Orangutan Outreach is proud to support Conservation Action Network (CAN) to restore orangutan habitat in the buffer zone of the Kelay River. Supported by the community, CAN has planted 5000 fruit trees in Berau Regency in East Kalimantan. Learn more about this small but mighty group of conservationists here.
---
The 5 Rs of Red Ape Relief
Rescues
Rehabilitation
Releases
Retirement
Reforestation (back to the top)
---
Orangutans Need Your Help!
Donate crypto, stock, with a credit card or DAF