Volunteer
Orangutan Outreach is always seeking animal lovers and individuals who want to help in our conservation efforts by volunteering in Indonesia. Volunteers can also help by bringing donated general items and veterinary supplies from overseas that are sometimes too difficult or too expensive to obtain locally. Orangutan Outreach's partners recruit volunteers from any profession.

IAR Ketapang Orangutan Rescue Center
The Ketapang Orangutan Rescue Center is managed by our partners International Animal Rescue. You can learn more about the volunteer program at Ketapang on the Project Orangutan website or on the Project Orangutan Facebook page. They'll be able to answer any questions you have about volunteering. If you contact them please let them know we sent you!
Please note that the volunteer program does NOT allow physical contact with the orangutans. No respectable programs allow such activity. It is simply not ethical due to the potential health risks posed to the orangutans— especially the infants who often have compromised immune systems. The goal of the rescue centers is to rehabilitate orangutans and return them safely to the forest. The last thing anyone wants is for the orangutans to be acclimated to humans. When a wild orangutan sees a human, it will not end well....
OuTrop
Orangutan Outreach is proud to support the valuable research being carried out in Borneo by the Orangutan Tropical Peatland Project (OuTrop).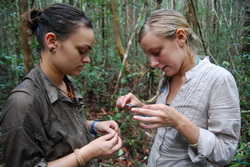 A limited number of volunteer places are available each year to participate in the research programs of OuTrop's Forest Research and Ecological Monitoring Research teams. The program is especially suited to recent graduates or undergraduates wishing to gain fieldwork experience in a tropical forest environment, although previous volunteers have come from all walks of life!
What do you need to bring? A willingness to work long hours in the field. A good level of fitness and enthusiasm are essential and basic biological/ecological knowledge is advantageous.
Visit the OuTrop website to learn more about volunteering. Read some volunteers' accounts of their experience.