Baby Ruru's First Steps Toward Freedom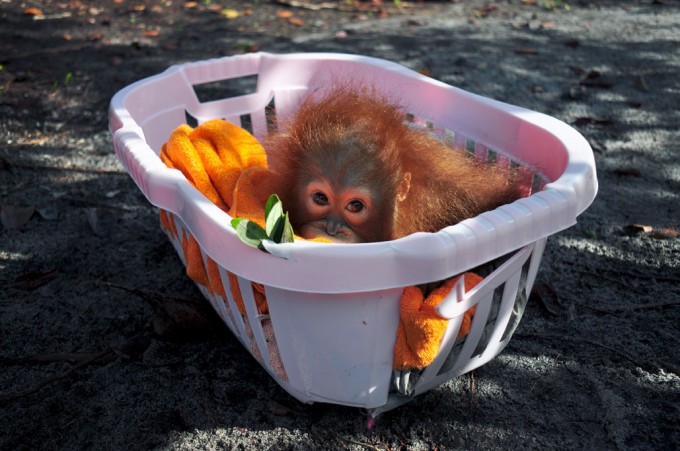 On 11 June 2014, the rain was pouring down as the BOS Foundation Rescue Team from Nyaru Menteng headed towards the city of Sampit. In coordination with the Central Kalimantan Conservation and Natural Resources Authority (BKSDA), the team consisted of vet Lia Kristina, Monterado Friedman from the BOS Communications Division, and driver Bagong Ahmadi.
Ruru Kept as a Pet
Little Ruru, a two year old female orangutan had been a pet with a family for a month before one of the family members contacted the team at Nyaru Menteng to hand her over.
After a six-hour journey the team, accompanied by the BKSDA Post Commander of Sampit, finally arrived at their destination. BKSDA informed the family of Indonesia's Wildlife Protection Regulations before proceeding with the hand over. Despite the significant amount of national news on orangutans and their protected status, many people living in rural areas still don't know the laws which are in place to protect orangutans. Many others simply don't seem to care since enforcement or punishments are rarely issued.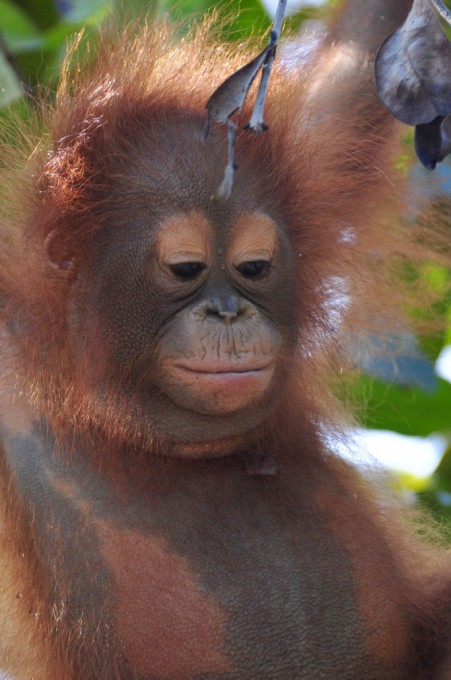 There was no adequate information on how the family had obtained Ruru, other than their own story of how they "found her by the road near a small patch of forest in Sampit". Ruru was then taken care of by the family. They didn't put her in a cage, and instead she stayed in the house with the family. The treatment she received was far better than many other orangutans who were kept as human pets, but the fact remains that she belongs to the forest not in captivity.
Ruru Joins Nursery Group
Ruru is a gorgeous little orangutan and despite the information we received that she had only been kept by the family for a month, she showed no wild behavior whatsoever. We suspect that she has probably been separated from her mother since a very young age and is used to interaction with humans. On the way back to Nyaru Menteng, Ruru held on tightly to vet Lia and accepted the fruit given to her without hesitation.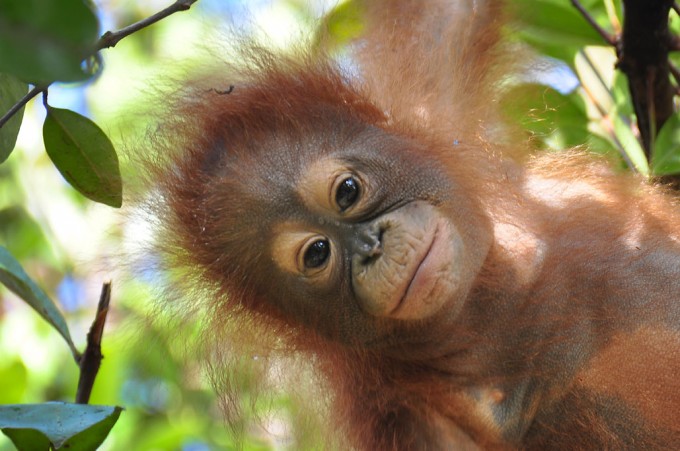 Ruru underwent a general health examination on 12 June 2014 and will be in quarantine for the next two months. She is now under the loving care of babysitter Jumiati, in the Nursery Group. During her quarantine period, Ruru will play and learn under the guidance of her special babysitters. Once she had completed quarantine and been given a clean bill of health, she can join the other young orangutans in our Infant Forest School.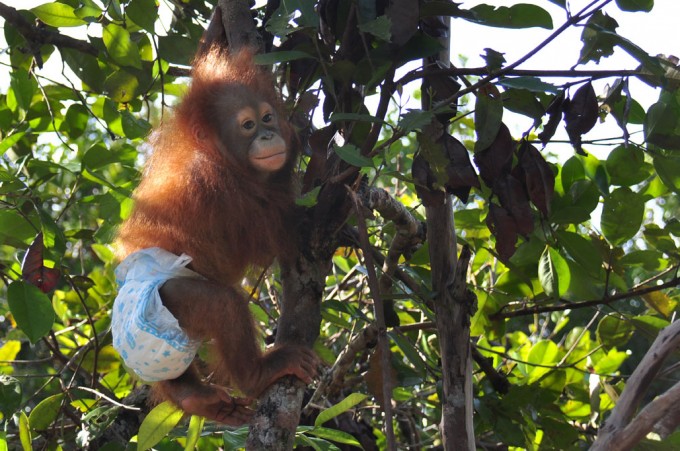 For now, Ruru seems happy playing and is already climbing well. Her tiny hands reach and grab the branches tightly and she can climb up to two meters high. Her natural ability gives hope to our team that in the future she will be able to join the rehabilitation process and learn all the skills she needs to return to natural habitat. We know she should be with her mother in the forest, but we are also so grateful that she has made it safely into our care so we can give her another chance at a life in the wild.
You can support BOS Nyaru Menteng by adopting an orangutan for just USD $15/month (or USD $150/year). Learn more.
Text by: MonteradoFridman, Koord. Divisi Komunikasi & Pendidikan Nyaru Menteng
Photo by: Indrayana, Koord. Foto Adopsi Nyaru Menteng
View the original post on the BOS Foundation website