Big Boy Beni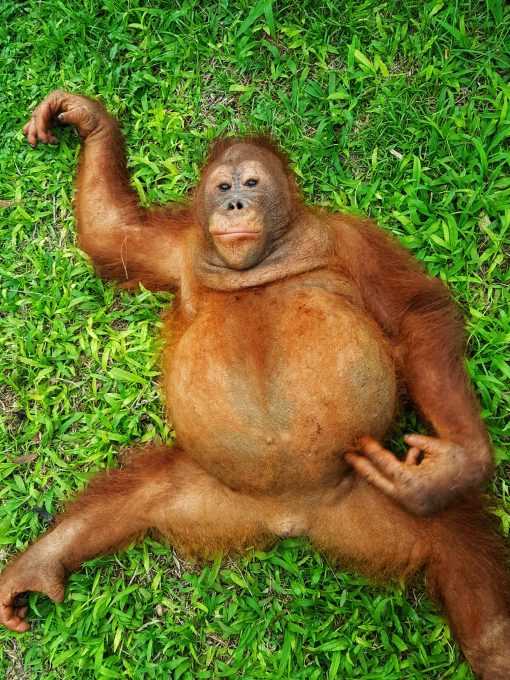 The world fell in love with Beni, an orangutan full of endless antics, when he was introduced on the hit series, Orangutan Jungle School. Audiences laughed as Beni played jokes on his friends. They sympathized as he suffered through a diet and begged for milk. Everyone rooted for Beni when he found a mountain of bananas! Well-wishes poured in from around the world if Beni was sick and when he was recovering from a broken leg. Yes, EVERYONE LOVES BENI!
We've had requests from many people wanting to know even more about this amazing six year old orangutan. Countless fans have asked how they can support this special young guy. We now give you a whole page dedicated to the one and only Beni!
Beni's Story
Beni is cared for by Borneo Orangutan Survival Foundation (BOSF) at their Nyaru Menteng Orangutan Rehabilitation Center in Central Kalimantan. As you've heard so many times, Beni's story began with a rescue…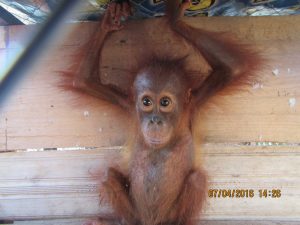 On April 8, 2016, the BOSF team rescued a 2-year old male orangutan in Mangkatip Village. The local residents reported that they had seen the baby orangutan by himself, climbing a local telecommunication tower. They stated that they knew they must intervene so they acted to catch the orangutan in a sack and brought him to the local police station.
When the BOSF rescue team arrived, they found a tiny orangutan being kept inside a cage in front of the subdistrict office. He weighed only 4.3 kg - underweight for his age. In addition to being thin, he was also suffering from severe dehydration, worm infections, fever, and knotted hair. As he was never kept as a pet, he was still displaying natural behaviors and acting as a wild orangutan.
Shortly after his arrival at the Nyaru Menteng center, the small baby orangutan was given the name Beni. Over 4 years later, Beni is no longer a tiny orangutan! He is actually larger than the other 6-year-olds at the centre! Throughout his rehabilitation process he grew incredibly quickly. We all now know him for his size and adorable personality. Yup, he's the one and only Big Boy Beni!
Beni's Future is Bright
In 2019 Beni graduated from forest school after learning the skills that will support him on his journey back to the wild as an independent individual.
We've got BIG news to share with you: Beni is ready for his next step in his journey towards freedom: to move to a cage-free forested island home on Salat Island.
Beni holds a special place in all our hearts, and like you, we want to see him on the island, where he can experience a whole new side of life in the forest.
But Beni needs your help.
With your support, Beni can refine his skills and continue his education, preparing him for his eventual release into the wild.
Here's how your donation helps:

● $10 can provide enrichment
● $25 can provide food for the journey to the pre-release island
● $50 can provide a general health check-up before the move
● $100 can provide transportation for the trip to the new island home
● $250 can provide for the team of technicians feeding and watching the island for a week
Prefer to donate crypto?
You can easily do so on our crypto page.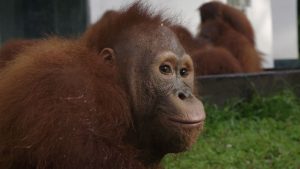 Star Quality
Beni was born to be a star. Over the last few years Beni has become an "orangutan celebrity", largely because videos of his daily adventures have been posted since the day Orangutan Jungle School was launched. The video of him craving food he was not allowed to eat and discovering orangutan heaven (a giant banana mountain) racked up tens of thousands of views online. Twitter fans have become obsessed with his flatulence. Beni is one of a kind, there's no doubt about it. But even as he became a big star, he remained first and foremost a forest school student. His surrogate mothers continued to give him the training and support he needed, to ensure he keeps learning, remains active, and will have a second chance at freedom.
A Classic Beni Moment
When Beni was on a special diet, it left him craving his favorite fruit – bananas! His insatiable appetite led him to escape the watchful eyes of his surrogate mothers. But they knew him well enough to know there was only one place he could be – the fruit store room! There, Beni found a mountain of fruit and tried to pull off the biggest banana heist in Forest School history. But, the love affair with his beloved bananas did not last long, as his absence was immediately noticed by the surrogate mothers and he was soon discovered.
Beni's Banana Heaven

Fountain of Beni