BOS Batikap: What Happened to Gina?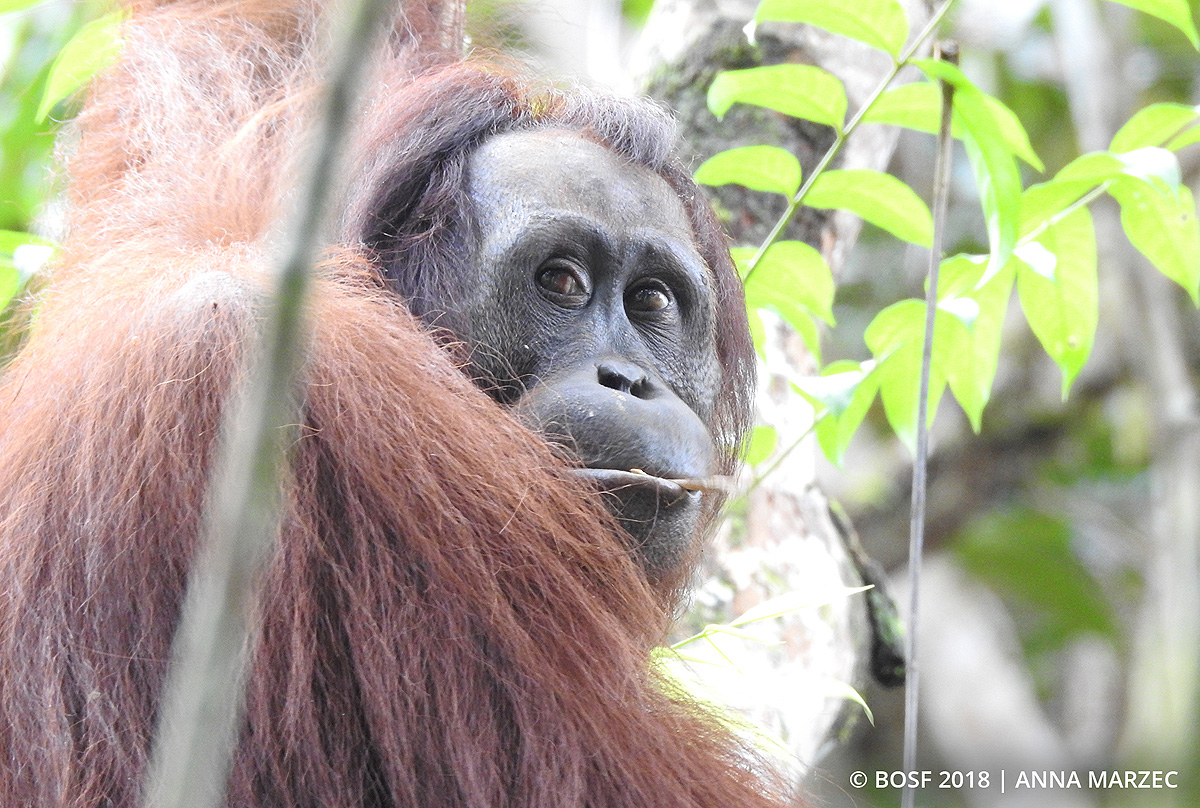 Text by: Andrea Knox, PRM team in Totat Jalu Camp, Bukit Batikap Protection Forest
May 24, 2018 — Gina is one of 12 orangutans we released to the Bukit Batikap Conservation Forest in Central Kalimantan, in April 2016. With her great range, Gina had gone undetected this year up until recently. The PRM team from Totat Jalu Camp was determined to find her and ensure she was thriving in Bukit Batikap – and find her, they did!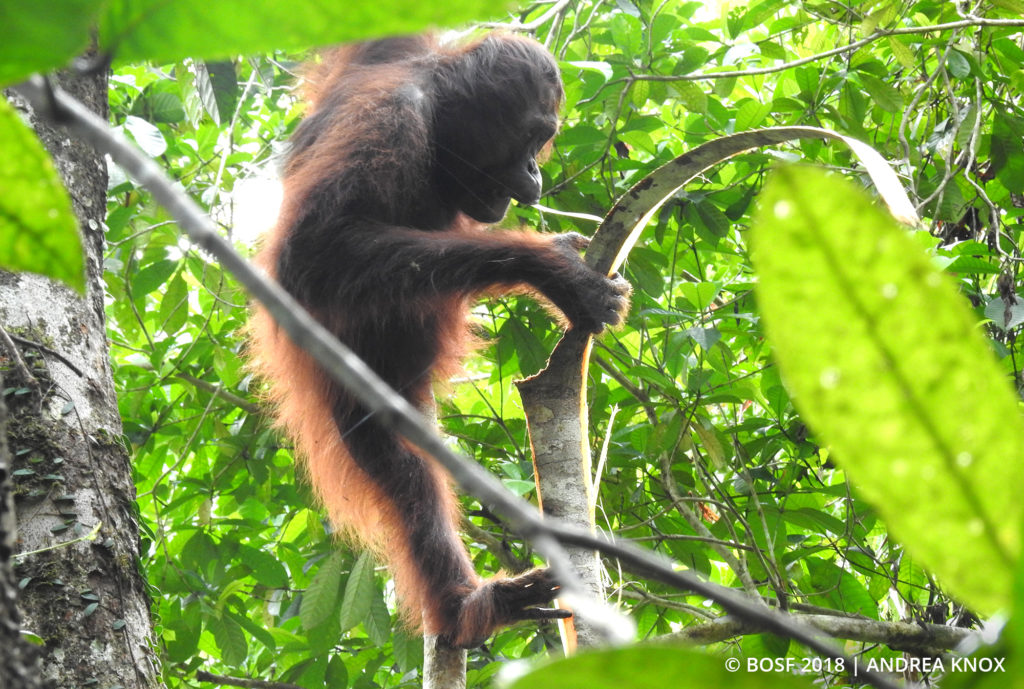 Gina enjoys the great taste of bark
Gina was found sitting in the trees eating bark when the team finally caught up with her. She spent the morning savouring the forest fruits on offer before crossing the river through the forest canopy and leaving us behind. We could not do the same, and had to figure out a way to cross the river to continue the search for her. Unfortunately, this was coincidently the exact time when our telemetry system was set to automatically switch off to save the battery, so, we lost her!
Second Meeting, Gina Tries to Approach Camp
Located in the heart of a primary forest, Totat Jalu Camp is an ideal location for orangutan observation and research, as the area around the camp is regularly visited by orangutans.
The day after we lost sight of Gina, she was spotted near the camp area. At first, we thought she was just paying us a short visit, which is the case with some of our released orangutans. But, after a few days of monitoring, she was still hanging around. This alarmed us, as it was not typical Gina behaviour. Upon closer observation, it appeared that Gina had lost weight and was not being as active as previously.
Hanging about the camp area for a prolonged period of time is not a good sign in released orangutans; ideally, they should be roaming free in the forest and thriving on their own. Gina did not seem to be injured, which our vet confirmed would be the main reason an orangutan was temporarily unable to forage and explore normally. In the past, released orangutans who felt too "at home" near the camp area and wouldn't move away were evacuated and moved to another area in Bukit Batikap. Everybody agreed that this would be the best option for Gina, too.
Gina was carefully moved to the Joloi Bawah (Lower Joloi) area, which offers an abundance of different food sources; but based on observations is infrequently visited by other orangutans. Gina seemed to be a bit hesitant at first, being in an unfamiliar place. Slowly but surely, though, she began to forage for food and moved a bit deeper into the forest to build a night nest.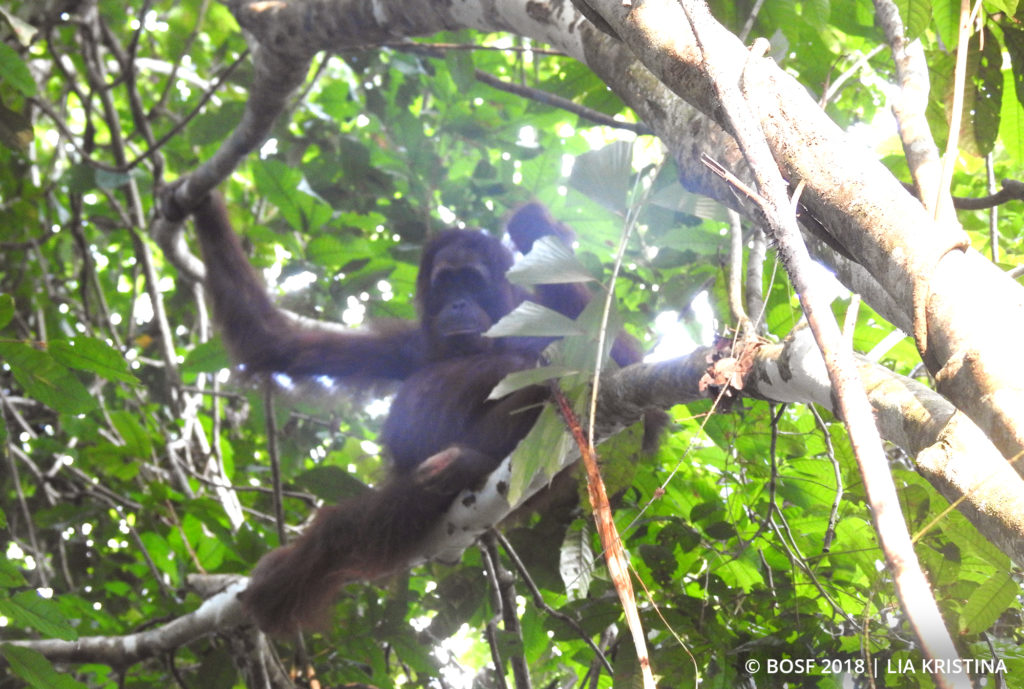 Gina explores her new home
The next day, we ventured back to the Joloi Bawah area to check up on Gina. She was in her glory! This new place offered a lovely smorgasbord of shoots and forest fruits, and Gina spent the entire day filling up on all the natural foods she came across. When the evening set in, a finally-satisfied Gina started to build herself a comfortable night nest – a much better one than the night before. She looked to be relaxed, and feeling right at home!
The Orangutans Need Your Help!
Please make a donation to BOS Nyaru Menteng today!
THANK YOU SO MUCH FOR YOUR SUPPORT!
{:(|}