BOS Orangutan Releases: Compost Navigates Early Days of Motherhood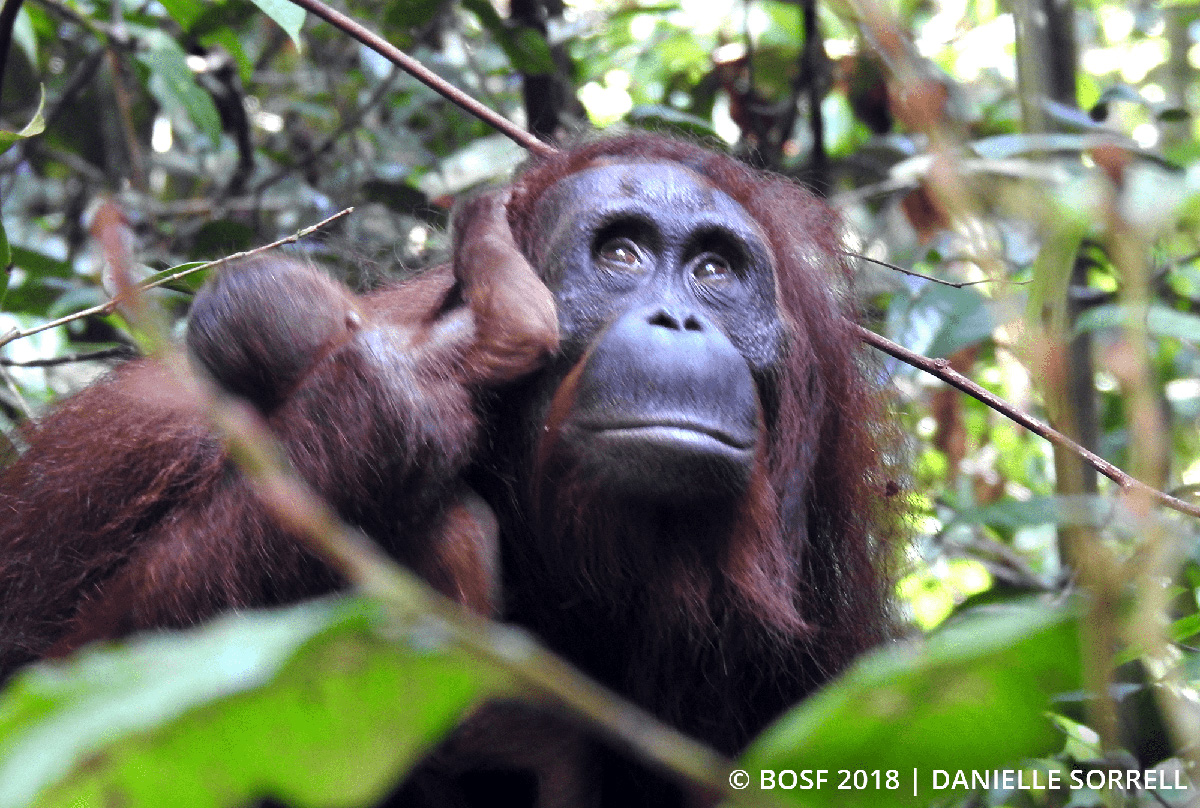 Text by: Andrea Knox, PRM team in Totat Jalu Camp, Bukit Batikap Protection Forest
January 15, 2019 — Every orangutan birth here in the Bukit Batikap Protection Forest is met with uncontained joy; including that of our newest arrival, who entered this world with a rough start.
Back in June, our Post-Release Monitoring (PRM) team celebrated when it was discovered that Compost, a female orangutan released in 2015, was pregnant with her first baby. Despite living wild and free in the forest for three years, Compost had not been pregnant up until this point, and had experienced several health scares. Many of the technicians believed she was unable to carry through a full-term pregnancy. We could not have been happier when Compost proved us wrong!
Our PRM team from Camp Totat Jalu made regular checks on the expectant mother, and come September we were counting the days until she gave birth. Panic started to set in when November rolled around and she had yet to give birth; she had grown very lethargic, her genitals were swollen, and her abdomen appeared to have decreased in size. We feared the worst – that she had lost her baby.
We continued to closely monitor Compost's health in case intervention was needed. Her condition continued to spiral downwards. That is, until, December 3. It was the third time we had checked on her that week, hoping that consistent checks would allow us to nip any problem in the bud. We found her resting in a nest, as had been the norm for her in the weeks prior. After an hour, she started to climb out. I moved around the tree to get a better look, bracing myself for the worst. What I saw was the most amazing sight: to her chest she was clutching a tiny baby, with umbilical cord still attached. Vivi, the veterinarian beside me, and I burst into tears of joy. Compost had successfully given birth to a healthy baby, which appeared to be a girl!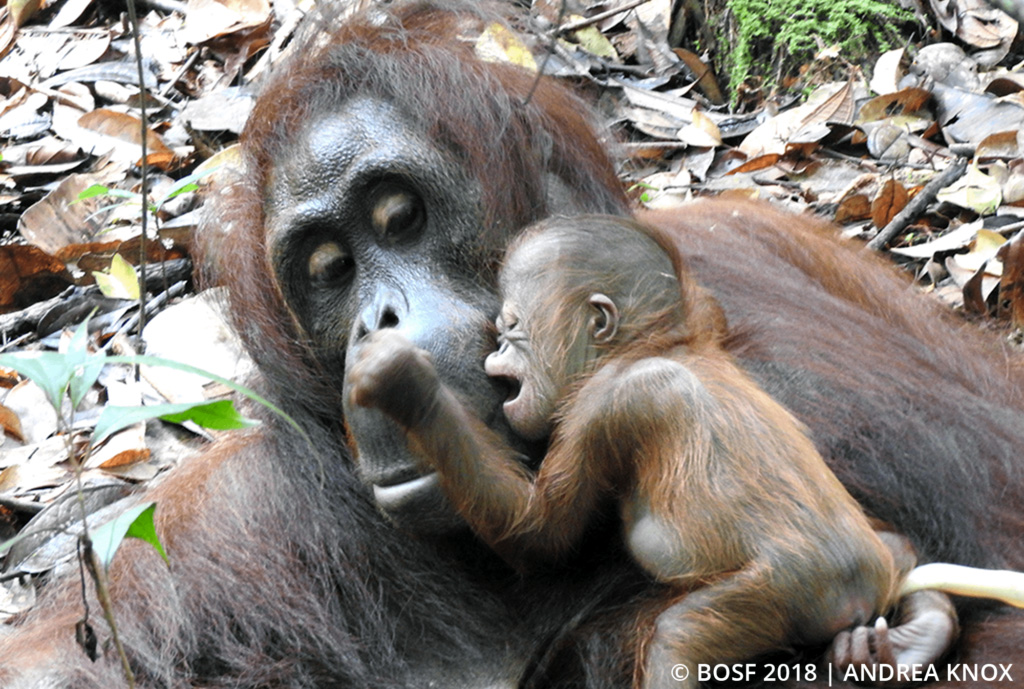 Compost and her baby
As Compost climbed down to the ground, we spotted the afterbirth exiting her body. Vivi estimated that she had given birth that morning or the night before. We watched as she cleaned and clung to her infant. The instinctive love she felt for her baby was obvious, as she shielded her daughter from prying eyes.
Unfortunately, things took a turn for the worse when the baby started to cry. Instead of nursing her daughter, Compost moved around and then stopped to nuzzle her, and place her on her shoulder. We quickly realized she had no idea how to be a mother: Compost was not raised by her own mother, as she was found, motherless, in a palm-oil plantation as a baby and kept in a human home until her rescue. Being a young orphan, she clearly had no memory of her own mother nursing or caring for her.
We left Compost and her baby alone for the evening, hoping that while in the nest the tiny baby would instinctively crawl to her mother's breast to nurse.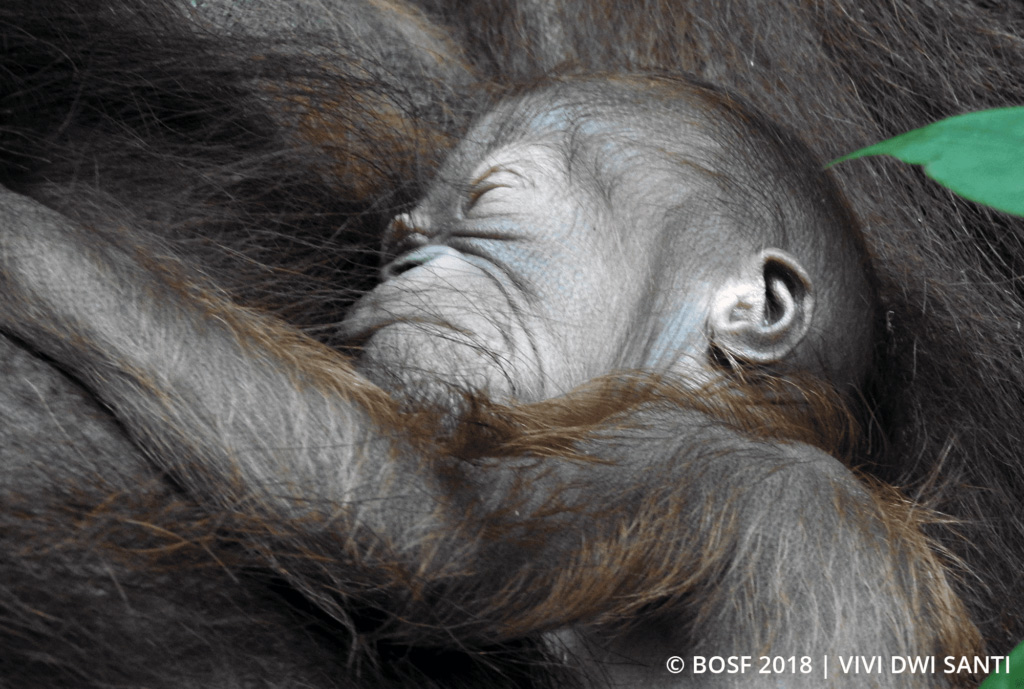 Compost's baby
As is the law of the universe, the river flooded the next day and kept us stranded at camp. Our thoughts went out to the new mother, hopeful that she had figured out how to care for her little girl.
The following day, we returned to Compost. She had finally moved her baby off her shoulder and had her clinging to her stomach, right beside her swollen breasts. The entire team rejoiced – Compost had overcome all odds! As a child, she survived through the trauma of losing her mother and being held captive at the hands of humans. As an adolescent she learned the ways of the forest under the guidance of dedicated BOS Foundation babysitters, acting as surrogate mothers. As a young adult she returned to the jungle and thrived on its plentiful bounty. And now, as a fully mature adult, she had finally brought new life into this world and, by herself, figured out how to nurture this life.
Congratulations Compost, the world is cheering for you!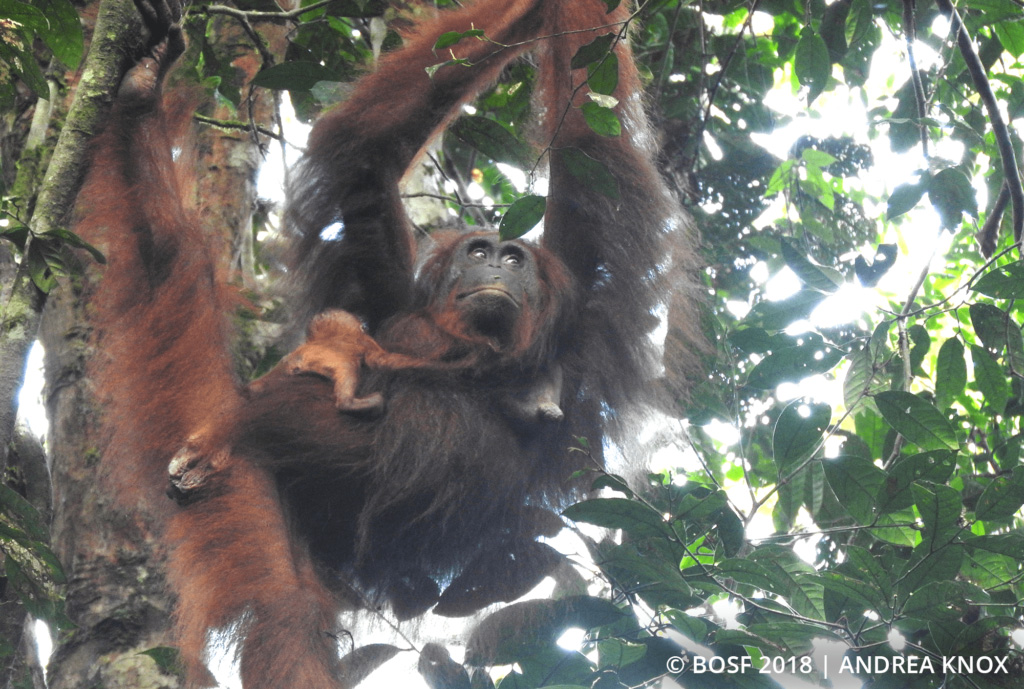 The Orangutans Need Your Help!
Please make a donation to the BOS Foundation today!
THANK YOU SO MUCH FOR YOUR SUPPORT!
{:(|}