BOS Samboja: Orphaned Baby Klaus Will Soon Enter Forest School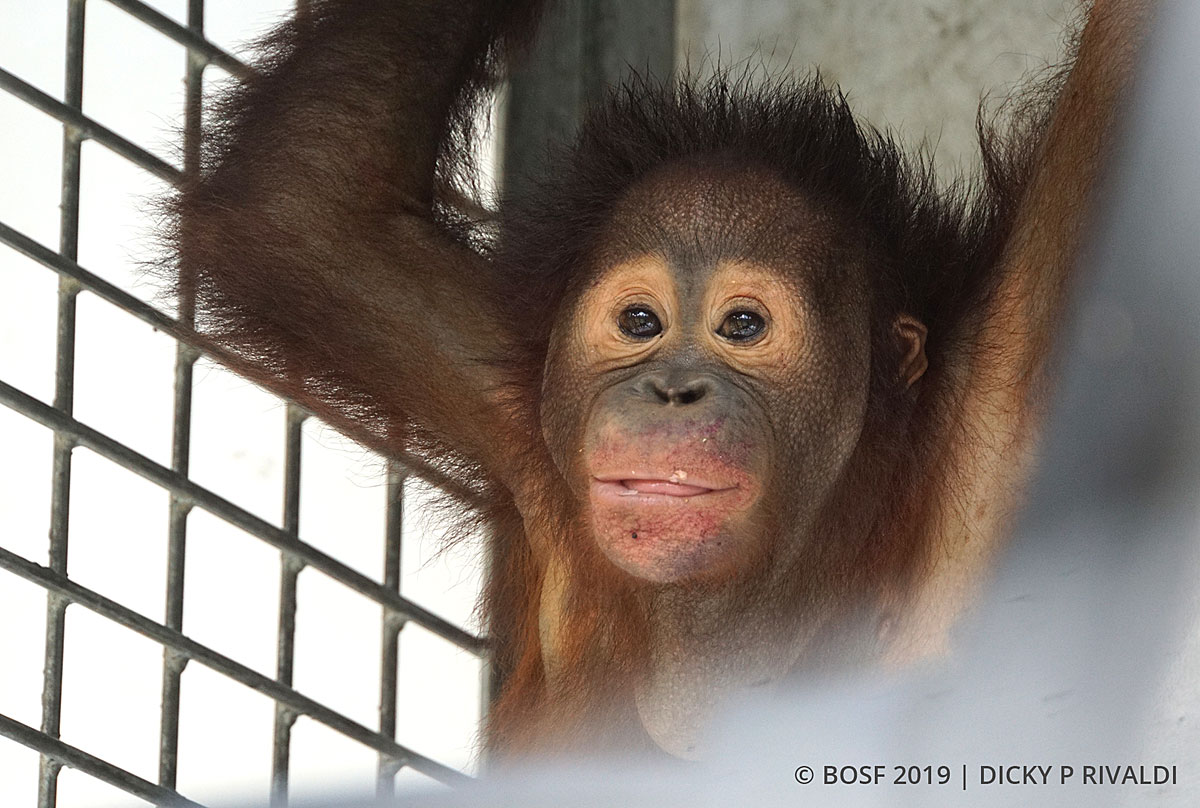 Text by: BOS Foundation Communication Team
January 18, 2019 — Baby Klaus was rescued by a joint team from the East Kalimantan Natural Resources Conservation Agency (BKSDA) and BOS Foundation's Samboja Lestari Orangutan Reintroduction Program staff on 23 May, 2018. At just three years old, he was found stranded alone in Mentoko, East Kalimantan. A few days prior, researchers from the Kutai National Park had discovered the decomposing body of a female orangutan, suspected to be the mother of Klaus, in a location not far from where he was found. Upon his arrival at the Samboja Lestari Orangutan Rehabilitation Center, Klaus was found to be severely underweight and heavily traumatised from the loss of his mother. He was withdrawn and would only sit quietly in the quarantine complex.
Klaus rescue video
After eight months of rehabilitation at Samboja Lestari, Klaus has passed quarantine and now weighs a healthy 14 kilograms. Klaus is growing in confidence and dislikes excessive human presence, a strong sign that he still possesses some of his wild instincts.
Klaus prefers to play and climb ropes alone, and will construct nests from the leaves and twigs offered by babysitters. While he mostly keeps to himself, he will play with bestie Ecky on occasion.
Read more: RECENTLY RESCUED BABY ORANGUTAN KLAUS MAKING GREAT PROGRESS!
When Klaus is building his nests, Ecky will often appear to annoy him and dismantle his handy work. This is her way of telling him that she wants to play. If Klaus feels up to it, he will respond by wrestling her. However, if he's not in the mood to play, or wants to be left alone, Klaus will simply move away from her. What a calm, collected dude!
Clever Klaus
If Klaus is found to be in good condition at his next heath check, the medical team will clear him for Forest School. There, he will get the chance to learn and hone the vital survival skills he will one day need to live in the forest as a true, wild orangutan.
The Orangutans Need Your Help!
Please make a donation to the BOS Foundation today!
THANK YOU SO MUCH FOR YOUR SUPPORT!
{:(|}