#CryptoGivingTuesday 2022
ORANGUTANS LOVE CRYPTO!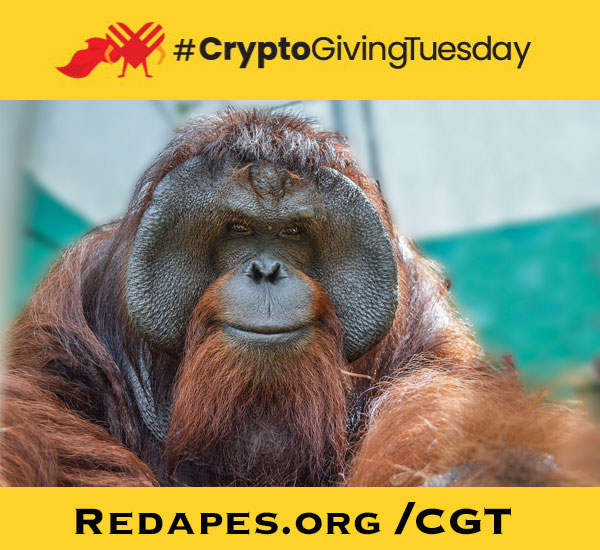 What is #CryptoGivingTuesday?

#CryptoGivingTuesday is a crypto-friendly complement to #GivingTuesday and is held on the Tuesday after Thanksgiving. This year, it takes place on November 29th.
#CryptoGivingTuesday is a global generosity movement that unleashes the power of people and organizations to transform the world!
#CryptoGivingTuesday invites the crypto community to join the giving spirit!
Thank you for participating in this global day of generosity! Donations of any size are welcome!
Here are some of the amazing gifts your donation can provide!
Our partners at the centers will make final decisions on how to best utilize funds for the well being of the orangutans.
$5 can buy bottles for baby orangutans or a basket for a baby's first bed
$10 can buy a cozy blanket or soft toy to cuddle... or a hammock or swing to play in
$25 supplies an orangutan with fruits, vegetables, milk, and vitamins for a week
$50 can buy stimulating enrichment items which the orangutans will do their best to destroy
$75 provides an orangutan with a health check-up
$100 provides an orangutan with food for a month
$3,000 covers the costs to care for an orangutan for a whole year!!!
$5,000 allows us to bring a village into our reforestation program!
$5,000 pays for a rehabilitated adult orangutan to return to the forest!!!
$10,000 pays for an adult male and female orangutan to be released back into the forest!!!
Click on the thumbnails below to see full-sized photos.
Donate Cryptocurrency
A cryptocurrency donation is classified as property by the IRS, which means it is not subject to capital gains tax and is tax-deductible. We are working with The Giving Block to make donating cryptocurrency as easy as possible.
We accept dozens of cryptocurrencies including: Bitcoin (BTC), Ethereum (ETH), ApeCoin, DOGE, Storj (STORJ), Litecoin (LTC), Bitcoin Cash (BCH), Zcash (ZEC), Gemini Dollar (GUSD) and USD Coin (USDC).
Learn more on our crypto currency page or simply make your crypto donation below.
---
Disclaimers
Funds collected for orangutans will be used for medicine, food, equipment, rescue operations, releases, cages and hundreds of other items that are necessary to rehabilitate the orangutans and keep the projects going. A minimal amount will be used for administrative costs in the US to continue to build up the organization so that we can rescue and rehabilitate even more orangutans. If you have any trouble with the donation process, please contact us directly. The last thing we want is for a technical glitch to prevent you from helping the orangutans! The fastest way to reach us is via email, but you can also call us: (917) 328 7934
As a policy Orangutan Outreach does not share, sell, publish, post or otherwise distribute any information on our supporters.
Orangutan Outreach is a registered 501(c)(3) US charity. EIN: 26-0521285
Your donations are fully tax-deductible. Contact us if you would like us to email you a tax receipt.