Gunung Goes Wild!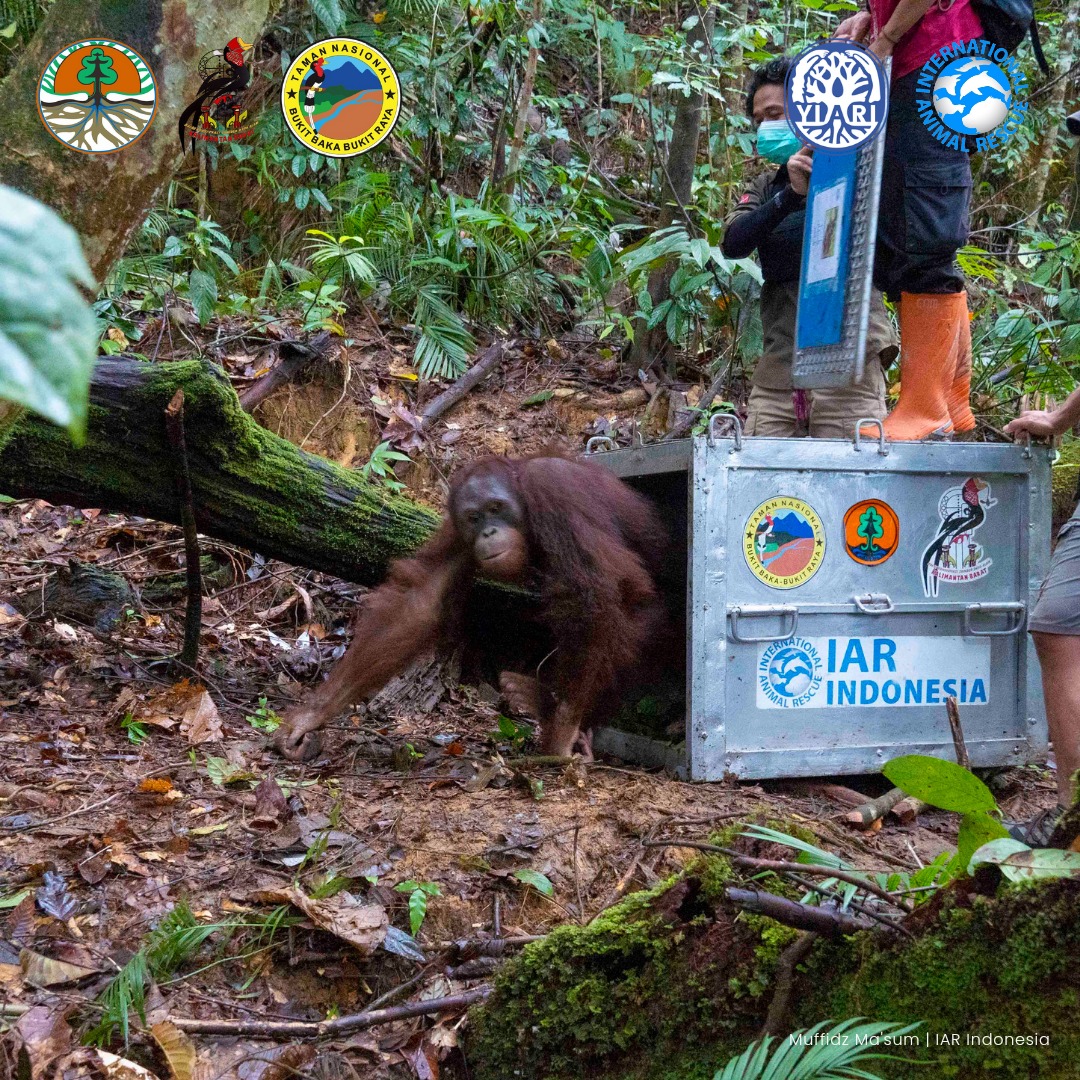 Congratulations to Gunung for going back to the forest!
We have some truly wonderful news to share! Orangutan Outreach adoptee, Gunung, has completed his rehabilitation journey at International Animal Rescue's Orangutan Center in Ketapang, West Kalimantan (Borneo). He has been RELEASED TO FREEDOM in the forest! We are so proud of Gunung and are thrilled that he is back home in the forest— where he belongs.
We are extremely grateful to all those in the Orangutan Outreach family who have adopted Gunung. He joined our adoption program in 2012 and has had so many supporters over the years! It is thanks to generous supporters like YOU that International Animal Rescue (IAR) has been able to care for Gunung and so many other orphaned and displaced orangutans. We cannot thank you enough!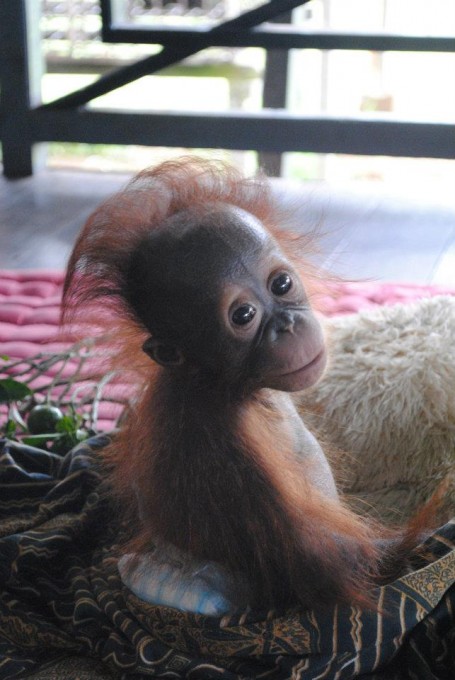 GUNUNG'S STORY
On November 3, 2011 the IAR team received an emergency call from the forestry department in Ketapang informing them that a man had found a tiny baby orangutan all alone in a tree in Gunung Palung National Park. Upon arrival to the IAR orangutan center, the baby was very skinny and he weighed less than 5 pounds. He also had a deep wound on the right side of his head which was infected. With much love and expert medical care, the baby was brought to good health. The IAR team decided to name him after the location where he was found - on the mountain. This tiny orangutan was given a very big name! (Gunung means mountain in the Indonesian language.)
GROWING UP
Gunung did incredibly well as soon as he joined the other little orangutans in Baby School. He enjoyed playing with his many friends but was also quite independent and happily played on his own. He was quite special from the start! This pint-sized little guy with the million dollar smile even liked to act tough by shaking some small branches - typical orangutan behavior- showing how ferocious he was at just 10 pounds! One thing was for sure – Gunung was an absolutely beautiful baby with long eyelashes and perfectly messy hair!
By the spring of 2014, Gunung was growing very confident. He loved climbing in the trees and making his own rickety little nests. He always looked happy with his smiley face and bright eyes. He continued to be very inquisitive, always the first to investigate any new enrichment. He also was very sweet and happy to share his treats with the other orangutans.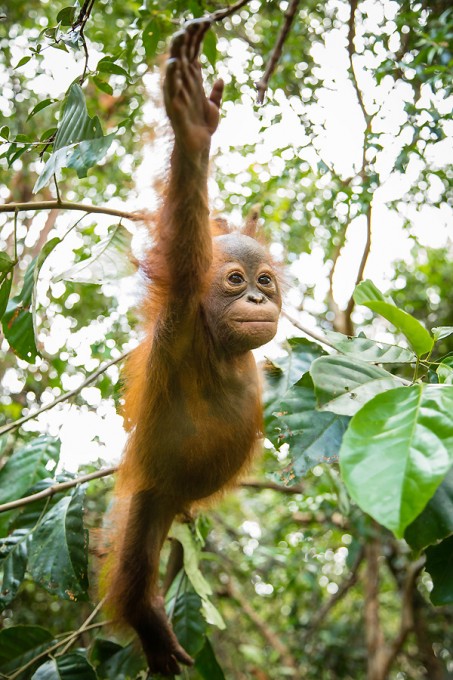 Within just a couple years, Gunung had left Baby School and moved up a level to Forest School. At the IAR Forest School, orangutans may spend the whole day and night in the forest. This is an important step in the rehabilitation process, as it motivates young orangutans to learn the skills necessary for life in the wild. Gunung learned how to build nests to rest and sleep in, and he became an effective forager. Gunung was extremely sociable at this time and continued to form strong bonds with orangutans who had been his friends since Baby School. We saw that Gunung was also the kind of orangutan who needed time by himself. That was a very good sign, as wild male orangutans are solitary for the most part.
ISLAND LIFE
In 2017, the IAR staff decided that Gunung had reached the stage where he could leave Forest School and move to one of the pre-release 'practice' islands on the grounds of the IAR orangutan center. It was time for Gunung to develop his wild skills in a more natural forest environment, further away from people. Gunung thrived on the islands! He spent most of his time high up in the trees, and he loved to explore. He was a popular orangutan, but he preferred to go foraging on his own, and if any other orangutans followed him, he made an effort to separate himself. We knew Gunung would continue to grow and develop and be a suitable candidate for release in the future.
Gunung spent time living on Pulau Monyet Island for juvenile orangutans, Besar Island for more dominant orangutans, and Monyet Island where he was with orangutans of similar age and size. Gunung was always smaller than the other orangutans, but definitely could take care of himself. It was wonderful to see Gunung show behavioral patterns typical of a young male orangutan! As he grew, Gunung moved to Data Island and Setrum Island with 14 other orangutans from his Forest School group. Finally, he spent time living on Monyet Island and Ali Island where he truly flourished! Spending time on a variety of islands, with new areas to constantly explore, was very beneficial for Gunung. By the fall of 2021, Gunung's caregivers were seeing great signs of growing independence.
By the end of his time on the islands, Gunung had become a quiet and solitary orangutan who liked to observe others— very typical of male orangutans. He loved to sit in the trees and watch the other orangutans' daily dramas, but he would occasionally join in on the fun. Gunung became diligent at foraging, and would eat various types of forest fruit, young leaves, and bark. He also spent a lot of time exploring the island alone which is quite typical for a wild orangutan his age. This skillful guy also became an excellent nest builder, building nests from scratch or just repairing old ones. As 2022 was coming to a close, it became clear that Gunung was ready to be reintroduced to the wild.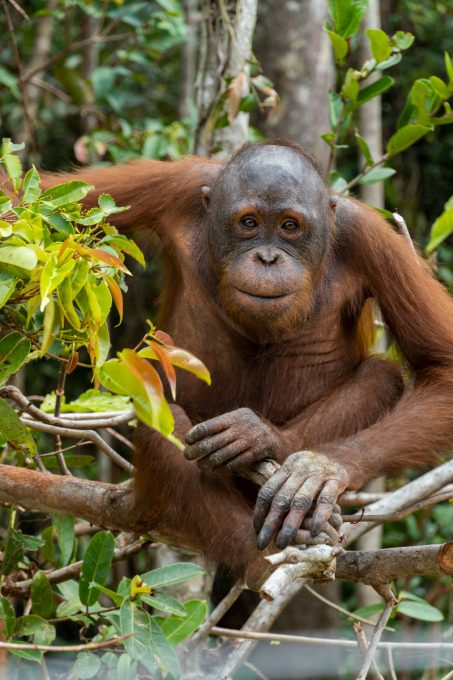 RELEASE TIME!
Beautiful, pensive, intelligent Gunung was released to the Bukit Baka Bukit Raya National Park (TNBBR) on December 13, 2022. Gunung was one of four orangutans released that day in a joint effort by the Bukit Baka Bukit Raya National Park Authority (BTNBBBR), the West Kalimantan Natural Resources Conservation Agency (BKSDA,) and the IAR Indonesia Foundation (YIARI). 12 year old Gunung was released with three of his long-time friends: 14 year old female Ceria, 11 year old male Rocky, and 10 year old male Bob.
The Bukit Baka Bukit Raya National Park (TNBBR) was chosen as the release location because the TNBBBR area has excellent habitat for orangutans. The types of vegetation that make up the forest are quite abundant in number and variety of species as orangutan food. In addition, the status of the area as a National Park provides another level of safety for the orangutans.
The journey to the release point is not easy an easy trip. It took 3 days to get to the release point, which included travel by road, boat, and on foot. Gunung and his friends were monitored and tended to the entire time. Although it takes a long time, and the team becomes very tired, there is always much joy and celebration as each travel crate is opened, and a truly free orangutan emerges.
A FABULOUS FUTURE
Gunung will be closely watched by the IAR post-release monitoring team for many months. Monitoring is completed for all released orangutans to ensure that the newly wild orangutans adapt well to their forest homes. We are confident that Gunung will thrive in the forest and we are extremely hopeful that he will soon mate and contribute to the growing population of orangutans in the Bukit Baka Bukit Raya National Park. We would love to see that gorgeous face on the next generation of wild orangutans. Good luck, Gunung!
Orangutans in Borneo Need Your Help!
Prefer to donate crypto, stock or with a Credit Card?
Use the convenient widget below.