IAR Ketapang: Orangutan saved in the nick of time after ten days trapped in a snare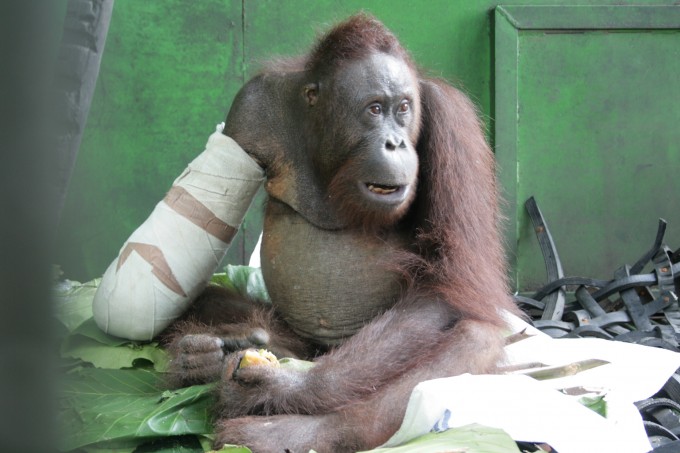 View more photos and learn more: International Animal Rescue
Please support the Orangutans at Ketapang
12 April 2012 - An orangutan trapped in a snare survived for ten days without food or water before he was rescued by IAR's team in West Kalimantan. The young adult male was close to death when they reached him and cut him free. His right arm was caught in the snare which had been set to trap deer and wild boar. The orangutan had stepped in a loop of rope hidden under leaves on the ground which tightened and pulled upwards when he trod on it.
The rescue team, led by veterinary director Karmele Llano Sanchez, sedated the orangutan, freed him from the snare and gave him fluids for severe dehydration before transporting him back to IAR's clinic in Ketapang.
He was given the name Pelangsi, after the area where he was found. During the first 48 hours his condition remained critical and he wasn't stable enough to undergo surgery. He had contracted septicemia as a result of the injury and infection in his hand. He continued to receive fluids intravenously and was also put on antibiotics and painkillers.  The medical team is working round the clock to save him. If he does survive, his hand and some of his arm will have to be amputated.
The local man who set the trap has admitted to having 60 snares in the forest which is only about 400 hectares in size. The forest in Pelangsi, Kuala Satung, West Kalimantan is home to a large number of orangutans that have fled from the new palm oil plantation that has been created next to it by palm oil company PT KAL (Kayung Agro Lestari) from Austindo Nusantara Jaya Group.
The man claimed to have tried to free the trapped orangutan but was scared of the animal which was wild with pain and the trauma of being caught. The man was also afraid to report the situation to the authorities for fear of being prosecuted under Indonesian law should the orangutan die. Consequently he abandoned the animal without food or water, leaving it for days struggling to break free and causing an agonising wound on its hand and wrist. Thankfully a local from the same village alerted the team at the IAR centre and they responded immediately.
Snares and traps are forbidden under Indonesian law because they cause immense suffering and are indiscriminate in the animals they catch: they may be set to trap pigs or deer for food but, as in this case, they also catch all kinds of wildlife, some of them rare and endangered species.
IAR's centre in Ketapang is already caring for three baby orangutans that were rescued from the PT KAL palm oil plantation and the team also tried unsuccessfully to rescue three more that were found there during land clearing operations. The company is a member of the RSPO (Round Table on Sustainable Palm Oil), an association set up to promote the sustainable production and use of palm oil. However, in spite of PT KAL's apparent concern about the social and environmental impact of its industry, they are responsible for large numbers of orangutan deaths in the area.
Karmele Llano Sanchez said: "Pelangsi's story is a graphic illustration of the fate of countless orangutans that are left homeless and hungry when the forest is cut down. Our rescue centre is now caring for 50 orangutans and that number will continue to rise rapidly until drastic measures are taken by the palm oil companies to protect orangutans and other wildlife from the devastating effects of their industry."
Alan Knight OBE, IAR's Chief Executive, added: "Our team of Indonesian and European vets is working round the clock to save Pelangsi's life. I couldn't be more proud of the commitment and dedication they show to helping and healing the growing number of sick and injured animals in their care. Our thanks to Dr Adi, Dr Wendi, Dr Silje, Dr Richa, Dr  Jesus and Dr Raul for all they are doing."