IAR Ketapang Transit Center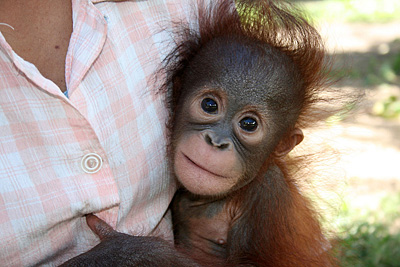 In August 2009 IAR signed a Memorandum of Understanding with the Indonesian Forestry Department in West Kalimantan, agreeing on plans for the rescue, rehabilitation and relocation of orangutans who have lost their forest habitat due to the expansion of oil palm plantations int their habitat. The agreement allowed for the purchase of land and the creation of facilities where the rescued orangutans could be rehabilitated before being released back into protected areas of forest.
The priority was to set up a temporary facility where confiscated and rescued orangutans could be given immediate care and emergency veterinary treatment. The IAR team soon began caring for nearly a dozen orangutans in a small, transit center in the small town of Ketapang, West Kalimantan. They also began working with Indonesian authorities to establish a large, long-term facility to care for more orangutans.
Until International Animal Rescue came onto the scene there was no adequate center for rescued orangutans in West Kalimantan. This is still the case, despite an earlier aborted effort by Orangutan Outreach to start another small center further to the north.
IAR started from scratch in Ketapang. The existing center was comprised of nothing more than a collection of cramped rusty cages when the team took over. Some of the cages contained frustrated, depressed orangutans who were receiving no enrichment or other mental stimulation. This quickly changed. By the beginning of 2010— with support from generous Orangutan Outreach donors— IAR had done a great deal to improve the inadequate conditions at the Ketapang transit center.
IAR Veterinary Director Karmele Llano Sanchez and her team immediately started to treat the injuries and ailments of the existing orangutans and to take in a number of new rescues. A unit of four new enclosures was quickly designed and built— taking up the entire space of the small transit center. It did not take long to fill the new cages.
While no one likes cages, they are a necessary evil until suitable land can be found to release the orangutans— either as a temporary or permanent solution. In the new cages, larger orangutans like Mona and Nicky were at least able to enjoy vertical space where they could swing in hammocks & hanging tires and play with other orangutans-- perhaps for the first time in their lives! A nutritious dietary regimen with plenty of varied fruits and nuts was immediately implemented and the orangutans' health soon improved. The team also introduced plenty of exciting enrichment on a daily basis and the mood of the orangutans quickly improved as well. There was soon a spark and curiosity in their eyes. Once again there was hope.
By January 2010 the Ketapang transit center was home to more than a dozen rescued orangutans ranging in ages from infants to young adults.... and many more were awaiting rescue. We actually had a list of orangutans being held illegally as pets in neighboring towns. Further enclosures needed to be built, extending the facilities of this halfway home until the new rescue and rehabilitation facility could be built. An impregnable baby yard was constructed and a giant tower was built for the growing number of babies to play on. By early 2010 a suitable area of land has been identified and once it was acquired work could begin.