Lone Dröscher Nielsen Knighted by Prince of Denmark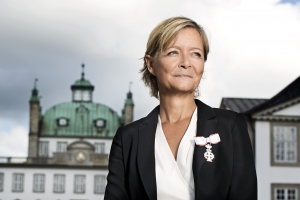 30 June, 2014 — Hamlet the Orangutan could not be prouder of his adopted Danish mom!
Today the Danish wildlife conservationist Lone Dröscher Nielsen, founder of BOS Nyaru Menteng, was knighted by His Royal Highness The Prince Consort of Denmark.
Lone Dröscher Nielsen established the Nyaru Menteng Orangutan Reintroduction Project in Kalimantan, Borneo, Indonesia in 1999 and has saved more than one thousand orangutans since then.
In 2010 His Royal Highness The Prince Consort visited her at the center. "I guess he also fell a bit in love with the orangutans— just like I once did," Lone says smiling. Lone Dröscher Nielsen and her team named a newly arrived orphaned orangutan 'Henrik' after the royal visitor.
Lone Dröscher Nielsen received the honor at Fredensborg Castle. "I am proud and I am deeply touched," Lone says "but what affects me the most is the fact that His Royal the Highness Prince Consort has not forgotten our cause."